A slow-moving cold front could produce numerous rounds of thunderstorms across parts of the Sunshine State to ring in the New Year.
On Thursday, a low pressure system lifting from Mexico into the Gulf Coast of Texas was intensifying into a winter storm as it moved northeastward into the Tennessee and Ohio Valleys. A cold front associated with the storm is expected to approach the western Florida Panhandle by Thursday night, just in time to ring in the New Year.
The Storm Prediction Center has issued a slight risk (risk level 2 out of 5) for portions of the far western Panhandle for Thursday and overnight into Friday. This risk area encompasses the cities of Pensacola and Destin. Strong storms are possible during the overnight hours Thursday, some of which may deliver heavy rainfall, potentially damaging wind gusts, and the chance for isolated tornadoes.
The low pressure system will continue northeast into the Great Lakes region Friday and into Saturday but the cold front, which will continue to extend down into the Central Gulf of Mexico, will make very little progress on its journey eastward. The front is expected to move through the western Florida Panhandle early New Year's Day before slowly inching towards northern parts of the Peninsula late Friday night and into Saturday. A marginal threat (risk level 1 out of 5) is in place for Friday for the Apalachicola region and the Big Bend for the chance of heavy rainfall and strong straight-line winds. This threat extends eastward to encompass North Florida overnight into Saturday morning.
The cold front is expected to continue southeast crossing through Central Florida Sunday morning before moving into the Atlantic and away from the Sunshine State overnight into Monday. Near seasonal temperatures and drier conditions will return state-wide upon the passage of the front.
Expires at 6:00pm on Friday January 1st, 2021
The 2020 Atlantic Hurricane season was nothing short of historic, and many coastal residents are thankful the record-breaking season has come to a close.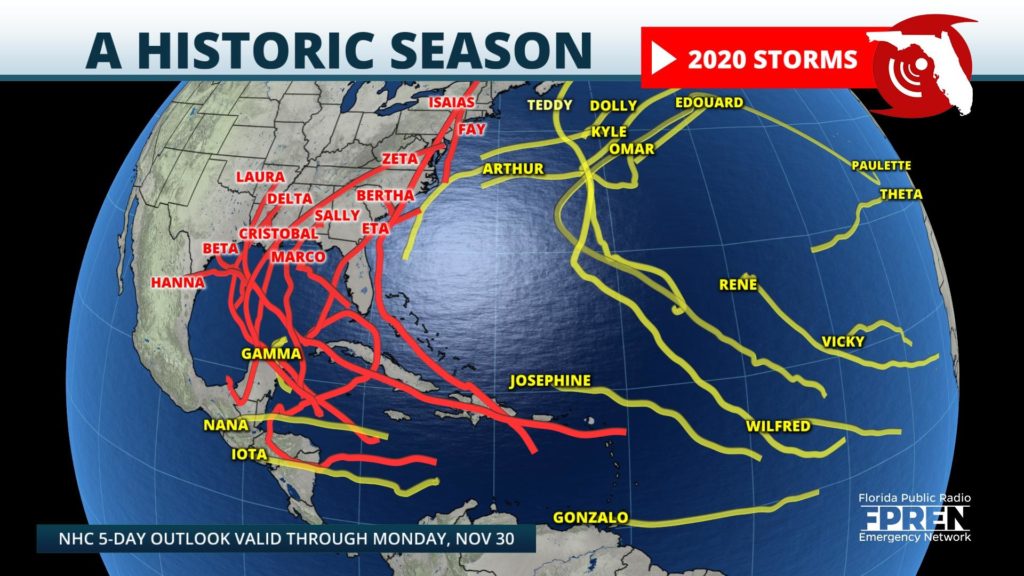 Activity began early again this year, with Tropical Storms Arthur and Bertha forming in the month of May. Cristobal was the third name storm of the year, and it formed on only the second day of the season (June 2). Cristobal was the first of 27 named storms this year that set a record for the earliest formation date in a calendar year.
The 2020 season was filled with 30 tropical storms, 13 of which became hurricanes, and 6 achieved major hurricane status (Category 3 or higher on the Saffir-Simpson Hurricane Wind Scale). An average hurricane season typically produces 12 named storms, of which six become hurricanes and three major hurricanes. 2020 was the second season to use the Greek alphabet naming system, and it was the most active season in the Atlantic Basin since records began in 1851.
Of the 30 named storms, 22 total landfalls were recorded across the whole Atlantic. 12 of those made landfall in the contiguous United States, breaking the prior record of nine set in 1916. The Gulf Coast may have received the brunt of the direct hits this year, however, no coastline was spared from the threat of tropical cyclones. According to the National Weather Service Corpus Christi, tropical storm or storm surge watches and warnings were issued for every mile of U.S. coastline along the Gulf of Mexico and Atlantic Ocean.
September was the most active month on record in the Atlantic, with 10 named storms occurring that month. The season also featured a total of 10 tropical cyclones which underwent rapid intensification, tying it with the 1995 Hurricane Season. 2020 was the fifth consecutive above-average hurricane season and the first extremely active season since 2017.
The 2020 season was also the fifth consecutive season in which at least one Category 5 hurricane formed. Hurricane Iota became a deadly Category 5 hurricane with maximum sustained wind speeds of 160 mph, making landfall as a strong Category 4 hurricane in eastern Nicaragua, only two weeks after another Category 4 (Hurricane Eta) impacted the same area. Iota broke the record of the latest Category 5 hurricane to form in the Atlantic basin, reaching that status on Nov. 16.
Louisiana was hit the hardest, with five total landfalls this season, which is also a record. Category 4 Hurricane Laura impacted the state in late August, becoming the strongest tropical cyclone on record in terms of wind speed to make landfall in Louisiana, alongside the 1856 Last Island Hurricane.
These are only a handful of records that the 2020 Hurricane Season achieved and meteorologists attribute this unprecedented activity in part to an ongoing La Niña.
A La Niña is a natural ocean-atmospheric phenomenon marked by cooler-than-average sea surface temperatures across the central and eastern Pacific Ocean near the equator, the opposite of El Niño which produces warmer-than-average sea surface temperatures in that region. The opposite effect takes place in the Atlantic. During a La Niña the Atlantic experiences warmer than average sea surface temperatures and a weakening in vertical wind shear over the Caribbean Sea and tropical Atlantic basin, which enables cyclones to develop and intensify. NOAA scientists say there is a 75% chance that La Niña will continue to be in place from December 2020 through February 2021. This could extend hurricane season past the November 30th deadline.
November 30th may mark the official end to the hurricane season, however that does not mean tropical cyclones follow this schedule. The National Oceanic and Atmospheric Administration currently defines the hurricane season as occurring between June 1st and November 30th each calendar year, which is when 97% of all Atlantic tropical cyclones occur.
There have been a total of 87 off-season tropical cyclones to have formed in the Atlantic basin since 1851. Off-season tropical cyclones are most likely to occur in May, with approximately 60% of the total forming in this month. Only 15 tropical cyclones have formed in the month of December (5.8%).
Although the season came to a close Monday, meteorologists are continuing to watch an area for potential development over the far eastern Atlantic towards Europe. This broad area of low pressure could acquire subtropical characteristics over the next few days as it meanders to the north of the Canary Islands. Environmental conditions are forecast to become unfavorable for further development but at this time the system has a moderate chance for further development. If the storm develops it will be the 32nd cyclone and given the name Kappa if it achieves Tropical Storm status.
Two storm systems could affect outdoor plans across the Sunshine State this holiday weekend, with the latter potentially being more disruptive to those with travel plans Sunday or Monday.
The first system will be weak and mostly only affect the northern third of the state, but it might dampen a few Thanksgiving Day plans. Severe thunderstorms swept across portions of Texas, Oklahoma and Louisiana Tuesday night ahead of strong cold front. This front is likely to weaken during the day Wednesday as it approaches the Florida Panhandle, but scattered showers will still be possible along it through Wednesday night. The severe threat will be minimal by the time the front approaches Pensacola and the Emerald Coast, but enough instability may exist for a few thunderstorms through Thursday in these areas.
Shower chances will spread east Thanksgiving Day, potentially affecting holiday outdoor plans near Panama City and Tallahassee. However, the front triggering this activity is expected to stall to the north of Florida, thereby keeping most of this activity spotty and weak. The rest of Florida will likely be warm and dry on Thursday, with temperatures slightly above average for this time of year thanks to a broad southerly flow.
The warm and dry weather will continue across most of Florida Friday. High temperatures will trend several degrees above average, averaging near 80 across the Florida Peninsula, with upper 70s expected in the panhandle.
Changes will begin Saturday across northern sections of the state, ahead of what will become the next storm system that is likely to affect the Southeast Sunday and Monday. Scattered showers and a few thunderstorms are in the forecast from Pensacola to Tallahassee Saturday, followed by more numerous downpours and a few stronger thunderstorms ahead of a second cold front late Sunday.
The front moving across Florida Sunday and Monday may be strong enough to produce severe thunderstorms and gusty winds, although there are too many unknown factors that prevent a more confident forecast on this occurring at the present time. Airport travel may also be slowed across a large portion of the country by this storm Sunday, especially across the Ohio Valley where winter precipitation is expected.
A Hurricane Warning and a Storm Surge Warning have been issued for the Florida Keys and Florida Bay ahead of Tropical Storm Eta.
Data from a Hurricane Hunter reconnaissance aircraft indicate that maximum sustained winds have increased to 65 mph and additional strengthening is possible during the next 48-hours. Eta could become a Category 1 hurricane before it reaches the Florida Keys late Sunday.
A Storm Surge Warning is also in effect from the Florida Keys from Ocean Reef to the Dry Tortugas, including Florida Bay. A Storm Surge Watch continues for coastal areas from Golden Beach to Bonita Beach, including Biscayne Bay.
A Hurricane Watch continues to be in effect for coastal areas from Deerfield Beach to Bonita Beach. Tropical Storm Warnings were also issued in anticipation of strong winds and heavy rain that are expected to arrive Sunday. The warning includes the Florida coast from the Brevard and Volusia County line to Englewood including Lake Okeechobee. This includes the Miami, Fort Lauderdale, West Palm Beach and Naples metro areas, along with all of the Florida Keys and Key West.
Eta was continuing to move towards the north over central Cuba early Sunday morning, and is expected to move into the Florida Straits by Sunday afternoon. A gradual turn towards the north-northwest is anticipated Sunday afternoon, followed by a northwestward turn in the evening. The National Hurricane Center anticipates the center of Eta to pass near or over the Florida Keys late Sunday night and early Monday before moving into the southeastern Gulf of Mexico late Monday and Tuesday.
By midweek, uncertainty remains too high to make a credible projection on where or whether Eta might make a second landfall across portions of northern Florida or dissipate entirely. However, confidence is high that upper-level steering currents are likely to weaken, thereby causing Eta to move extremely slow or even stall Wednesday or Thursday over the eastern Gulf of Mexico.
Where Flood Risk is Highest
Inland fresh-water flooding is still the greatest hazard from Eta in South Florida, especially across Miami-Dade, Broward and Palm Beach counties where soils are saturated and many bodies of water are already full from a very wet October. Pockets of heavy rain were already observed spreading over much of South Florida Saturday, well removed from Tropical Storm Eta's main area of thunderstorm activity south of Cuba. The rain is only expected to become steadier and heavier Sunday night and Monday as the center of Eta moves closer.
The highest rainfall accumulations from Eta will likely occur south of Interstate 75 from Naples to Miami, and in the Florida Keys, where 8 to 12 inches is expected to fall by Friday, with isolated amounts up to 18 inches possible. Rainfall totals in southeast Florida may exceed ten inches over the next three days, with 4 to 8 inches most likely near and southeast of a line from Naples to Fort Pierce, Florida. Lesser rainfall amounts of 2 to 5 inches are expected near and north of a line from Fort Myers to Melbourne, although uncertainty remains on how much rain may fall beyond Tuesday depending on the eventual track and strength of Eta in the eastern Gulf.
Sporadic Power Outages Likely
Sustained winds of 40 to 50 mph, with gusts up to 60 mph, are most likely to arrive in southeast Florida near Miami and the upper Keys late Sunday evening. Winds of this strength are possible in southwest Florida near Naples by early Monday morning. Sporadic power outages from down trees or power lines should be planned for in these areas when the strongest winds arrive. The highest gusts are most likely to accompany the heaviest rain bands, which could arrive well before the center of Eta passes nearby. If Eta intensifies further as it approaches the Florida Keys, winds gusts may climb up towards 70 mph.
Surge Threat Prompts Evacuations
A storm surge of 2 to 4 feet is possible in from Golden Beach to Bonita Beach, which includes the Florida Keys and Biscayne Bay. A mandatory evacuation order was given by Monroe County officials for mobile homes, trailers, and campers. Several shelters were also made available for residents by the Monroe County emergency management Sunday afternoon.
A storm surge of 1 to 2 feet is possible farther north along the Treasure, Space and First Coasts. Coastal flooding is expected in these areas even though they may be hundreds of miles from Eta's track due to the strong and persistent onshore flow out of the east-southeast. The uncertainties around Tropical Storm Eta's eventual track and strength make a credible storm surge forecast across west-central Florida and along the Nature Coast not possible at this time.
Additional Impacts
Brief, fast-moving isolated tornadoes will be possible from Eta across most of South Florida Sunday, then potentially for areas farther north into Central Florida on Monday. The tornado risk will be contingent on where the strongest rain bands move in association with the areas of greatest spin. Large waves and high surf are also anticipated from the storm on both the Atlantic and Gulf coasts from Tropical Storm Eta, increasing the risk of rip currents at all area beaches. Swimmers and boaters are encouraged to stay docked and out of the water until Eta dissipates or moves away sometime late next week.
Meteorologists from the Florida Public Radio Emergency Network will continue to monitor the progress of Tropical Storm Eta through the weekend, and frequent updates will be available via the Florida Storms social media accounts or in the Florida Storms app.
Expires at 11:00am on Monday November 9th, 2020
Powerful Hurricane Eta is expected to make landfall Tuesday afternoon in Nicaragua, and chances are increasing that it will re-emerge in the northwestern Caribbean this weekend.
The potentially catastrophic storm is forecast to dump more than 2 feet of rainfall in parts of Nicaragua and Honduras and produce a storm surge up to around 20 feet near the landfall location. The rugged terrain of the region increases the chance of hazardous mudslides.
Eta should weaken rapidly over Central America after it makes landfall. However, a strong majority of reliable model simulations forecast its remnant to move back over the warm water of the northwest Caribbean Sea Friday into the weekend. The official National Hurricane Center forecast brings Eta back to tropical storm status by Sunday morning. Based on the forecast cone issued late Tuesday morning, Eta could be as far north as western or central Cuba late this weekend.
There is considerable uncertainty in the track and intensity of the storm next week, assuming it regenerates in the Caribbean. Interests in Florida and the Bahamas are encouraged to occasionally monitor the progress of Eta heading into the weekend.
The category 4 storm is only the fifth on record in the Atlantic Basin in the month of November; two others have had greater maximum sustained winds during the month. Records in the Atlantic Basin go back to 1851.
Expires at 11:00am on Wednesday November 4th, 2020
Hurricane Eta rapidly intensified into a major hurricane Monday, and is now approaching Central America as a Category 4 storm. Eta is not a direct threat to the United States this week, but its remnant moisture and spin could spawn new tropical development in the Caribbean next week farther north.
As of 4 pm ET Monday, Hurricane Eta was located 70 miles east-southeast of the Nicaragua/Honduras border and had maximum sustained winds of 130 mph. Additional strengthening is expected before the storm makes landfall in Central America early Tuesday.
A Hurricane Warning remains in effect for the northeastern coast of Nicaragua where the eye wall of Eta is expected to move ashore. Catastrophic wind damage, life-threatening flooding, and high storm surge is forecast for parts of Nicaragua and Honduras as the hurricane moves over the region. The flood threat is anticipated to last through Friday evening across portions of Central America as Eta meanders over the region. Between 15 and 25 inches of rain, with isolated amounts up to 35 inches, will be possible for much of Nicaragua and Honduras. Heavy and continuous rainfall could cause widespread flooding and landslides in high terrain locations.
Life-threatening storm surge is also anticipated along the northeastern coast of Nicaragua near and to the north of where Eta makes landfall. Water levels could reach as high as 12 to 18 feet above normal tide levels, according to the National Hurricane Center.
The powerful hurricane is expected to weaken gradually over Central America through the rest of the work week before turning north-northeasterly and exiting back out into the western Caribbean by Friday. Eta is not anticipated to be a direct threat to the United States this week. However, environmental conditions are expected to remain favorable with high sea surface temperatures and minimal vertical wind shear which could aid in Eta reforming by the weekend. A secondary scenario is that Eta dissipates and another tropical system forms in the same general region. It is too soon to determine whether this system may have an impact on the coastlines of the United States, but it certainly warrants close monitoring.
Eta is the twelfth hurricane overall, and fifth major hurricane of the 2020 Atlantic Hurricane Season. It is the strongest November hurricane since Category 4 Hurricane Paloma in 2008 and only the fourth Category 4 cyclone to form in the month of November on record.
Expires at 4:00pm on Tuesday November 3rd, 2020
Tropical Storm Eta formed late Saturday night in the central Caribbean Sea, becoming the 28th named storm of the 2020 Atlantic Hurricane Season. Hurricane and Tropical Storm Warnings have been issued for parts of Nicaragua and Honduras where Eta is expected to impact Tuesday.
Favorable environmental conditions, which include minimal vertical wind shear and warm sea surface temperatures, are forecast ahead of Eta which could allow it to strengthen rapidly. Weather models are anticipating Eta to become a hurricane as it impacts Central America.
Eta is expected to be a slow moving tropical cyclone as it approaches the shores of Honduras and Nicaragua late Tuesday. This slow forward movement will increase the flooding concern for portions of Jamaica, the Cayman Islands, and Central America. The storm could produce 5 to 10 inches of rain, with local maximum amounts of 15 inches across Jamaica, the Cayman Islands, and the southern coast of Hispaniola. However, parts of Honduras and Nicaragua could see higher amounts of 10 to 20 inches, with isolated rainfall amounts as high as 30 inches. According to the National Hurricane Center this could be one of the worst flooding disasters since Hurricane Mitch in 1998.
Eta is anticipated to linger near the Central American coast through midweek, thereafter, there is still much uncertainty regarding the path and intensity of the storm. Several weather models are hinting that Eta could redevelop and move northward after impacting Central America. Other models are suggesting another system, separate from Eta, could form in the western Caribbean by the end of the work week and then travel northward. It remains too early to say whether Eta could become a threat to the United States. Coastal residents are advised to closely monitor the situation this week.
The 2020 and 2005 hurricane seasons tie the record for most named tropical cyclones in a single year. This is the first time the name "Eta" has ever been used.
Expires at 6:00pm on Monday November 2nd, 2020
A Tropical Storm Warning and Storm Surge Warning has been issued for portions of the Florida Panhandle ahead of Hurricane Zeta.
A Tropical Storm Warning is in effect from the Mississippi/Alabama border to the Okaloosa/Walton county line in Florida. This includes the cities of Pensacola, Navarre, and Fort Walton Beach. The Storm Surge Warning is in effect for coastal areas of Florida from the Alabama state line to Navarre, including Pensacola Bay. A Hurricane Watch has also been issued from Morgan City, Louisiana to the Mississippi/Alabama border, closer to where the center of Hurricane Zeta is forecast to track.
Zeta is expected to emerge into the southern Gulf of Mexico Tuesday morning, where it is likely regain any strength that it loses over its brief time over land. Sea surface temperatures are favorable for intensification, but stronger winds aloft (often called wind shear) are likely to prevent significant strengthening over the central Gulf of Mexico. As Zeta approaches the Gulf Coast Wednesday, cooler sea surface temperatures and even stronger upper-level winds could contribute to some weakening prior to landfall. However, residents in the advised areas are being encouraged by forecasters to be prepared for hurricane impacts, including a life-threatening storm surge, wind, heavy rain and tornadoes.
Weather models continue to forecast landfall between Louisiana and the western side of the Florida Panhandle Wednesday afternoon or evening. Tropical storm force winds are most likely to arrive in the western sections of the Florida Panhandle by Wednesday evening, with worsening conditions expected overnight into early Thursday morning. A peak storm surge of 2 to 4 feet is possible from the Alabama state line to Navarre, Florida, especially near times of high tide. An inundation of water 1 to 3 feet above dry ground is possible as far east as the Nature Coast from Hurricane Zeta.
Conditions are expected to slowly improve along the northern Gulf coast Thursday as the storm quickly accelerates inland and crosses through the Southeast and the Mid Atlantic. Heavy rain, isolated tornadoes, and flooding may accompany a weakening Zeta during the day on Thursday through portions of Alabama, Georgia, and the Carolinas.
If Hurricane Zeta comes ashore in Louisiana this week it will be the fifth tropical cyclone this year, and the eleventh cyclone to impact the continental United States, both of which are records.
Meteorologist Ray Hawthorne contributed to this story.
Expires at 6:00pm on Tuesday October 27th, 2020
Tropical Storm Zeta formed early Sunday morning in the northwestern Caribbean, 400 miles to the south-southeast of western Cuba. While it is too soon to know if Zeta will pose a direct threat to the Sunshine State, heavy rainfall and flooding will continue to be possible in some areas regardless.

Torrential downpours and flash flooding will continue to be a threat through Sunday for most of South Florida and the western Bahamas. A Flood Watch remains in effect for most of southeast Florida through Sunday evening. Additional rainfall accumulations of three to six inches are expected through Monday, with isolated higher amounts possible. A few stronger thunderstorms could also produce localized damaging wind gusts and the chance of waterspouts.
Tropical Storm Zeta is expected to bring storm surge, flooding rains, and wind impacts to portions of the Gulf Coast as early as Tuesday evening. The season's 28th tropical storm is forecast to slowly drift northwestward Sunday and Monday and approach parts of the Yucatán Peninsula Monday afternoon. A Tropical Storm Warning is in effect for the province of Pinar del Rio in western Cuba. A Hurricane Watch and a Tropical Storm Warning are in place for the northern Yucatán Peninsula. Once Zeta emerges into the central Gulf of Mexico Tuesday, meteorologists at the National Hurricane Center say it will enter into a favorable environment for strengthening, and Zeta could briefly become a hurricane before approaching the northern Gulf Coast.
The northern Gulf of Mexico is anticipated to be less conducive for development with high vertical wind shear and cooler sea surface temperatures, which should aid in weakening the system as it approaches the coast sometime Wednesday afternoon. However, the exact track and strength of Zeta remains speculative. There will still be a chance that Zeta impacts at hurricane-strength and all Gulf Coast residents should continue to monitor the progression of this storm over the coming days.
Louisiana in particular has experienced a turbulent hurricane season so far this year with four total tropical cyclones impacting the state. Tropical Storm Cristobal came ashore over southeastern Louisiana on June 7th, followed by Tropical Storm Marco on August 24th. Three days later, Hurricane Laura made landfall as a Category 4 near Cameron. Laura tied with the 1856 Last Island Hurricane as the strongest hurricane on record to make landfall in the state as measured by maximum sustained wind speeds. Finally, on October 9th, the state was impacted again, this time by Hurricane Delta, a Category 2 storm. If Hurricane Zeta comes ashore in Louisiana this week it will be the fifth tropical cyclone this year, and the eleventh cyclone to impact the continental United States, both of which are records.
Only one other storm in history has been named Zeta and that occurred in the 2005 Hurricane Season. Zeta (2005) was the second tropical system on record to cross into a new year forming on December 30, 2005 and dissipating on January 7, 2006. The names Eta, and every succeeding letter used from the Greek alphabet, have never been used.
Tropical Depression 27 formed early Monday morning about 720 miles southeast of Bermuda.
The depression does not pose any risk to the east coast of the United States, for now. A blocking high pressure to the north of the system is preventing it from traveling northward into the open Atlantic. Instead it is expected to meander in the vicinity over the next few days. However, there is expected to be some coastal impacts due to the strong high pressure to the north and Tropical Depression 27. Large swells will push westward towards the coastlines leading to high surf and dangerous rip currents this week. These coastal hazards could extend as far south as Puerto Rico and the U.S. Virgin Islands.
Onshore winds from the depression could exacerbate the King Tides which have been peaking since Saturday along parts of the Southeast coast. Coastal flooding may continue across shorelines through early this week, especially if the depression intensifies offshore. The Monday morning forecast from the National Hurricane Center strengthens the depression into a tropical storm later Monday and into a hurricane late Wednesday or early Thursday.
Additionally, the National Hurricane Center said there is a slight chance of tropical cyclone development in the western Caribbean late this week. A broad area of low pressure may develop in the next two to five days to the south of Jamaica and the Cayman Islands. Forecasters Monday morning have given this area a low chance of development over the next few days. It is too soon to determine if this system will pose a threat to Florida or the U.S. East Coast.
Expires at 11:00am on Thursday October 22nd, 2020