The coolest air yet of the young fall season is expected to arrive Sunday across the Sunshine State. Noticeably lower humidity values are expected as far south as Miami.
The ridge of high pressure that has been responsible for the recent stretch of above-normal warmth across the Southeast will be replaced by an approaching cold front Saturday night. Upper-level winds will steer the front deep into South Florida by late Sunday.
The cooler air will be first felt in the Florida Panhandle Saturday night, where overnight lows will dip into the 50s. The cooler air will then spread south and east into north-central Florida during the day Sunday, where high temperatures will struggle to hit 80º. This will be 10 to 12 degrees cooler than afternoon highs have been for these locations in recent days, and Sunday night low temperatures could dip into the 50s as far south as the I-4 corridor. Temperatures will only cool by a few degrees behind the front in South Florida Monday, but humidity levels will drop enough to make for more pleasant evenings and mornings.
Rainfall will be minimal along the front due to a lack of moisture and its fast forward motion. Nonetheless, scattered showers will mark its arrival across the Florida Panhandle Saturday afternoon, North Florida Saturday night, and during the early part of the day Sunday in central and south Florida.
In the tropics, the Atlantic basin has been relatively quiet and it will most likely stay that way for the next several days. There is an area of low pressure the National Hurricane Center is watching northeast of the Turks and Caicos Islands. However, it only has a ten percent chance of development and is moving farther away from the land to the east-northeast.
Meteorologist Vanessa Abuchaibe contributed to this story.
Drier air and higher pressure aloft favor a quiet week of weather across the Sunshine State. And despite three areas of interest being monitored for possible tropical development, strong winds aloft will prevent them from becoming threats over the next five days.
The first disturbance of note was an area of low pressure located just east of North Carolina, referred to by meteorologists as Invest 92L. In their 8 pm Tropical Outlook, the National Hurricane Center said dry air and strong upper-level winds are likely to prevent it from acquiring tropical characteristics as it moves away from the United States this week.
The circulation around 92L, has allowed this drier air aloft to move all the way into Florida. This will effectively reduce or eliminate rain chances across most of the state for several days. The only exception will be spotty and brief showers that form from an onshore east-northeasterly flow along the eastern half of the peninsula each afternoon. Rain chances will be highest where low-level moisture is the greatest, which is projected to be mostly in east-central and southeast Florida. Otherwise, a generally dry and comfortable weather pattern is in the forecast for most of the upcoming work week statewide.
Two other disturbances have been identified as having "low chances" of tropical development, but are likely to also encounter inhibiting conditions. One was located south of Puerto Rico, and the other a few hundred miles east of the Lesser Antilles. While brief tropical development remains possible, their eventual outcome will likely be doomed by the same vast area of strong winds aloft covering much of the Southeast, western Atlantic, and the Caribbean.
The peak of the 2021 Atlantic Hurricane Season has passed, but Florida is still susceptible to landfalling tropical systems this time of year. However, long-range forecast data suggests the deterrent factors that are present now - namely the dry air and high amounts of wind shear - are likely to be around through at least the next 10 days. Nonetheless, tropical storms or hurricanes have and still could impact the United States in late October and through much of November.
Sam rapidly intensified into a hurricane Friday morning and is forecast to become a major hurricane over the weekend. While long range forecast data suggests Sam will stay out to sea, it is still too soon to credibly predict whether Sam will impact Florida or the United States.
Satellite data estimates maximum winds from Hurricane Sam were at 75 mph and the storm was moving west at 15 mph. Sam's circulation was noted as being "compact" and located 1470 miles east of the northern Leeward Islands. Sam is explicitly forecast by the National Hurricane Center (NHC) to continue rapidly intensifying and become a category three storm by Saturday afternoon.
Hurricane Sam is likely to continue on a west-northwest motion through the weekend, then gradually turn more northerly early next week. There is high confidence in both the track and intensity forecast with Sam through Tuesday. Thereafter, long range model simulations diverge considerably on how far west of north Sam might move before the steering currents allow it to recurve to the north or northeast (away from the Southeast). For this reason, residents along the East Coast from Florida to New England are encouraged to stay informed on Hurricane Sam through the weekend and early next week.
Elsewhere in the tropics, there were there additional areas of interest being monitored for possible development Friday morning: A disturbance near Bermuda, the remnants of Odette in the north Atlantic, and a new tropical wave emerging from west Africa. Probabilities of development with all three systems were noted by the NHC to be less than 50 percent, and none of them are likely to be a threat to the United States.
Expires at 5:53am on Saturday September 25th, 2021
Tropical Depression Eighteen formed in the eastern Atlantic Ocean Wednesday afternoon and is likely to become a long-lived hurricane.
Tropical Depression Eighteen is expected to become a tropical storm by Thursday, acquiring the name Sam. It is then likely to move west to west-northwestward across the deep tropics and strengthen over the upcoming weekend. It remains unclear whether Tropical Depression Eighteen will affect the Caribbean or turn northwestward and bypass the Lesser Antilles to the north. If it does affect the Caribbean, it would likely happen early next week. Most of the global models forecast the storm to intensify steadily in the coming days, and the National Hurricane Center projects soon-to-be Sam to be a major category by Monday.
Confidence is quite low in its future path; there is at least a 1000 mile difference between the various global models. This is often a sign the atmosphere is in a chaotic, or highly unpredictable state, later this weekend and early next week. For that reason, it is not possible to be confident that Sam will turn out to sea like Tropical Storms Peter and Rose, and Hurricane Larry before it.
Elsewhere in the tropics, Tropical Storms Peter and Rose both weakened to tropical depressions. Peter is located about 215 miles north of San Juan, Puerto Rico as of early Wednesday morning. It is forecast to turn toward the north then northeast through Friday and dissipate this weekend well south o of Bermuda. Rose is also expected to turn toward the north and northeast, and dissipate between the Azores and Cape Verde Islands late this weekend.
A separate area of low pressure is located a few hundred miles southeast of New Foundland. This low is the remnant of what was once Tropical Storm Odette which formed Friday afternoon east of North Carolina. The low could reacquire tropical or subtropical characteristics this week, but will eventually turn out to sea by the weekend.
Expires at 6:00pm on Thursday September 23rd, 2021
Floridians usually have to wait much longer than the first day of autumn for that "fall feel" in the air. That won't be the case this year for those living north of I-4, as a noticeable cold front surges in.
The front will be approaching the Florida Panhandle Wednesday, sweeping across North Florida Wednesday night, then slowing to a crawl across Central Florida Thursday. The front will likely never make it to South Florida before it dissipates this weekend.
Scattered showers and thunderstorms will mark the arrival of the front Wednesday afternoon and evening as it moves across the northern third of the state. Numerous thunderstorms will also likely develop across central and southern sections of the Sunshine State where deeper moisture resides. This trend will likely continue Thursday and Friday for locations along and south of where the boundary stalls.
Behind the front, temperatures and dew points will fall 5 to 10 degrees on average. The lower dew points will yield lower humidity values. THis will make the air mass noticeably more comfortable, especially during the evening and morning hours. Afternoon highs will fall to the upper 70s and lower 80s across the Panhandle and North Florida Thursday through Saturday, with overnight lows dipping into the 50s and 60s for the first time in several months.
The cooler and drier air across the northern half of Florida will gradually be replaced with an increasingly warmer and humid air mass by early next week, and our eyes will then turn to the tropics. A future development, likely to become Tropical Storm Sam, is expected to move across the Atlantic Ocean next week. Unlike its predecessors Peter and Rose that turned north, long range forecast models suggest this system will be steered in more of a westerly direction and could approach the Leeward Islands or Bahamas in 8 to 10 days. However, it is far too soon to credibly project whether Sam will become a threat to the United States.
Expires at 11:43pm on Thursday September 23rd, 2021
Two days of heavy rain prompted flood watches and warnings across the northern third of Florida this weekend. The heavy rain risk will shift south this week, while the tropics stay active but non-threatening.
Three to five inches of rain has been observed or radar estimated across inland areas of north and central Florida since Friday, and isolated amounts over three inches have also been noted in the Panhandle. The tropical moisture responsible for the weekend washout is forecast to shift east and south in the coming days, enhancing the daily shower and thunderstorm activity across central and south Florida by midweek. Localized flooding will be possible where storms repeatedly produce heavy rain over the same areas multiple days in a row.
The greatest coverage and intensity of Monday's storm activity will be across northeast and central sections of the peninsula, where a southwesterly wind enhances storm coverage along the Atlantic sea breeze by late afternoon. The heaviest downpours are likely Monday near or east of I-75 from Lake City to The Villages, then along and north of the I-4 corridor from Lakeland to Orlando, and up I-95 from Daytona Beach to Jacksonville. Elsewhere across Florida, showers are possible in the morning hours closer to the Gulf Coast, with spotty thunderstorms expected across inland areas by afternoon.
On Tuesday and Wednesday, the axis of heavier afternoon and evening rains will spread southeast to include the Space Coast, the Treasure Coast and portions of South Florida. Meanwhile, a shift in the winds will allow drier air to work its way into the northern half of Florida, effectively limiting afternoon sea breeze activity to only a few brief and spotty showers near and north of I-4. This trend is likely to continue through Friday, and may even be reinforced by the approach of a true fall front moving into the northern third of the state.
In the tropics, two new tropical storms formed over the weekend in the Atlantic Ocean. Neither are expected to be a threat to the United States. Tropical Storm Peter was located 350 miles east of the northern Leeward Islands Sunday evening, while Tropical Storm Rose was 370 miles south of the Cabo Verde Islands. Both storms are forecast to move more north than west and stay over the open waters of the Atlantic in the next five days.
Two other areas of disturbed weather were also being monitored for possible development by the National Hurricane Center Sunday evening. The remnant circulation and moisture from Odette was moving south of Newfoundland and had a "low" chance of reacquiring tropical characteristics. The second area noted was a tropical wave expected to move into the eastern Atlantic Ocean from Africa, where forecasters say it has a "medium" chance of developing into a tropical depression or storm by Friday. Neither of these disturbances poses a threat to land through over at least the next seven days.
Expires at 10:00pm on Monday September 20th, 2021
Larry is likely to become the season's third major hurricane in the central Atlantic this weekend, and forecasters are watching two other areas of interest for possible development. However, none of them are expected to become a threat to Florida through the holiday weekend.
Hurricane Larry was located nearly 800 miles west of the Cabo Verde Islands Friday afternoon and forecast to intensify into a powerful category 4 storm this weekend. Steering currents are likely to take Larry on a more northwestward course by Sunday or Monday, then more northerly by early next week. This should keep Hurricane Larry far removed from any land masses on its journey and is not expected to become a threat to the United States.
A tropical wave behind Larry, just west of Africa, has a small window of opportunity for tropical development in the next 48 hours, but thereafter atmospheric conditions are expected to become unfavorable for the system to organize.
Showers and thunderstorms around a broad area of low pressure near Nicaragua are also being monitored closely by the National Hurricane Center for possible development, although those chances remain "low" as of Friday evening. Interactions with land and strong winds aloft are likely to prevent this disturbance from becoming a significant tropical entity over the next five days as it moves northwest and crosses the Yucatan Peninsula.
Ida weakened to a tropical storm Monday morning as it moved into southern Mississippi. Despite the former hurricane being more than 200 miles from Florida, Ida's outer bands will continue to pose a tornado and flash flood risk to portions of the Panhandle.
Ida's center of circulation will be making a turn to the north-northeast Monday across Mississippi, while at the same time upper-level winds will cause the rain and wind fields to expand farther east. As a result, despite a lull in activity overnight, the downpours will move back across the western half of the Florida Panhandle Monday morning. The gusty rain squalls will then spread east toward Panama City and Tallahassee by Monday afternoon.
The Flash Flood Watch that was originally issued for Escambia, Santa Rosa and Okaloosa counties has now been expanded east to include Walton, Bay, Holmes, and Washington counties through Tuesday morning. This includes the cities of Pensacola, Destin, Crestview and Panama City. Additional rainfall accumulations of 4 to 7 inches are expected near Pensacola, with 2 to 5 inches of additional rain possible for areas under the watch farther east. The National Weather Service says wet soils in this region, combined with the additional rainfall may lead to flash flooding.
Low-level spin from the nearby circulation of Ida could also aid in the development of a few tornadoes embedded in some of the stronger rain bands. The Storm Prediction Center has placed areas of Florida from Panama City west under a "slight" (level 2 of 5) risk of tornadoes, with a "marginal" risk near Tallahassee and along the Forgotten Coast. The tornado risk is likely to diminish considerably after sunset Monday evening as Ida's circulation moves farther north across the Tennessee Valley.
Elsewhere in the tropical Atlantic basin, there are two tropical systems that have developed and two others with development potential in the next five days. However, none of them are expected to become a threat to the United States or Florida in the next five days. A fetch of tropical moisture associated with the remnants of Ida is forecast to slide east across the northern third of the Sunshine State midweek, leading to higher-than-normal rain chances Tuesday and Wednesday. Aside from this, near-normal late-summer weather conditions are expected to return to most of Florida for the remainder of the week.
Expires at 8:00pm on Monday August 30th, 2021
Ida weakened to a tropical storm Monday morning in southern Mississippi, and outer bands from the former major hurricane are forecast to spread across the Florida Panhandle Monday posing a tornado and flash flood risk. Four other systems in the tropical Atlantic basin were being monitored by the National Hurricane Center, but none of them are likely to be a threat to Florida in the next five to seven days.
Two of the four systems not named Ida have already matured into tropical cyclones. Tropical Depression Ten was located more than 700 miles east of the Leeward Islands and could strengthen into a tropical storm this week, but the storm is moving north and likely to stay over water. Post-tropical cyclone Julian was located roughly 800 miles west of the Azores, but also only a shipping interest across the northern Atlantic Ocean over the next five days.
There are two other areas of interest with development potential this week, according to the National Hurricane Center's Monday morning outlook. A tropical wave emerging off the west coast of Africa is entering an environment conducive for development, and forecasts say a tropical depression or storm is likely to form by the middle or latter part of the week south of the Cape Verde Islands. Long range forecast data suggests this future storm could be long-lived across the central Atlantic, but a weakness in the steering winds would make it unlikely to move toward any land areas of North America.
A broad area of low pressure is expected to form in the southwest Caribbean, which is close to where Hurricane Ida was born. However, development chances are low at this time due to it's anticipated proximity to land and more west-northwest track. If the system were to stay over water, it could eventually develop and move toward the Yucatan Peninsula by the end of the week.
While there are no new imminent tropical threats to the Sunshine State, the traditional peak of hurricane season is still just under two weeks away. As of Monday morning, there have been 10 tropical storms and four hurricanes so far this year, two of which became major hurricanes. Ida was the fourth hurricane to hit Louisiana and the third major hurricane to hit the Bayou State in two years.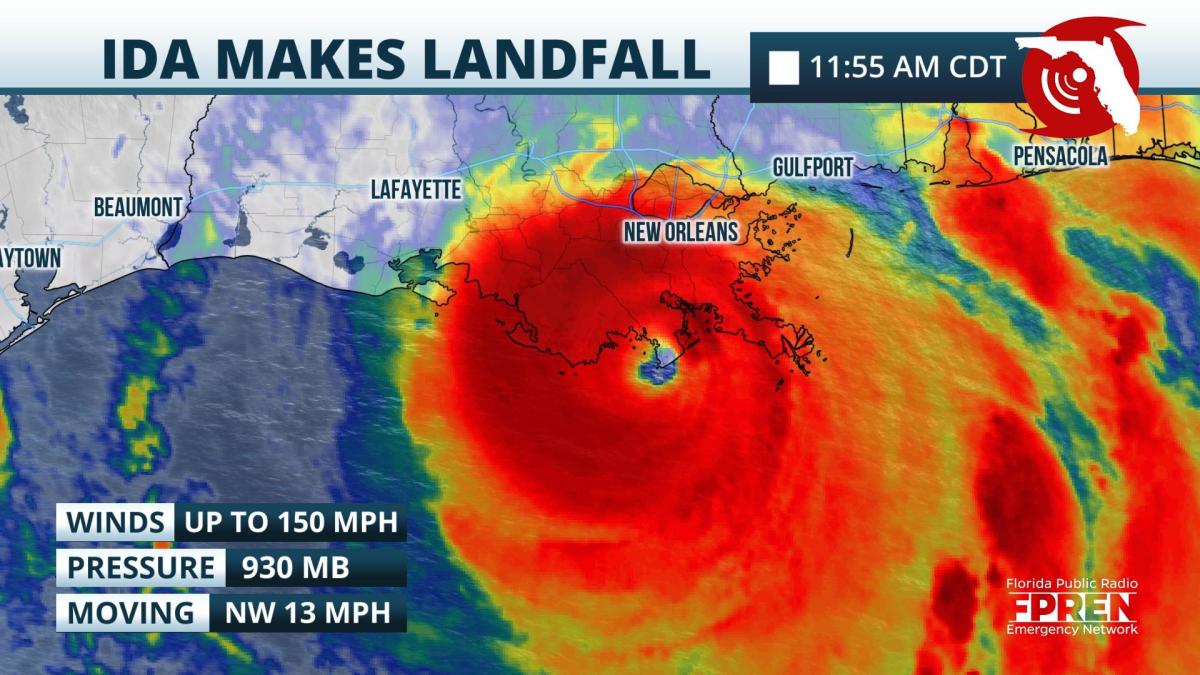 Hurricane Ida has come ashore in southeast Louisiana, but the indirect hazards are just beginning in portions of the Florida Panhandle. Flash flooding, coastal flooding, and isolated tornadoes remain possible through Monday along the Emerald Coast as Ida moves inland.
Hurricane Ida made landfall near Port Fourchon, LA shortly before 12 pm CDT Sunday, according to a special update from the National Hurricane Center. At the time, maximum winds were estimated to be at 150 mph and the pressure as low as 930 mb. Life-threatening storm surge and inland flooding, along with potentially catastrophic wind damage is still expected from the hurricane as it moves inland Sunday afternoon and evening near and west of New Orleans to Baton Rouge.
Outer rainbands from Ida moved through much of the Florida Panhandle Sunday morning, and in a few cases prompted tornado and flash flood warnings.
This trend is likely to continue through Monday night, with the heaviest and most persistent bands coming in two general waves. As Ida's circulation moves inland and expands Sunday afternoon, another outer rain band or two will rotate across the Panhandle through the early evening hours. A lull in activity is expected overnight Sunday as Ida tracks a little west of north through Louisiana. However, as the storm's center moves more east of north, into portions of Mississippi on Monday, rain bands will move back in the direction of Pensacola and the Emerald Coast. This is when the flash flood risk will be enhanced, especially in areas that receive heavy rain from both rounds.
The following alerts have been issued by the National Weather Service for portions of the Florida Panhandle:
A marginal risk of tornadoes all areas near and west of Tallahassee Sunday, with a Tornado Watch continuing for Escambia, Santa Rosa and Okaloosa counties through 7 pm CDT.
A Flash Flood Watch for Escambia, Santa Rosa, and coastal Okaloosa counties through Tuesday morning, where 4 to 8 inches of rain is expected with locally higher amounts up to 10 inches possible.
A High Surf Warning through Tuesday morning for coastal Escambia, Santa Rosa and Okaloosa counties, where waves of 10 to 15 feet are expected. A Coastal Flood Advisory is in effect for the same areas through Monday evening.
A High Surf Advisory and Small Craft Advisory for all beaches and nearshore waters from Walton County to Florida's Big Bend through Monday evening.
A high rip current risk for all Florida Gulf Coast beaches from Pensacola to Fort Myers through Monday.
Outer rainbands from Hurricane Ida are likely to begin approaching Florida's Emerald Coast and Pensacola as early as Sunday morning. As some limited sunshine destabilizes the atmosphere a bit more farther east, additional rain squalls are likely to develop and intensify near Panama City and Tallahassee by late Sunday afternoon, potentially stretching as far south as the Nature Coast, Tampa and Sarasota by early evening.
Isolated tornadoes will be possible in the strongest cells associated with Ida's aforementioned outer rainbands Sunday, especially near and west of Tallahassee. The tornado risk may continue in some of these areas Tuesday.
A Flash Flood Watch has been issued for Escamba, Santa Rosa and coastal Okaloosa counties in Florida through Tuesday morning. In these locations, rainbands will be more persistent Sunday night and Monday, closer to where Ida's center of circulation moves inland. Rainfall accumulations of 4 to 6 inches are expected in the watch area, with locally higher amounts up to 8 inches possible. Rainfall accumulations of 8 to 16 inches are expected closer to where the center of Hurricane Ida tracks through southeast Louisiana and southern Mississippi.
A life-threatening storm surge of 8 to 16 feet above normally dry ground is expected at times of high tide from Morgan City, LA to the Mouth of the Mississippi River. The water inundation is likely to be 5 to 8 feet in Lake Pontchartrain and 6 to 12 feet east to the Mississippi-Alabama border. A water rise of 2 to 4 feet is possible farther east to the Alabama-Florida border, with 1 to 3 feet possible near Pensacola and along the Emerald Coast.
Significant wind damage and widespread power outages are expected across southeast Louisiana, where hurricane warnings are in effect. Sporadic outages and minor wind damage are possible east of across portions of coastal Mississippi and Alabama, where tropical storm warnings have been issued. An occasional wind gust to 40 or 50 mph cannot be ruled out in the Florida Panhandle from Ida, but it would be more isolated and primarily associated with the heavier outer rain bands.
Hurricane Ida is expected to weaken rapidly after landfall, but still be capable of producing rough seas and heavy rain bands across the Florida Panhandle Monday and Tuesday. The remnant moisture feed on the storm's eastern side is also likely to move back in the direction of Florida Tuesday, leading to higher-than-normal rain chances across north and central sections of the state through Wednesday.
Updates on Hurricane Ida, including the latest advisory and any urgent alerts related to the storm, are available in the Florida Storms mobile app. This is a free download from the Florida Public Radio Emergency Network.