An unusually cold air mass has swept across the Sunshine State, and a late-season frost is likely Friday night across inland areas of the panhandle and northeast Florida.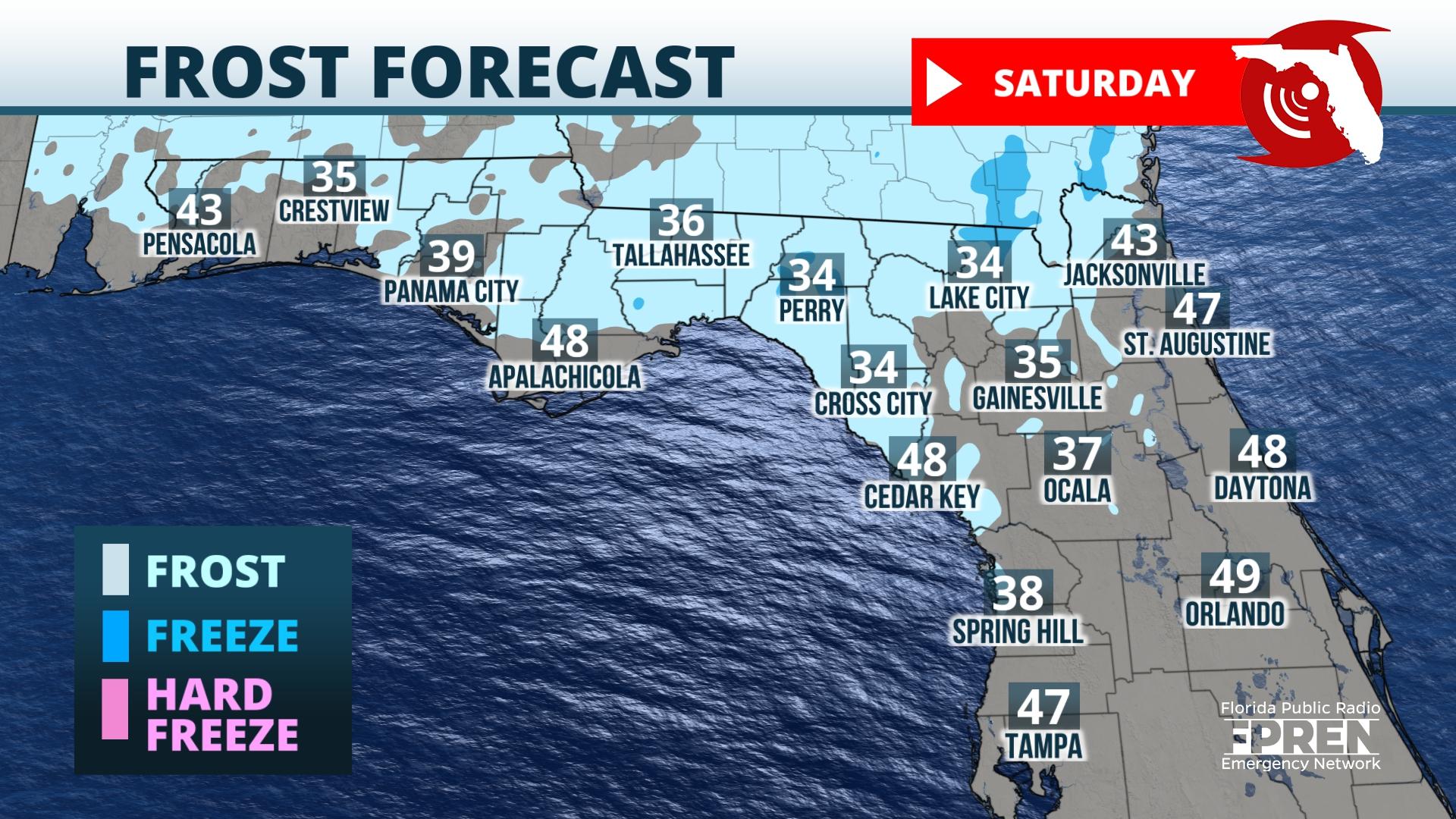 Thursday's cold front marked the arrival of an air mass that is running 10 to 15 degrees below normal, and in some areas near record-setting for this time of year. Clearing skies and lightening winds across the northern third of the state will make conditions favorable for frost formation across inland and rural areas roughly north of a line from Cedar Key to Jacksonville.
A Frost Advisory has been issued by the National Weather Service offices in Mobile, Tallahassee and Jacksonville where action is urged to prevent damage to sensitive plants, such as covering them up or bringing them inside. Temperatures in the advised locations are expected to fall into the lower and middle 30's by daybreak Saturday. Elsewhere across Florida, overnight lows will generally be in the 40s and 50s.
The cooler-than-normal weather is expected to last into the start of the weekend, followed by some moderation in temperatures by Sunday.
Expires at 9:00am on Saturday April 3rd, 2021
Destructive winds and a few tornadoes are possible across portions of the Florida Panhandle Monday afternoon ahead of a powerful cold front. Strong storms capable of producing high winds and isolated tornadoes are also possible across a large portion of the peninsula Monday night.
The chance for strong to severe thunderstorms has been elevated ahead of a deepening low pressure system. A powerful cold front extending from the low pressure is anticipated to move through parts of the Florida Panhandle Monday afternoon and approach the northern Peninsula towards the late afternoon and evening.
The Storm Prediction Center Monday has increased the severe weather risk level for parts of the Florida Panhandle from Slight (risk level 2 out of 5) to Enhanced (risk level 3 out of 5). This Enhanced Risk includes the cities of Tallahassee and Panama City. Scattered showers and thunderstorms were quickly developing Monday morning as a surface low pressure system lifted into the Deep South, dragging a strong cold front northeastward.
Additional convection is expected to develop through Monday afternoon ahead of the cold front. Strong upper-level wind shear and moderate instability is forecast across the Florida Panhandle through the afternoon which will aid in fueling the development of storms.The Storm Prediction Center says that these storms have the potential to produce a strong tornado or two along with scattered damaging winds, a few of which may be significant.
Heavy rainfall will also be a concern which could trigger localized flash flooding. The following are estimated arrival times of showers and thunderstorms for parts of the Florida Panhandle:
Pensacola and Destin: 11AM - 4PM CDT
Panama City: 3PM - 6PM EDT
Tallahassee: 4PM - 7PM EDT
The severe risk is expected to taper off late Monday night as the showers and thunderstorms move eastward into northern parts of the Florida Peninsula. A Slight Risk (hazard level 2 out of 5) remains in place for northern parts of the Peninsula including the cities of Lake City, Jacksonville and Gainesville. A few storms could still produce damaging wind gusts and isolated tornadoes as they approach this region by the evening and through midnight.
Central Florida remains in a Marginal Risk for the threat of isolated strong storms overnight Monday and into Tuesday. Activity should continue to weaken gradually through the night as the cold front sweeps away the remaining storms down towards South Florida Tuesday morning. Upon the passage of the strong cold front, cool northerly winds will dive in as a high pressure ridge builds over the region. Drier conditions and temperatures slightly below average will return beginning Tuesday.
Expires at 5:00am on Tuesday February 16th, 2021
A powerful cold front is expected to sweep through Florida Christmas Eve, producing dangerous thunderstorms ahead of it and frigid wind chills behind it on Christmas Day.
A squall line of thunderstorms capable of producing destructive winds is expected to develop ahead of the advancing cold front before dawn Thursday morning across the northern Gulf Coast states. The storms are likely to arrive in Pensacola and along the Emerald Coast between 6 and 9 am CST, then sweep into the Panama City and Tallahassee regions closer to midday. Wind damage and a brief tornado will be the primary hazards from the strongest storms in the Florida Panhandle.
Farther east, numerous strong thunderstorms are also expected across the Florida Peninsula Thursday afternoon and evening as the front marches in. Wind gusts up to 60 mph and a brief tornado are also possible with the strongest storms, in particular ones that develop ahead of the aforementioned squall line later in the day. Areas most at risk for this second cluster of severe storms are across sections of northeast and east-central Florida, or roughly near and east of a line from Jacksonville to Ocala to Orlando.
The cold front is forecast to clear Florida by Christmas morning (Friday), with frigid wind chills and multiple freezes likely to follow in some areas through the weekend. Rapidly falling temperatures will be noticed first across the Florida Panhandle behind the front Thursday afternoon. For example, after a morning high temperature close to 70 in Panama City, the mercury will likely plummet into the 40s by 4 pm and wind gusts of 20 to 30 mph will make it feel more like the 30s (with the wind chill) by sunset.
The early winter chill will reach all the way to the Florida Keys and Miami by Friday afternoon, where temperatures will struggle just to hit 60 degrees. Farther north, a light freeze is expected Christmas morning across inland areas from Pensacola to Jacksonville, and Friday afternoon highs in these areas will only be in the 40s. Subfreezing temperatures are expected even farther south Saturday morning, potentially reaching Ocala, The Villages, and the northern suburbs of Orlando and Tampa.
Temperatures will gradually moderate across Florida over the weekend as the high pressure system sponsoring the cold blast moves off to the east. An easterly flow is likely to develop by Sunday and Monday, allowing for mild and relatively calm weather to return for several days.
Expires at 9:00pm on Thursday December 24th, 2020
A complex of thunderstorms are expected to move across Florida ahead of an approaching cold front Wednesday, and in some areas the storms will have the potential to produce wind damage or a brief tornado.
The chances of a severe storm or two are highest from Florida's Big Bend to the Tampa metro area, and generally up to about 50 miles inland from the Gulf Coast. The thunderstorms are expected to spread across the Florida Panhandle in the morning hours, then reach the Nature Coast and Tampa metro areas around midday. The activity will then spread into portions of North and Central Florida during the afternoon hours, before weakening over South Florida by early evening.
Wind gusts up to 60 mph and a brief tornado are the primary hazards from the strongest storms Wednesday. Heavy rain and frequent lightning will also accompany the storm activity as it swings through most areas of the state. Wednesday's front is associated with a larger storm system expected to bring heavy snow and ice accumulations to portions of the Northeast and New England.
Expires at 8:00pm on Wednesday December 16th, 2020
A fast-moving front will trigger numerous showers and thunderstorms ahead of it in South Florida late Sunday Night, and a few of them could produce wind damage or even a tornado.
Satellite and radar data revealed a fast-moving front and storm system was becoming better organized Sunday afternoon over the Gulf of Mexico. Scattered showers are possible across the entire state Sunday evening and overnight ahead of it. However, instability is only marginally favorable for thunderstorms across parts of South Florida.
Areas near and south of a line from Naples to West Palm Beach have been outlined by the Storm Prediction Center as having a marginal (1 out of 5) risk for wind damage or a brief tornado from the strongest thunderstorms as they move through. The storms are expected to arrive along the Gulf Coast of Southwest Florida close to midnight, then spread into Southeast Florida near Miami and Fort Lauderdale after 2 am.
The showers and thunderstorms are likely to exit South Florida by midday Monday, and the a much drier and cooler air mass will filter in behind it statewide Monday night.
Expires at 11:10am on Monday December 7th, 2020
Rarely does nature follow the precise flip of the calendar, but as hurricane season officially ends, winter arrives in Florida.
The season's first freeze is likely across inland areas of the Florida Panhandle Tuesday morning, and subfreezing wind chills could dip as far south as the I-4 corridor in Central Florida.
A Freeze Warning is in effect tonight for all inland areas from Florida's Big Bend to Pensacola. Tuesday morning lows in the warned area will range from near 30 along the I-10 corridor to around 32 just a few miles from the coast. Temperatures are the beaches will fall to between 32 and 35. A Freeze Watch is in effect for Tuesday night and Wednesday morning across a large section of North Florida, when lighter winds and an even colder push of air will likely send the mercury below freezing in those locations.
A brisk north wind Monday night will send wind chills (what it will feel like) to the middle and upper 20s across most of the Florida Panhandle and North Florida by 7 am, and wind chills near or just below freezing are possible as far south as the outskirts of Orlando, Tampa and Lakeland.
This early winter-like air mass will make it all the way to South Florida as well, where Wednesday morning lows could fall to the 40s in outlying areas near Fort Myers, Naples, and Miami.
The cold snap will likely linger through Thursday, before temperatures gradually moderate back to normal for early December by the end of the week.
Expires at 10:00am on Tuesday December 1st, 2020
A strong storm system has the potential to produce severe thunderstorms across portions of the Sunshine State Sunday night and Monday, which will then be followed by the coldest air of the late fall season for all of Florida.
Thunderstorms capable of producing wind damage and tornadoes will be lined up ahead of a cold front when it arrives near Pensacola and the Emerald Coast late Sunday afternoon and evening. The storms are expected to reach the Panama City and Tallahassee regions later Sunday Night, then move into portions of north and central Florida from Gainesville and Ocala to Jacksonville and Orlando Monday morning. Showers and thunderstorms are also possible in South Florida along the front Monday night, although they will likely be weaker and more on the scattered side.
The air mass following Sunday and Monday's front will be the coldest of the late-fall season. In fact, so cold that the first frost or freeze of the winter will likely occur across inland areas north of the I-4 corridor and across the Florida Panhandle Tuesday or Wednesday morning.
Expires at 6:00am on Sunday November 29th, 2020
Two storm systems could affect outdoor plans across the Sunshine State this holiday weekend, with the latter potentially being more disruptive to those with travel plans Sunday or Monday.
The first system will be weak and mostly only affect the northern third of the state, but it might dampen a few Thanksgiving Day plans. Severe thunderstorms swept across portions of Texas, Oklahoma and Louisiana Tuesday night ahead of strong cold front. This front is likely to weaken during the day Wednesday as it approaches the Florida Panhandle, but scattered showers will still be possible along it through Wednesday night. The severe threat will be minimal by the time the front approaches Pensacola and the Emerald Coast, but enough instability may exist for a few thunderstorms through Thursday in these areas.
Shower chances will spread east Thanksgiving Day, potentially affecting holiday outdoor plans near Panama City and Tallahassee. However, the front triggering this activity is expected to stall to the north of Florida, thereby keeping most of this activity spotty and weak. The rest of Florida will likely be warm and dry on Thursday, with temperatures slightly above average for this time of year thanks to a broad southerly flow.
The warm and dry weather will continue across most of Florida Friday. High temperatures will trend several degrees above average, averaging near 80 across the Florida Peninsula, with upper 70s expected in the panhandle.
Changes will begin Saturday across northern sections of the state, ahead of what will become the next storm system that is likely to affect the Southeast Sunday and Monday. Scattered showers and a few thunderstorms are in the forecast from Pensacola to Tallahassee Saturday, followed by more numerous downpours and a few stronger thunderstorms ahead of a second cold front late Sunday.
The front moving across Florida Sunday and Monday may be strong enough to produce severe thunderstorms and gusty winds, although there are too many unknown factors that prevent a more confident forecast on this occurring at the present time. Airport travel may also be slowed across a large portion of the country by this storm Sunday, especially across the Ohio Valley where winter precipitation is expected.
Tropical Storm Eta's next move is becoming a bit clearer, and the forecast track has again shifted. The shift is to the east this time, which puts more of Florida's Gulf Coast at risk for impacts.
The Tropical Storm Watch issued Tuesday afternoon for the greater Tampa metro area and portions of the Nature Coast was upgraded to a Tropical Storm Warning just six hours later. It was also extended farther south to Bonita Beach and now includes Cape Coral, Fort Myers and Port Charlotte. A Tropical Storm Watch was issued along Florida's Big Bend from north of the Suwannee River to the Aucilla River, and a Storm Surge Watch was issued for coastal residents from the Steinhatchee River also to Bonita Beach, including Charlotte Harbor and Tampa Bay.
Tropical storm force winds of 40 to 60 mph are now likely in the warned area from Fort Myers to Tampa as early as Wednesday night, spreading north along the Nature Coast and portions of North-Central Florida during the day Thursday. Gusts nearing hurricane force are also possible in these areas along the coast, which will likely coincide with the stronger rain bands as they rotate inland.
The National Hurricane Center says a life-threatening storm surge of 2 to 4 feet is possible from the Nature Coast to just north of Naples, including Tampa Bay and Charlotte Harbor. Residents in these areas are encouraged to listen to local authorities for possible evacuation orders Wednesday. An inundation of 1 to 2 feet above dry ground is possible farther south from Bonita Beach to Florida Bay.
Forecasters at the National Hurricane Center said the most recent shift in the forecast guidance was a bit of a "surprise", and likely a result of additional hurricane hunter data recently ingested into the models. Atmospheric conditions are still expected to be hostile to the storm as it moves north over the eastern Gulf of Mexico, and the official forecast continues to call for gradual weakening after Wednesday. However, the rate of weakening and speed of the storm are still very much in question due to large spreads in how the models handle several external factors that will likely play a role in Eta's fate.
Regardless of how strong Tropical Storm Eta still is when it moves into the northeastern Gulf later this week, heavy rain, flash flooding and isolated tornadoes are possible in the same areas under the Tropical Storm Warning Thursday and Friday. A few outer rain bands not directly associated with Eta are likely to continue producing locally heavy rain occasionally in South and Central Florida as well through at least Wednesday. The National Weather Service continued Flood Watches into Wednesday evening for Southeast Florida because of the possibility of additional heavy rain on top of already saturated ground.
A high risk of rip currents will continue for several more days in Collier county on the west coast and along the Gold coast of Southeast Florida. High Surf Advisories were issued from the Treasure and Space Coasts northward to the First Coast, and rip currents are also anticipated in these areas through Thursday.
Eta is increasingly likely to encounter higher wind shear and dry air starting Thursday, which would cause the storm to weaken as it moves north toward Apalachee Bay. However, forecasters noted in their advisory late Tuesday evening that the center of Tropical Storm Eta might reform to the east of its current location. If it does, there remains the possibility that Eta would briefly regain hurricane strength and make landfall somewhere along the Nature Coast or just north of Tampa Bay.
Elsewhere in the tropics, Subtropical Storm Theta formed in the open waters of the central Atlantic Ocean Monday evening. It's the season's 29th named storm -- a new all-time record for the number of named storms in the Atlantic Basin in one season. Theta is not forecast to affect land areas at this time. Yet another tropical wave in the central Caribbean has a high chance of becoming the season's next tropical depression later this week or weekend when it reaches the western Caribbean. It is far too soon to say whether it will ever impact the U.S. coastline.
Expires at 6:00pm on Wednesday November 11th, 2020
Tropical Storm Eta has moved into the Gulf of Mexico, where competing atmospheric factors are leading to low confidence on its next move. As such, a credible forecast on when, where, and even if a second landfall will occur in Florida cannot be made at this time.
The season's 29th tropical storm became the 12th storm to make a U.S. landfall as it crossed the Upper Florida Keys late Sunday evening. As of Monday morning, Tropical Storm Eta was marching west-southwest into the southeastern Gulf of Mexico and had maximum sustained winds up to 65 mph. Model simulations are in relatively good agreement that this motion will continue with Eta over the next 24 hours, sending it a few hundred miles offshore from Southwest Florida by late Tuesday. What Eta does next is highly uncertain.
In their early Monday morning update, forecasters at the National Hurricane Center said there will likely be "large changes" to the long range forecast track of Eta. The storm is sandwiched between two ridges over the western Gulf of Mexico and east of Florida, which is likely to cause Eta to slow down considerably by midweek. A trough of low pressure in the southwestern United States is forecast to erode the ridge in the western Gulf enough to cause Eta to move slowly north Wednesday into Thursday. However, computer models do not agree whether the trough will extend far enough south to completely pick up Eta. Another trough off the Pacific Northwest coast is expected to move into the central U.S. on Friday. It is also unclear whether this second trough will extend far enough south to steer the tropical storm. Small changes in any of these potential steering mechanisms will have a large impact on the eventual track of Eta.
Regardless of what happens with Tropical Storm Eta in the coming days, the short-term flood risk continues in parts of South Florida. Official observing sites and radar estimations suggest more than a foot of rain has fallen in portions of Miami-Dade and Broward counties over the past two days. Numerous reports of flash flooding had been received by local officials in and around the communities of Miami Lakes, Pembroke Pines, Davie and Fort Lauderdale.
Outer rain bands from Tropical Storm Eta are still likely to affect the warned areas through Monday afternoon, although the steadier and heavier rain from Eta is forecast to shift into Southwest Florida. An isolated tornado or water spout also remains possible through Monday evening where stronger cells may induce low-level spin. Periodic downpours are expected farther north as well, across much of central Florida through the day Tuesday, thanks in large part to the broad counter-clockwise circulation around Eta pulling in moisture from the Atlantic.
Saltwater flooding from high seas and rough surf is also likely to continue in the Florida Keys, along the shores of the Florida Bay and Biscayne Bay through early Tuesday, especially at times of high tide. Minor coastal flooding will also continue to be possible up and down the Atlantic Coast from the persistent onshore flow through at least Tuesday. Elsewhere across Florida, relatively quiet weather should ensue through midweek while Tropical Storm Eta remains well offshore.
With the forecast track of Tropical Storm Eta highly uncertain, it is still too soon to project potential impacts to locations farther north, such as along the Nature Coast or in Florida's Big Bend. However, residents in these areas are encouraged to stay vigilant and be prepared to act quickly since there might be little notice of potential impacts from Eta given it's close proximity to land later this week.
Expires at 11:00am on Tuesday November 10th, 2020