Record-breaking warmth experienced this week in Florida is likely to be replaced by colder-than-normal temperatures early next week. Multiple freezes are even possible across the northern third of the state, as arctic air surges in behind a strong cold front over the weekend.
A strong storm system was developing over the Central Plains Friday, and it should move into the Midwest on Saturday. It will likely create blizzard conditions in the Dakotas and Minnesota, while at same time produce heavy rain and thunderstorms across the Mid-South and Ohio Valley. A strong front associated with the storm system will approach the Florida Panhandle Saturday evening, before sweeping across the rest of the state Sunday.
A brief period of heavy rain, or even a few thunderstorms, are expected to mark the arrival of the front Sunday. However, the most notable impacts will come behind it. The front will carve out a path that gives arctic air from Canada a free pass to move deep into the Southeast U.S. Both surface and upper-level winds are forecast to support the intrusion of an air mass that is 10 to 15 degrees below normal for the time of year.
The coldest air will likely arrive Monday night and Tuesday morning, when temperatures are projected to fall into the 30's as far south as the I-4 corridor from Tampa to Orlando. A freeze is possible across the Florida Panhandle and along the I-10 corridor, where morning lows Monday could dip into the upper 20s and lower 30s. A second freeze is also likely for the same areas, and maybe even a few miles farther south, on Tuesday morning. Afternoon highs will likely only reach the 40s 50s in these locations Tuesday and Wednesday, which is a 30-degree difference from what was experienced this past week.
The Florida Public Radio Emergency Network will provide updates on specific temperature forecasts and possible watches or warnings related to the freeze as the event draws closer. You can also keep tabs on your latest 7-day forecast in our mobile app Florida Storms.

Expires at 10:00am on Monday January 20th, 2020
This story has been updated to reflect four more record highs that were tied or broken Monday, bringing the 3-day total to seventeen.
More than a dozen warm weather records have been tied or broken in Florida over the past three days, and the unusual warmth is expected to continue through at least the end of the week.
A weather pattern more typical for late summer is in place across the Southeast U.S., and forecast data shows no sign that it will break down anytime soon. Surface and upper-air observations indicate that a large and sprawling area of higher pressure stretches from the Gulf of Mexico to the Bahamas. Jet stream winds will therefore not able to steer storm systems and cold fronts into Florida like they normally would during the winter months.
---
An all-time January high temperature of 89 degrees was set in Naples Sunday, which was the second day in a row a new daily high temperature record was broken. Record highs were common from Jacksonville to Fort Myers Saturday and Sunday, and several more may fall this week.
The lists below represent official climate reporting stations, their actual or forecast high temperatures, compared to the record for the date in parenthesis.
Long range forecast data shows no sign that the overall weather pattern will change much through Friday. The warmth may not be as intense across the peninsula near the end of the week due to a stronger easterly wind and more influence from the Atlantic Ocean. The next cold front that is likely to have a significant influence on temperatures in Florida may not arrive until Monday or Tuesday of next week.
Expires at 6:00pm on Friday January 17th, 2020
A Tornado Watch has been issued by the National Weather Service for Pensacola and surrounding areas until 4 pm.
Thunderstorms capable of producing damaging wind gusts up to 60 mph and a brief tornado are possible in the advised area, especially between the hours of 1 and 4 pm CST.
The powerful storm system that has prompted the Tornado Watch has already led to more than 200 reports of wind damage, and at least five tornadoes across the Southern Plains, Ozarks and Mid-South.
Latest forecast data continues to suggest the line of storms responsible for the damage might threaten portions of the Florida Panhandle Saturday afternoon and evening.
A few isolated thunderstorms could develop ahead of the main activity as early as 1 or 2 pm CST. These cells would pose the greatest risk of a brief tornado. The damaging wind risk is greatest when the squall line approaches, which is outlined with updated arrival times below.
Pensacola: 2 to 4 pm CST
Destin: 3 to 5 pm CST
Panama City: 4 to 6 pm CST
Tallahassee: 8 to 11 pm EST
The front is then expected to weaken overnight and the severe weather risk will diminish, leaving the rest of Florida largely unaffected on Sunday.
Expires at 4:00pm on Saturday January 11th, 2020
A line of strong thunderstorms capable of producing destructive winds or a tornado is expected to move through the Florida Panhandle Saturday.
In addition, a brief period of torrential rain and localized flooding will also be possible from the powerful storm system as it moves through.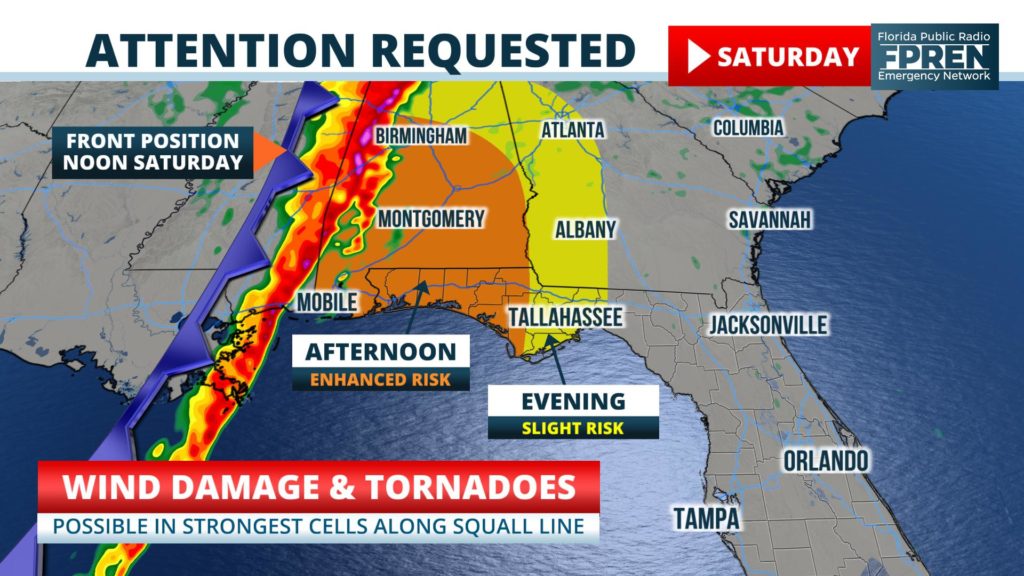 Forecasters at the Storm Prediction Center in Normal, Oklahoma have highlighted the western half of the Florida Panhandle as having an "enhanced risk" of severe storms Saturday, which is a level three out of five on their scale. In her forecast notes issued early Thursday, Meteorologist Elizabeth Leitman said the primary hazard would be wind damage, but that tornadoes could not be ruled out. She communicated uncertainty in to how "pristine" the atmosphere would be ahead of the front for this to occur, and labeled the tornado threat as more "conditional".
The weather map across the Southern Plains was rather quiet Thursday, although the ingredients were beginning to come together for a major storm. Meteorologists at the National Weather Service in Tallahassee were beginning to identify the features on water vapor imagery Thursday.
Surface and upper air observations indicated a large pocket of lower pressure and colder air was rotating through the Intermountain West toward Texas. At the same time, southerly winds were sending unseasonably warm and humid air as far north as the lower Ohio River Valley. When the pocket of colder air aloft attempts to replace the increasingly moist and unstable air mass on Friday, a large of upward motion and lowering pressure is forecast to rapidly develop.
Most likely arrival times
Penascola: 11 am to 4 pm CT
Panama City: 1 pm to 7 pm CT
Tallahassee: 3 pm to 10 pm ET
Lake City: After 5 pm ET
Atmospheric dynamics along a cold front associated with this system are likely to trigger numerous clusters of thunderstorms Friday afternoon across eastern Texas and Oklahoma. The storms are then expected to quickly organize into a squall line that races east through Arkansas, Louisiana, Mississippi, and Alabama Friday night. The leading edge of these cells will pose the greatest risk of significant wind damage or tornadoes when they arrive on Saturday.
A few thunderstorms are possible in the western sections of the Florida Panhandle as early as midday. If these were to develop, they would have the potential to quickly produce a tornado as they race northward on the heels of strong southerly winds. The main squall line, which represents the more widespread and significant risk of severe weather, is then likely to approach Pensacola by early afternoon, Panama City later in the afternoon, and Tallahassee by early evening.
The cold front is expected to weaken and slow down over sections of Northeast Florida Saturday night and early Sunday. The risk of severe weather in these areas is remarkably lower than for areas farther west, although a few stronger storms near cities like Lake City or Jacksonville can't entirely be ruled out. There is no official risk areas highlighted by the Storm Prediction Center beyond Saturday at this time.

Expires at 4:00pm on Saturday January 11th, 2020
It's been a decade of wild swings and weather extremes in Florida. Record-setting temperature and precipitation trends were noted during the first half of the decade, while multiple major severe and tropical weather events characterized the last five years. We summarized the major weather stories from each year in the article below.
2010: A year governed by climate signals
The second decade of the second millennium began with a strong El Nino. This warming of sea surface temperatures in the eastern Pacific often correlates to an uptick in severe weather in the Southeast. Multiple rounds of strong thunderstorms moved through Florida in January that year. The most notable event occurred on Jan. 21, 2010 when an EF-1 tore through the Bradford County town of Starke. The twister carved a 10 mile path through several neighborhoods and crossed State Highway 301. Thankfully there were no deaths or injuries reported, but extensive property damage was incurred by dozens of local residents.

Another climate pattern, and its subsequent impact on Florida, arrived in December. The Arctic Oscillation Index is used to measure anomalies in pressure at the North Pole. It entered a negative phase, which allowed arctic air to plunge deep into the eastern half of the United States for many days. According to the National Weather Service, December 2010 was the coldest December on record for both central and south Florida. The coldest morning was on Dec. 28, when frost was reported as far south as Miami.

2011: Heat-waves, drought, and fires
The El Niño that dominated the early part of 2010 gradually faded by the end of the year. El Nino's counterpart, La Nina, began to develop in the eastern Pacific by the spring of 2011. This cooler-than-normal spell of sea surface temperatures usually translates to a warmer and drier weather period of weather in the Southeast. And this is precisely what occurred.

An extreme drought developed over much of Florida during the spring months, and this was followed by a record-setting heat wave in early summer. Wildfires were widespread for several months, and an estimated 299,991 acres of land were burned across the Sunshine State in 2011.
2012: First tropical storm of the decade
Florida had yet to be affected by a tropical storm or hurricane this decade until June of 2012. A tropical storm named Debby made landfall on the 26th near the mouth of the Suwannee River in Florida's Big Bend. The slow-moving storm stunned residents of North Florida with 20 to 30 inches of rain, causing extensive flooding that lingered for weeks. Entire neighborhoods near Live Oak and Lake City became inhabitable, and a record flood occurred along the Sopchoppy River in Wakulla County.

Debby's outer rain bands also spawned 10 tornadoes across the Florida peninsula, with the most notable ones touching down in Collier and Palm Beach Counties. All of the twisters were rated an EF-0, but they caused notable damage and were unfortunately responsible for one death.
2013: Wettest Summer on Record
The drought in 2011 was largely erased by Tropical Storm Debby in 2012, and the rain kept falling in 2013. It was the wettest summer on record for the state (at the time), and according to the Florida Climate Center, a statewide average of 27.87" of rain fell between June and August that year.

Tropical Storm Andrea was the largest contributor to the soggy summer. Taking a similar path as Tropical Storm Debby, Andrea made landfall in Dixie County June 6th. Rainfall accumulations exceeded five inches in portions of central Florida, and Andrea's rain squalls spawned 10 tornadoes that ripped through the eastern half of the state from the First Coast to Palm Beach County.
2014: Double trouble in the Panhandle
2014 was not a nice year (weather speaking) along Florida's Emerald Coast. Two extreme precipitation events with the span of three months shut down roads, closed schools, and even damaged homes near Pensacola. One was a rare ice storm, the second a freak flash flood.

A seemingly endless supply of arctic air flowed into Florida's Panhandle during the first few weeks of January. This was followed by a winter storm on Jan. 28-29 that pelted the region with sleet and freezing rain. Ice accumulations of up to 1/2 inch closed Interstate 10 for 200 miles, and accumulating sleet even fell at the beaches.

Exactly three months later, on April 28 and 29, another extreme event hit the same areas of the western panhandle. A stalled front produced round after round of torrential rain. Two-day totals exceeded 20 inches, and in Pensacola six inches of rain fell in one hour. This produced extensive flash flooding that destroyed sections of major roads and caused numerous sinkholes.
2015: A relatively quiet year
Another flooding event hit the Florida Panhandle in 2015, but it wasn't as extreme as what took place in 2014. The remnants of Hurricane Patricia (from the Pacific Ocean) moved along the Gulf Coast in October, dropping over seven inches of rain over the course of three days in some spots. Gusty winds and ten foot waves contributed to substantial coastal flooding, and the rough seas caused a floating restaurant near Destin to sink.

No other major weather events or significant temperature trends were noted in 2015. However, El Nino was planning a comeback that would manifest itself in the form of severe weather the following year.
2016: Florida's hurricane drought ends
28 tornadoes touched down in Florida during the months of January and February in 2016. Two of them were rated EF-3, each producing substantial damage to homes and businesses near Pensacola and Century, Florida. There were numerous injuries reported, but thankfully no fatalities.
At this point in the decade, one event was markedly missing from the history books: a hurricane. This would soon change.

Florida's 10-year hurricane drought came to end on Sept. 1 when Hermine made landfall in Florida's Big Bend as a Category 1 storm. Damage was extensive in and around Tallahassee, where wind gusts exceeded 60 mph and three tornadoes were confirmed by the National Weather Service. Hermine produced the fifth highest storm surge near Cedar Key and dumped more than five inches of rain up and down the Nature Coast.

Just a few weeks later, residents along the Atlantic coast were staring at a major hurricane named Matthew. Even though it didn't officially make landfall, significant wind damage and storm surge flooding occurred from the First Coast to the Space Coast. Highest rainfall amounts were recorded in the Jacksonville Metro area, and ranged between 10 and 15 inches. The highest recorded gust in Florida was 93 mph at the Kennedy Space Center.
2017: Hurricane Irma
The 2017 Atlantic Hurricane Season was considered hyperactive, featuring 17 named storms, 10 hurricanes, and 6 major hurricanes. It was also the costliest tropical cyclone season on record in the United States. Historic flooding from Hurricane Harvey in Texas and Louisiana captured most of America's attention in late August, but it was the next storm on the list that began to worry Floridians.

Irma was the first major hurricane to officially hit Florida since Wilma in 2005. The category 5 monster tracked across the Atlantic for nearly two weeks, before making landfalls as a Category 3 storm at Cudjoe Key and Marco Island on Sept. 10. The extremely large hurricane then tracked up the Florida peninsula, spreading destructive winds and flooding rains from coast to coast. Wind gusts up to 120 mph were reported near Naples, and tropical storm force winds destroyed trees and damaged roofs as far north as the Florida-Georgia border. 10 to 15 inches of rain fell in Irma's path, and both coastlines were inundated with several feet of storm surge. More than 6.7 million utility customers lost power, and at least 84 deaths were directly or indirectly caused by the hurricane. Damage estimates across Florida topped $50 billion.
2018: Hurricane Michael
The impacts of Hurricane Irma seemed unsurpassable at the time, but one year later, the worst case scenario unfortunately came to pass. A category 5 hurricane, intensifying rapidly just before landfall, slammed ashore with only a few day's notice.

Hurricane Michael hit Mexico Beach on Oct. 10, 2018 with winds up to 160 mph. It's ferocious eye wall damaged or destroyed tens of thousands of homes,

We have included a detailed account of the damage from Hurricane Michael from the National Hurricane Center's official report (page 11) on the storm published on May 17, 2019.
The damage assessment from Michael
Michael's winds and storm surge caused devastating to catastrophic damage in Bay County, Florida, with the worst of the damage occurring in Mexico Beach (Fig. 10) and at the Tyndall AFB. In Mexico Beach, 1,584 buildings out of 1,692 in the town were reported damaged, with 809 of those reported destroyed. While exact numbers are not available from the Tyndall AFB, every building was reported damaged with many destroyed. The winds and surge also caused less severe, but extensive, damage elsewhere in the eastern portion of the Panama City metropolitan area. This resulted in a total of more than 45,000 structures damaged and more than 1,500 destroyed in Bay County, including severe damage to two hospitals.
Widespread damage also occurred along the Florida Gulf Coast east of the Panama City area to Alligator Point. In Gulf County, over 2,000 structures suffered minor damage, while more than 1,200 received major damage and 985 structures reported as destroyed. An additional 80 structures were reported destroyed in Franklin County. Coastal highways were also washed out in several places between Panama City and Alligator Point. Relatively minor damage was reported along the coast east of Alligator Point to near Keaton Beach.
Inland, a swath of major wind damage to both structures and agriculture/forestry occurred along the track of Michael from the Florida Panhandle across extreme southeastern Alabama into southwestern and central Georgia. Jackson County, Florida, including the town of Mariana, was hard hit, with 400 buildings reportedly destroyed and 600 more suffering major damage. Farther to the northeast, Seminole County, Georgia, including the town of Donaldsonville, reported damage to 99% of the homes, along with severe damage to timber and agriculture. Also hard hit was Dougherty County, Georgia, including the town of Albany, which reported 3,000 residential structures damaged (including 49 destroyed) and significant damage to timber and agriculture. Elsewhere along the path of Michael, a combination of wind and freshwater flooding caused relatively minor damage from eastern Georgia northeastward through southeastern Virginia.
As of this writing, the NOAA National Centers for Environmental Information estimates the total damage from Michael in the United States at approximately $25 billion. Of this total, about $18.4 billion occurred in Florida (with about $3 billion of this on Tyndall AFB), $4.7 billion occurred in Georgia, and $1.1 billion occurred in southeastern Alabama, with smaller amounts of damage in South Carolina, North Carolina, and Virginia. The vast majority of this damage was to property and infrastructure. However, about $3.3 billion of the damage was agricultural and forestry losses, primarily in Florida and Georgia. Widespread power outages occurred due to the storm, especially in the Florida Panhandle, extreme southeastern Alabama, and southwestern and central Georgia.
Michael was the strongest storm on record to hit the Florida panhandle. It killed 50 Floridians and produced an estimated $18.4 billion in damage across the state. Communities in the Panhandle are still struggling to rebuild their homes, businesses and livelihoods after the catastrophic hurricane.
The Florida Disaster Fund helps provide financial support to Florida's communities in times of disaster. To make a contribution, please visit www.FloridaDisasterFund.org or text DISASTER to 20222 to make a one-time donation of $10.
2019: More Scares, but Mostly Unscathed
Another massive hurricane threatened Florida in 2019, but much of the state was spared. Hurricane Dorian was a catastrophic storm when it hit the Bahamas on Sept. 1 with winds of 185 mph. The category 5 monster then stalled less than 100 miles from Miami for more than 12 hours!

With images of Hurricane Michael's destructive winds fresh in their minds, many Floridians feared there would be a repeat of that type of damage along the Space and Treasure Coasts from Dorian. Thankfully, forecasts of a northward turn verified and the storm stayed well offshore. Moderate storm surge flooding was reported from Jupiter Inlet to Jacksonville, and there were some sporadic reports of wind damage. However, most Floridians were left untouched by Dorian's destructive power.

Two notable tornado outbreaks also occurred in 2019. Five confirmed tornadoes touched down in the Panhandle on March 3, one of which was an EF-3 that tore through Leon County. Tropical Storm Nestor also spawned three tornadoes over west-central sections of the state in October, with the most notable one rated an EF-2 near Lakeland.
Final thoughts
Thousands of Floridians were directly affected in a negative way by individual weather events of the past decade. Many Floridians have also witnessed firsthand how a changing climate has affected their community, namely due to warmer temperatures and rising sea levels. This data is evaluated every 10 years by NOAA, and it may not be until this time next year that we know how extreme the changes were, or what could be considered a new "normal" in Florida.
The Florida Public Radio Emergency Network was founded in 2015 to be a lifeline for your community in times of need. We're reachable from anywhere in the state on public radio, or on any device via social media and our app Florida Storms. We stand ready to serve you any time hazardous weather threatens our state, but we wish and hope for nothing but the best nature has to offer in 2020 and beyond.
Expires at 12:00am on Sunday January 5th, 2020
A strong storm system moving in from the Gulf of Mexico is expected to send clusters of strong thunderstorms across portions of South Florida Sunday evening. Some of the storms could produce damaging wind gusts, or even a tornado.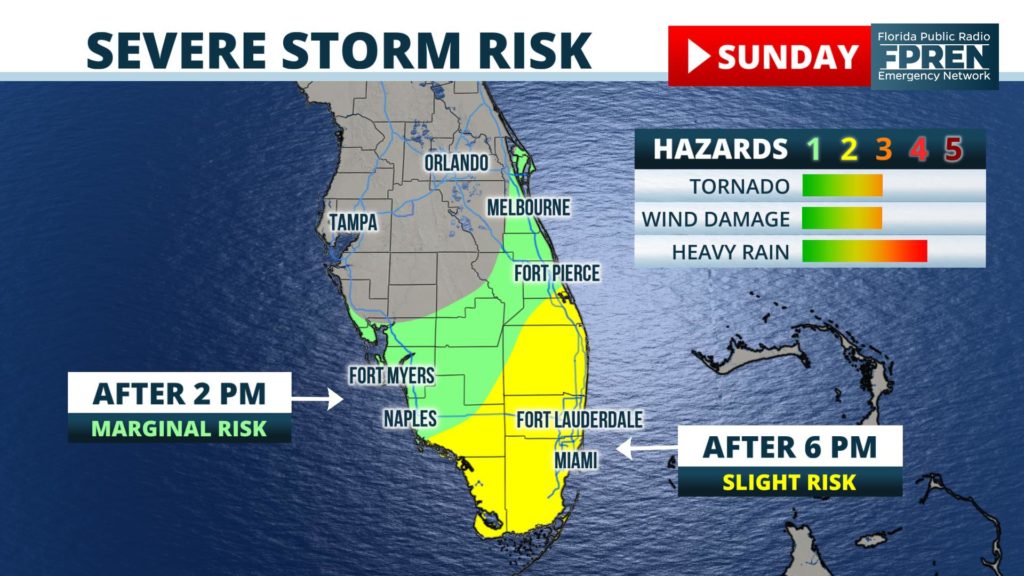 This is the same storm system forecast to produce pockets of heavy rain across the entire Sunshine State through Monday, which could lead to localized flooding.
Forecasters at the Storm Prediction Center updated their prior forecast to a "slight risk" (level 2 out of 5) for areas south of a line from Fort Myers to Fort Pierce, primarily for the time period of Sunday evening and overnight. This is when the atmosphere is expected to become more moist and unstable.
Latest forecast guidance suggests a large cluster of thunderstorms will organize near and just north of the Florida Keys Sunday afternoon. The cells are then expected to move across the Everglades in the evening hours and reach the Atlantic Coast overnight. The strongest storms will be capable of rotating and producing a tornado or damaging wind gusts up to 60 mph.
Nighttime tornadoes are extremely dangerous, especially during the winter when they are often wrapped in rain and can occur with little lightning or thunder. We encourage residents of South Florida to stay informed and ensure they have a way of being notified if a warning is issued. Our Florida Storms mobile app is a great resource, and it's available for free on your mobile phone or tablet.
Expires at 11:15am on Sunday December 22nd, 2019
A soaking rain is likely across the Sunshine State Sunday, and it could be heavy enough to cause river or street flooding in some areas.
Thunderstorms capable of producing minor wind damage or a brief tornado are also possible in portions of South Florida Sunday afternoon, although considerable uncertainty remains on whether this risk will materialize.
An area of low pressure is forecast to form in the central Gulf of Mexico Saturday, then gradually strengthen as it moves across the state Sunday. The first area to receive widespread rain is likely to be the Florida Panhandle Saturday night. This will then spread east along I-10 toward Jacksonville and portions of North Florida Sunday morning.
Clusters of heavy rain with embedded thunderstorms are also expected to develop farther south by Sunday afternoon, moving ashore from the Gulf of Mexico near and south of the I-4 corridor. The rain will end in most areas by Monday morning, although scattered showers may persist a bit longer in northeast Florida.
When the heaviest may fall
The following windows of time are when the heaviest and most persistent rain is expected.
Pensacola: Sat 6 pm - Sun 3 pm
Panama City: Sat 10 pm - Sun 6 pm
Tallahassee: Sun 12 am - Sun 9 pm
Jacksonville: Sun 6 am - Mon 6 am
Gainesville/Ocala: Sun 4 am - Mon 3 am
Tampa/St Pete: Sun 8 am - Sun 9 pm
Orlando/Melbourne: Sun 10 am - Mon 12 am
Fort Myers: Sun 12 pm - Sun 9 pm
Fort Pierce: Sun 2 pm - Mon 12 am
Miami/West Palm: Sun 4 pm - Mon 3 am
How much may fall
The greatest threat from the storm system is excessive rain. Computer model projections as of Friday afternoon are showing widespread 1 to 3 inch rainfall amounts over the state, with a few locations perhaps receiving upwards of 4 inches.
There are some indications from the American and European global models that two pockets of heavy rain — one near I-10 in the Panhandle and another over central Florida — may develop. However, forecasting the precise location of flooding downpours more than a few hours in advance is typically not possible.
Coastal hazards possible
Gusty winds from the storm have prompted the National Weather Service to issue Small Craft Advisories or Gale Watches for both the Atlantic and Gulf waters. If the track of the low pressure is over the Panhandle, there may be minor coastal flooding for portions of Florida's Big Bend as well. Rough surf and rip currents may also create a hazard for those looking to enter the water over the holiday weekend.
Low severe potential
The air mass is expected to become warm, humid, and unstable enough to produce strong thunderstorms, primarily south of Interstate 4, Sunday into Sunday evening. The Storm Prediction Center has issued a "marginal risk", a level 1 out of a possible 5, for the possibility that a few of the storms may be strong enough to produce damaging gusts and a tornado or two. A widespread outbreak of damaging winds and tornadoes is not presently anticipated, but residents are advised to occasionally monitor the forecast over the weekend for changes.

Scattered showers and a few downpours are possible into Monday, with a clearing trend and return to more typical Florida-like December weather for Christmas Eve and Christmas Day.

Expires at 12:00pm on Saturday December 21st, 2019
An interesting weather system may develop near Florida this weekend, and it has the potential to wash away your outdoor plans. There is also a chance it could produce more than just heavy rain.
It must be stated before anything else that confidence is extremely low on the specifics of what may (or may not) occur this weekend in Florida.
Nonetheless, reliable forecast data is suggesting a significant rainfall event will occur somewhere across the state Saturday or Sunday. The rain could also be accompanied by gusty winds, choppy seas, and even severe thunderstorms if a stronger storm system were to develop.
The reason for the unsettled weather is an area of low pressure that is expected to form over the Gulf of Mexico Friday or Saturday. This will not be a traditional fast-moving cold front that often sweeps through this time of year, producing only one episode of wet weather. Rather, it is likely to be a slow-moving storm that has the potential to produce long-lasting periods of rain or thunderstorms in some areas.
Why confidence is so low at this time
Meteorologist Ray Hawthorne shared an animation of all the possible tracks the area of low pressure could take this weekend from one particular ensemble of model runs.
Several inches of rain are forecast to fall in some areas Saturday or Sunday, which could lead to localized flooding. Thunderstorms capable of producing wind damage or even a brief tornado also can't be ruled out. However, it is too early to credibly forecast where any of this may occur. Furthermore, depending on the strength and track of the low, high seas and gale force winds are even possible along Florida's Gulf and Atlantic coasts prior to or immediately following the passage of the storm.
This story only serves as an early notice to anyone planning to travel or vacation in the state this weekend, and we encourage all Floridians and visitors to stay informed of future forecasts when considering your holiday plans. Our team of meteorologists at the Florida Public Radio Emergency Network will continue to monitor forecast data over the next few days and post frequent updates on this site and in our mobile app Florida Storms.

Expires at 12:00pm on Thursday December 19th, 2019
The storm responsible for more than three dozen tornado reports across Louisiana, Mississippi, and Alabama on Monday is now moving through the Sunshine State. It is not as robust as it once was, but it still could produce thunderstorms capable of damaging gusts and perhaps a tornado.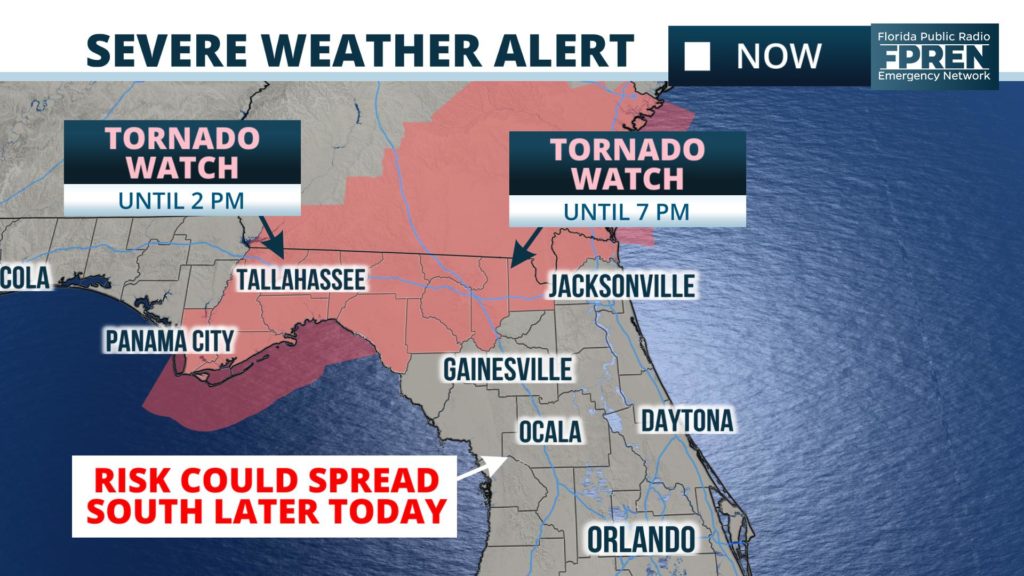 A Tornado Watch is in effect until 2 PM for portions of the Big Bend and Panhandle, including Tallahassee and Panama City. A new Tornado Watch has also been issued for areas farther east along I-10 toward Jacksonville until 7 pm.
Isolated tornadoes and damaging gusts from thunderstorms are possible in and near the watch area. The National Weather Service in Tallahassee said radar data confirmed a tornado in Jackson county, near Graceville, shortly after 7 o'clock this morning. It is not immediately clear at the time of this story how extensive the damage was from the tornado.
Thunderstorms were moving into the Tallahassee area midday, with a threat for damaging gusts and isolated tornadoes. The cold front attached to this storm is expected to sweep eastward Tuesday afternoon and evening. Scattered showers and thunderstorms could develop earlier in the afternoon, well ahead of the front, but the more widespread activity is expected to accompany the front. Here are the estimated times of arrival for the main line of thunderstorms:
Gainesville, Jacksonville: 3-6 PM
Tampa/St Pete: 5-8 PM
Orlando/Melbourne: 4-9 PM
Fort Myers: 8-11 PM
Vero Beach/Fort Pierce: 10 PM - 2 AM
As the front moves across the southern half of the peninsula, upper-level winds are forecast to weaken somewhat, reducing the number of wind damage reports. Residents should still be aware that gusty winds are possible with the strongest thunderstorms as they move through. The high moisture in place will also result in downpours with the showers and thunderstorms.
Scattered thunderstorms are possible before the times listed above. The main line of thunderstorms is forecast to weaken considerably as it reaches Naples, West Palm Beach, and Miami, but scattered thunderstorms are possible in those areas between 3 AM and 10 AM on Wednesday.
Much colder air is expected to flow in behind the front on Wednesday and Thursday. There is a chance of a light freeze in North Florida and the Florida Panhandle, especially closer to the Interstate 10 corridor early on Thursday morning.
Expires at 7:00pm on Tuesday December 17th, 2019
The risk of wind damage and possibly a tornado is increasing across portions of Florida Friday night. Multiple rounds of showers and thunderstorms are possible across the northern half of the state during the day, but the strongest activity is now expected to arrive after sunset.
A complex upper-level storm system is forecast to swing through the Southeast Friday, and clusters of strong thunderstorms are expected to develop ahead of it across several different areas of Florida in the afternoon, evening and overnight hours. Forecasters at the Storm Prediction Center, which is a division of the National Weather Service, have placed much of northern Florida under a "slight" (level 2 out of 5) risk for severe weather through 7 am Saturday. This was a categorical upgrade to the forecast issued for the same period of time Thursday.
The primary hazards with the strongest cells will be damaging wind gusts or a brief tornado. The highest chances of this occurring are across the eastern half of the panhandle this evening, then stretching into the northern half of the peninsula overnight. However, a few strong thunderstorms may also develop across portions of North Florida in the afternoon hours Friday.
Locally heavy rain will also be possible at times in the same areas affected by the stronger thunderstorm potential. Rainfall amounts through Saturday are likely to exceed an inch across a large area of the state north of I-4, with locally higher amounts of up to two inches possible closer to the Gulf Coast. Lesser amounts of rain are expected, primarily on Saturday morning, for areas of central and south Florida.
The storm system responsible for the unsettled late-week weather is expected to clear the state Saturday afternoon, leaving behind a drier and more stable air mass for the second half of the weekend. The more favorable weather for outdoor activities should continue into the early part of next week.
Expires at 10:00pm on Friday December 13th, 2019