A complex of thunderstorms capable of producing wind damage is expected to move through the Florida Panhandle Tuesday evening, where a Severe Thunderstorm Watch has been issued until 1 am EDT.
As of 7:30 pm CDT, a squall line of storm was observed on radar entering Escambia and Santa Rosa counties from the northwest.
Segments of this line or new storms that form ahead of it could become strong enough to produce wind gusts up to 60 mph or nickel-sized hail as they progress to the southeast Tuesday evening. The storms are most likely to affect the Emerald Coast beaches and Crestview between 9 and 10 pm CDT, then move toward Panama City and Marianna between 10 and 11 pm CDT, then potentially approach Tallahassee and Apalachicola between 12 and 1 am EDT.
The Severe Thunderstorm Watch is an extension of the earlier Tornado Watch issued for the greater Pensacola metro area that was set to expire at 10 pm CDT. A Flash Flood Watch is also in effect for the Florida Panhandle through late Wednesday night, where multiple rounds of thunderstorms could produce widespread rain amounts of 2 to 4 inches, with locally heavier amounts of 6 to 8 inches over the next 24 to 36 hours.
Expires at 1:00am on Wednesday May 5th, 2021
An active weather pattern is possible for parts of the Sunshine State this weekend as a strong cold front moves in from the west.
High pressure to the northeast of the state Thursday will continue to keep most of the region dry through the end of the work week. However, beginning Friday night, a warm front stretching from a low pressure system in the southern Plains will begin to lift northeastward across the Florida Peninsula. A few showers will be possible along this frontal boundary as it lifts northward through the state.
The severe weather risk will begin to increase Saturday, especially across the Florida Panhandle as the warm front situates itself to the north of the state and a cold front approaches from the west. This will place most of the Panhandle and North Florida in a "warm sector". Within this section temperatures and moisture will be high allowing for the development of showers and thunderstorms.
Weather models are indicating moderate wind shear with atmospheric instability increasing in the afternoon. This environment will be favorable for severe thunderstorms capable of producing strong winds, small hail, and isolated tornadoes. Heavy rainfall will also be a concern, especially for areas that have received an abundant amount of rainfall from the previous event which took place last weekend. Isolated flash flooding will be possible through the weekend.
The Storm Prediction Center, as of Thursday afternoon, has so far issued a Slight Risk (hazard level 2 out of 5) for the entire Florida Panhandle and Big Bend area for Saturday. A Marginal Risk (hazard level 1 out of 5) extends into parts of North Florida extending from Cedar Key, through Gainesville, and towards Jacksonville. This could change over the next few days as the event draws closer. However, residents in the Florida Panhandle and North Florida should be prepared for the chance of strong to severe thunderstorms mainly for Saturday.
The cold front is anticipated to move through the western Florida Panhandle during the morning hours on Saturday before approaching the Big Bend and North Florida towards the afternoon and evening. Overnight into Sunday the cold front will continue to move steadily southeastward towards Central Florida. The frontal boundary should exit into the Atlantic by the end of the day Sunday allowing for high pressure to build back into the Sunshine State making for a sunnier and drier start to the new work week.
Expires at 11:59pm on Saturday April 24th, 2021
Many communities in Central and South Florida escaped drenching rain over the weekend, but that is already changing to start the new week.
Bands of showers and thunderstorms moved onshore the Nature Coast and the Sun Coast late Sunday afternoon and evening. One storm prompted a tornado warning in a portion of Pinellas, Pasco, and northern Hillsborough counties shortly before 9:30 Sunday evening. As of Monday morning, a tornado had not been confirmed in the warned area.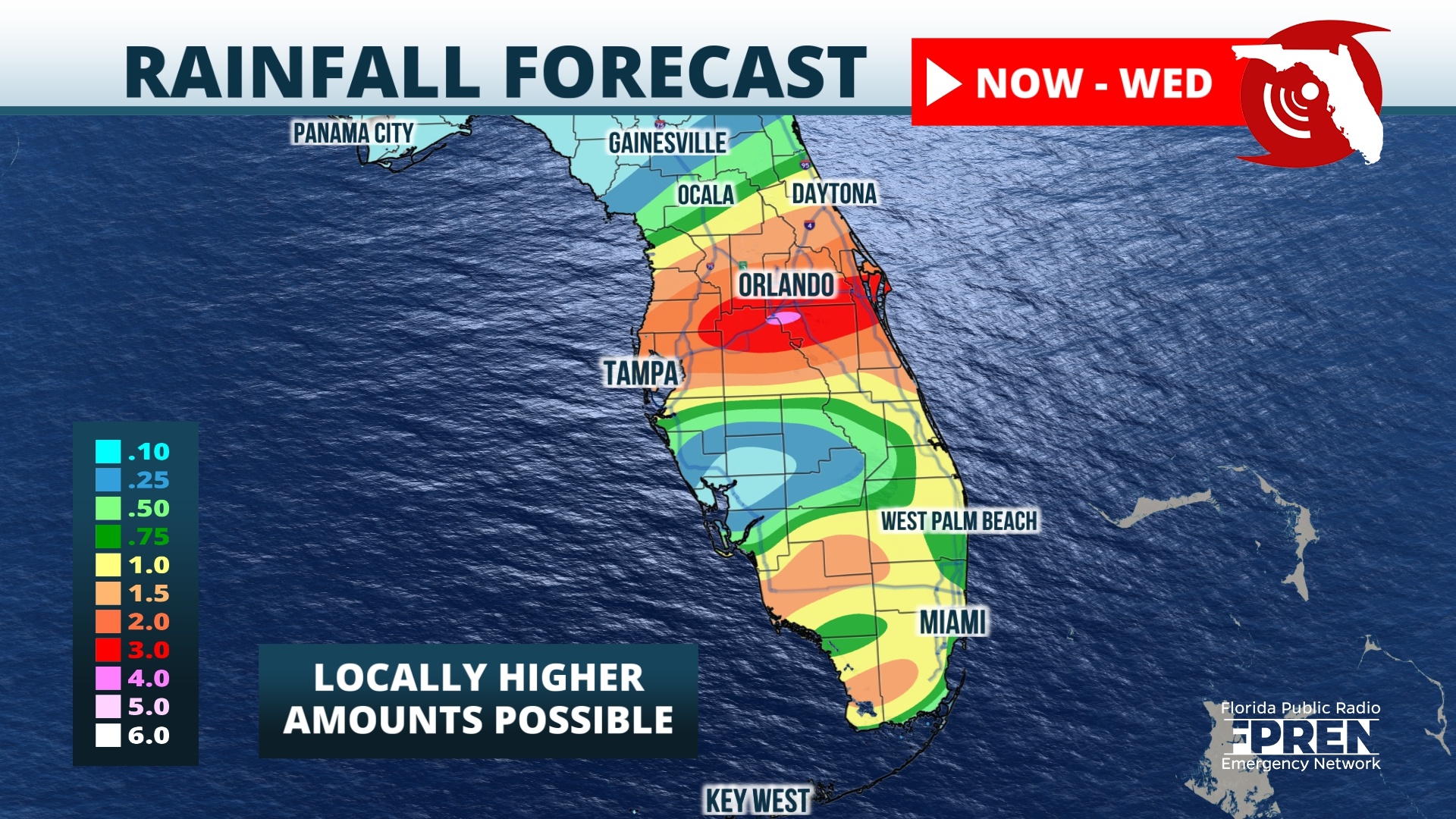 Other storms produced pockets of wind damage near Bronson in Levy county and 3 miles west of Ocala on Sunday. By far, the largest impact from the storm has been heavy rainfall. Radar and rain gauges indicated that 2 to 5 inches had fallen over a wide area from Levy and Citrus counties through Marion into Flagler and Volusia counties through Sunday evening.Occasional showers and thunderstorms are expected Monday over Central Florida, but the heaviest is likely to concentrate from Lee and Charlotte counties to the Florida Heartland and eastward toward the Treasure Coast. These areas have the greatest chance for areas of flooding, gusty winds, and perhaps an isolated tornado.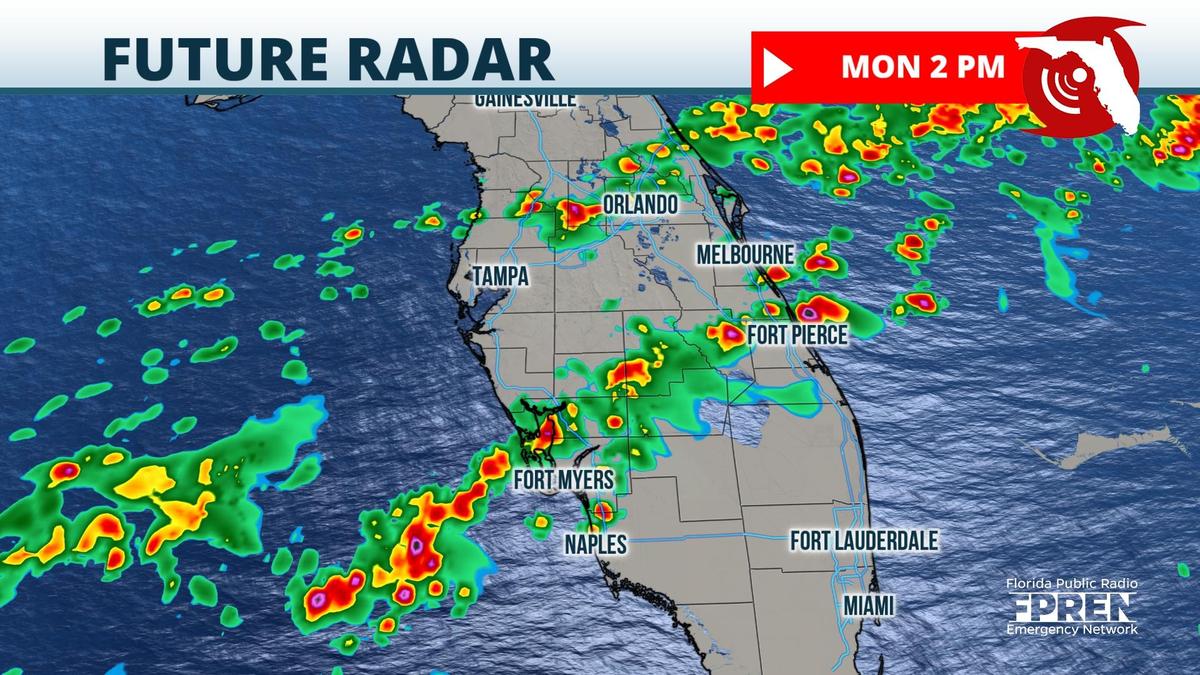 Another upper-air disturbance over Texas is on track to reach Florida on Tuesday. The first showers and thunderstorms from this approaching weather system are expected to start during the wee-hours of Tuesday morning along the Nature Coast and spread eastward after dawn through I-4 corridor all the way to the Atlantic coast. An additional 1 to 3 inches of rain is expected Tuesday. Scattered to numerous storms may deposit locally heavy rain in Southwest Florida and along the Gold Coast, but the heaviest is most probable in Central Florida. Much like Sunday night, a few of the strongest storms may be capable of strong, locally damaging winds, hail, and perhaps an isolated tornado on Tuesday.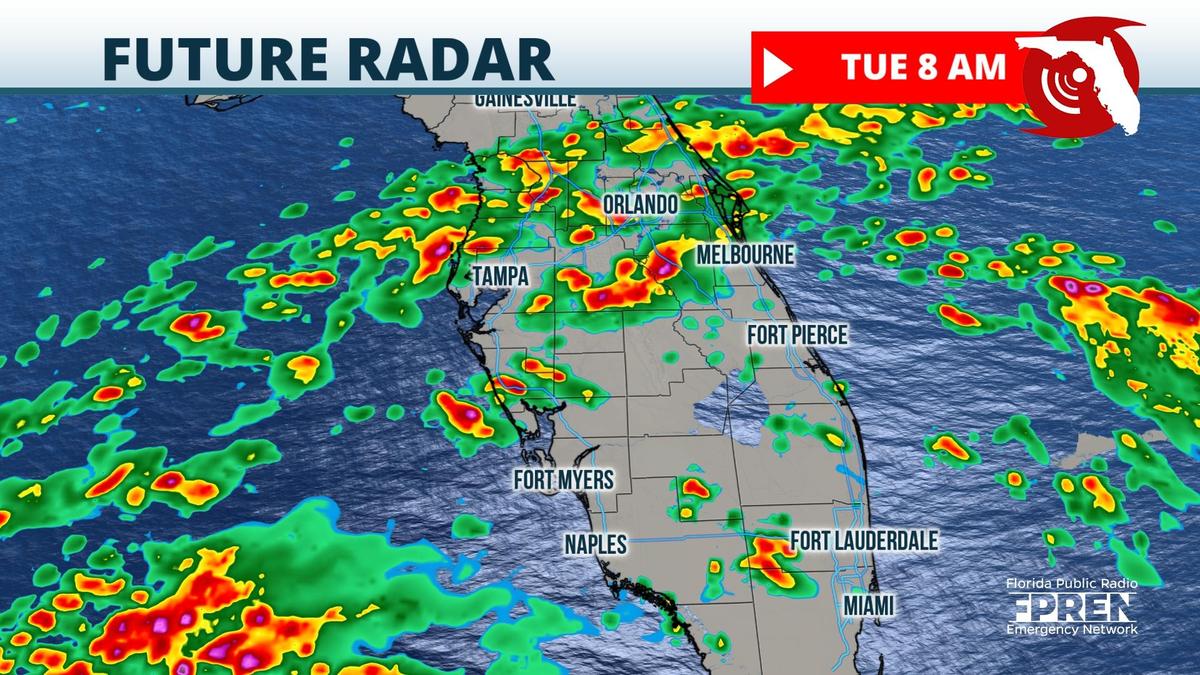 The focus for the heaviest rain and storms is expected to shift south again on Wednesday. South Florida will have the greatest chance of showers and thunderstorms, while areas farther north begin to dry out. A few more storms are possible Thursday, particularly in Southeast Florida, before the weather mostly dries out by Friday for nearly all of the peninsula.
Expires at 8:00am on Thursday April 22nd, 2021
April is climatologically one of the driest months of the year in Florida, but many parts of the state will experience multiple rounds of heavy rain and strong storms through at least Tuesday.
The first round of thunderstorms is expected Friday afternoon and evening along the coast of Florida Panhandle and into the central and north Florida Peninsula, primarily between Interstate 4 and Interstate 10. Areas from the Nature Coast to Ocala, The Villages, Daytona, and perhaps as far south as Tampa and Orlando, are most likely to feel the effects from this initial round. Heavy rainfall and localized flooding are possible and a few of the stronger storms may contain hail or strong wind gusts.
A second round is likely overnight Friday into Saturday morning along the Interstate 10 corridor from the Panhandle to Jacksonville. This second round may also affect a portion of the Nature Coast, Gainesville, Ocala, and Daytona. Heavy rain and early morning thunder may awaken some in these areas. There is again the chance of hail in some of the strongest storm cells.
It is normally more difficult to pin down the exact timing of the storms farther into the future, but most computer models agree that scattered to numerous thunderstorms will be most concentrated north of Interstate 4 Saturday night into Sunday, before sinking south and affecting Tampa/St Pete, Orlando, Daytona, and the Space coast more directly Sunday night into Monday and lasting through at least Tuesday. Widespread rainfall totals of 2 to 4 inches are expected, and locally higher amounts are probable in neighborhoods where the strongest thunderstorms happen.
Scattered showers and storms are possible this weekend over South Florida this weekend, but the greatest risk of more widespread rain is between Tuesday and Thursday of next week. Based on data from Friday, heavy rain is likely to be more hit or miss over Southwest and Southeast Florida, including the Treasure Coast. However, localized flooding can still occur underneath the downpours at any time.
There are signs that favor a drier pattern over most of the state Thursday and Friday of next week once the front clears the state.
Expires at 6:00pm on Monday April 19th, 2021
A Severe Thunderstorm Watch has been issued for central parts of the Florida Peninsula until 4:00PM EST.
The watch area extends from southern parts of the Big Bend, across to the Atlantic coastlines, and down to the north of the Lake Okeechobee area. Major metropolitan cities include, but are not limited to: Tampa, Orlando, Daytona, St. Petersburg, and Melbourne.
A squall line is expected to develop over the Gulf of Mexico Sunday morning and approach Gulf coast areas by the mid to late morning. Ahead of this line, strong, potentially damaging winds will be possible, with winds in excess of 60 mph. Small hail and isolated tornadoes will also be possible as these storms move through the region.
A Severe Thunderstorm Watch means that atmospheric conditions are conducive to create thunderstorms which may reach severe levels. Make sure that you have multiple way to receive weather warnings today and seek shelter as these storms move through.
Expires at 7:00pm on Sunday April 11th, 2021
A Tornado Watch continues for portions of the Florida Panhandle ahead of a line of storms with a history of producing destructive winds and possible tornadoes.
Destructive winds gusts up to hurricane force are possible in the Florida Panhandle early Saturday morning from a line of intense thunderstorms racing in before sunrise.
A tornado is also possible, along with flash flooding where soils are already saturated from heavy rain that fell Friday.
A strong atmospheric disturbance over New Mexico Friday morning is forecast to move eastward along the Gulf coast Friday night into Saturday. A very warm, humid, and unstable environment is expected to stream northward ahead of this disturbance. Thunderstorms are likely to erupt over Oklahoma and Texas Friday afternoon and organize into a formidable squall line over parts of Mississippi and Alabama Friday night.
High-resolution model simulations are indicating this line is likely to hold its strength into the Florida Panhandle during the pre-dawn hours of Saturday into Saturday morning. This line has the potential to produce hurricane-force wind gusts as it moves through the Panhandle during this time. There is also the possibility that storm cells may develop in front of the squall line early Saturday morning, and these individual cells are capable of producing isolated tornadoes, as well.
Areas of flash flooding are becoming more probable with the frequent rounds of rain and storms. Widespread rainfall amounts of 2 to 5 inches, with locally higher amounts, could easily cause flooding of roadways. The National Weather Service in Tallahassee said that minor river flooding could gradually develop later this week along the Chipola, Apalachicola, and Ochlockonee Rivers if enough rain falls upstream of these rivers Friday into Saturday.
After a break in the weather later Saturday afternoon, another round of showers and storms is possible over the Panhandle late Saturday night into Sunday morning. There is greater uncertainty on a possible third round of thunderstorms, but early indications are the threat of damaging storms is lower with a possible final round early Sunday. Drier conditions are expected late Sunday afternoon into Monday over the Panhandle, but rip currents could continue to pose a danger to swimmers in the Gulf of Mexico this weekend.
Expires at 4:00pm on Saturday April 10th, 2021
Hurricane researchers at Colorado State University are forecasting another active hurricane season, even as residents of the Atlantic and Gulf coasts may still be recovering from last year's historic events.
Dr. Phil Klotzbach, program director of Colorado State University (CSU) Tropical Meteorology Project, presented the team's forecast at the annual National Tropical Weather Conference Thursday. The team is predicting 17 named storms for the North Atlantic, which runs from June 1 to November 30. Of these named storms, researchers expect eight to become hurricanes (sustained wind speed of at least 74 mph on Saffir-Simpson Hurricane Wind Scale) and four to reach major hurricane strength (Category 3 - 5) with sustained winds of 111 miles per hour or greater. Klotzbach says the reason for the above-average forecast was the forecast lack of El Niño conditions and warmer than average subtropical Atlantic sea surface temperatures.
A normal hurricane season generally produces 12 named storms, including six hurricanes and three major hurricanes.
CSU bases its forecasts on a statistical model, as well as a new model that uses a combination of statistical information and forecasts from a dynamical model. These models are built on about 30-60 years of statistical and statistical-dynamical methodologies including, but not limited to, Atlantic sea surface temperatures, sea level pressure, vertical wind shear, El Niño Southern Oscillation, and other factors.
Probability of U.S. Landfalls
The CSU report also includes the probability of major hurricanes making landfall along coastlines in the North Atlantic Basin:
69 percent for the entire U.S. coastline (average for the last century is 52 percent)
45 percent for the U.S. East Coast including the Florida peninsula (average for the last century is 31 percent)
44 percent for the Gulf Coast (average for the last century is 30 percent)
58 percent for the Caribbean (average for the last century is 42 percent)
The forecast team also tracks the likelihood of tropical storm-force, hurricane-force and major hurricane-force winds occurring at specific locations along the coastal United States, the Caribbean, and Central America through its Landfall Probability website.This is the 38th year that the CSU hurricane research team has issued their Atlantic basin seasonal hurricane forecast. Bill Gray, the founder of the seasonal forecasts, launched the report in 1984 and continued to author them until his death in 2016.
Reviewing the historic 2020 season
The 2020 Atlantic Hurricane Season broke multiple records and is currently the most active and the fifth costliest Atlantic hurricane season on record. The season features 31 total cyclones of which 30 became named storms. Out of the 30 named storms, 13 gained hurricane strength, and six achieved major hurricane status. The contiguous United States was impacted by 11 storms, breaking the record of nine set in 1916. The 2020 season was the fifth consecutive season in which at least one Category 5 hurricane formed — Hurricane Iota. The season featured 27 tropical storms which established a new record for the earliest formation by storm number. The historic season also recorded 10 tropical cyclones which underwent rapid intensification, tying the record with the 1995 season.
The season also utilized the Greek Alphabet for the second time in history; it would also be the final time the naming system would be used. The World Meteorological Organization retired the names of Laura, Eta and Iota and eliminated the use of the Greek letter storm naming system for future seasons.
The State of Florida overall was relatively lucky during the 2020 Hurricane Season. Florida was brushed by four systems of which only Tropical Storm Eta made a direct landfall. The most memorable for Floridians was likely Hurricane Sally, which crossed the southern end of the peninsula as a depression before making landfall on September 15th near Gulf Shores, Alabama. Sally brought massive storm surge and flooding to the western Florida Panhandle, especially to the city of Pensacola. The state also experienced a disturbance that crossed the Panhandle in July which later intensified into Tropical Storm Fay off the coast of Georgia. Finally, the month of August opened with Isaias running north off Florida's East Coast as a strong Tropical Storm.
The countdown to another hurricane season has begun.
Coastal residents are encouraged to prepare for hurricane season early by reviewing evacuation routes ahead of time, purchasing flood insurance, and having emergency provisions on hand along with a disaster plan in place. No matter the frequency of storms forecast, it only takes one storm making landfall to make it an active season.
The CSU forecast is intended to provide a best estimate of activity in the Atlantic during the upcoming season. It is not an exact measure. Updates to the 2021 Atlantic basin hurricane forecasts from Colorado State will be released on June 3, July 8 and August 5 as new information becomes available leading up to the most active months of the season, which are usually September and October.
Expires at 12:00pm on Thursday April 15th, 2021
An unusually cold air mass has swept across the Sunshine State, and a late-season frost is likely Friday night across inland areas of the panhandle and northeast Florida.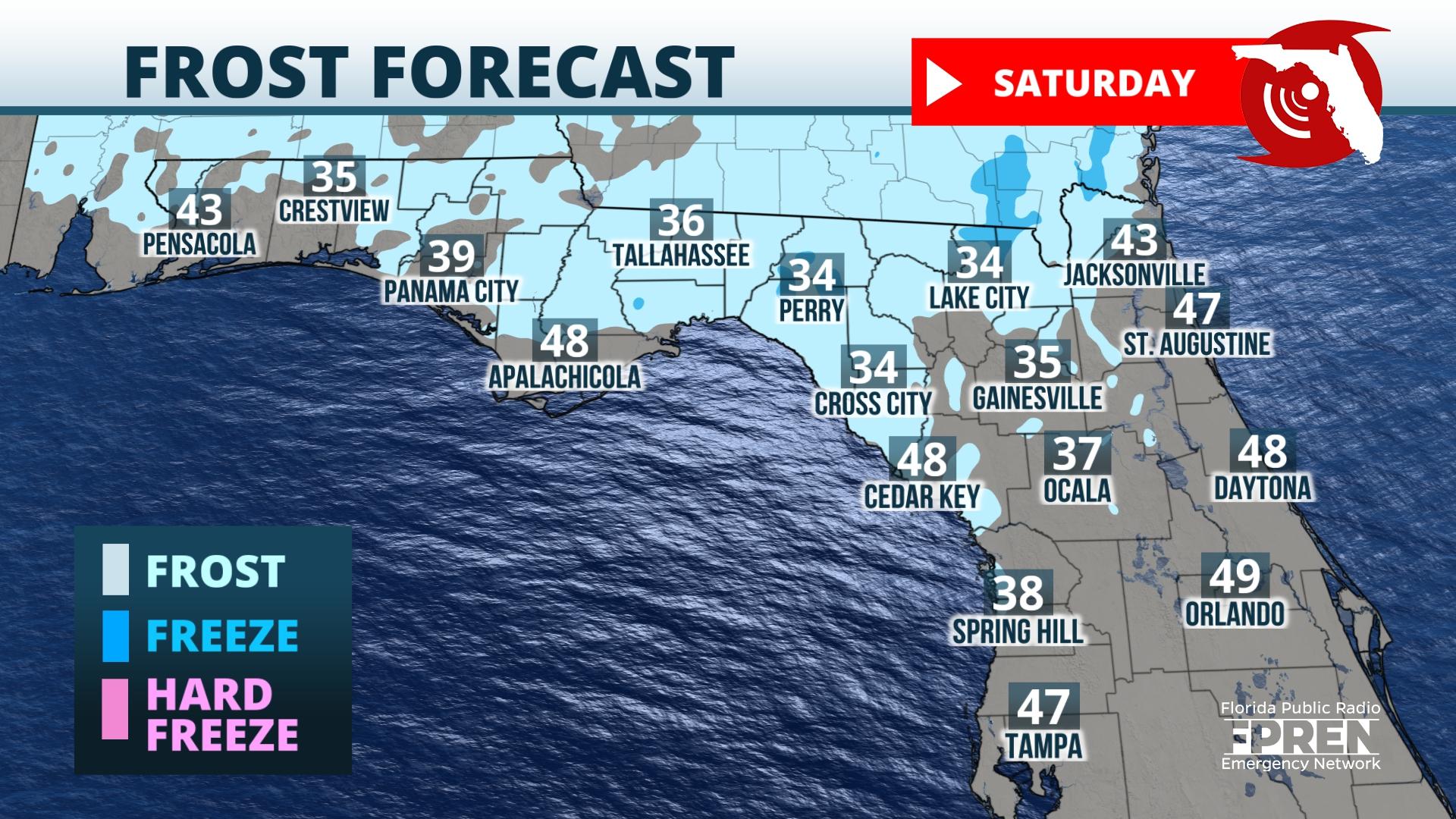 Thursday's cold front marked the arrival of an air mass that is running 10 to 15 degrees below normal, and in some areas near record-setting for this time of year. Clearing skies and lightening winds across the northern third of the state will make conditions favorable for frost formation across inland and rural areas roughly north of a line from Cedar Key to Jacksonville.
A Frost Advisory has been issued by the National Weather Service offices in Mobile, Tallahassee and Jacksonville where action is urged to prevent damage to sensitive plants, such as covering them up or bringing them inside. Temperatures in the advised locations are expected to fall into the lower and middle 30's by daybreak Saturday. Elsewhere across Florida, overnight lows will generally be in the 40s and 50s.
The cooler-than-normal weather is expected to last into the start of the weekend, followed by some moderation in temperatures by Sunday.
Expires at 9:00am on Saturday April 3rd, 2021
A line of thunderstorms moving through the Florida Panhandle early this morning intensified some, and has prompted the issuance of a Tornado Watch for the Big Bend and eastern Panhandle area until 1 PM. The Tallahassee metro area is included in this watch.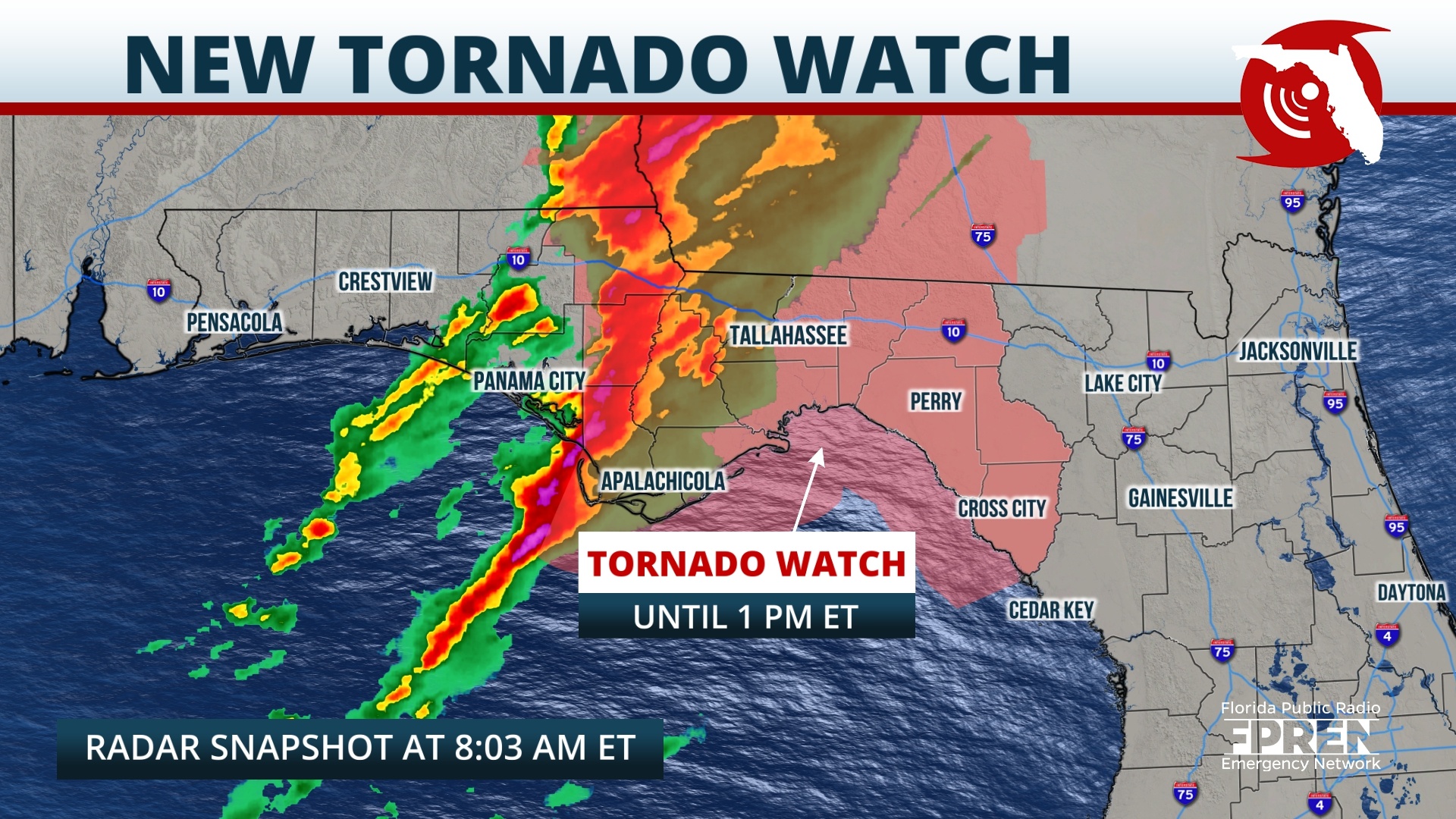 The storms are likely to be in the Tallahassee area between 9 and 11 AM before moving eastward into the Big Bend early this afternoon. A few of the storms within the line are capable of producing damaging, straight-line gusts and isolated tornadoes.
An official wind gust of 74 mph was recorded at the Northwest Florida Beaches International Airport in Panama City at 6 AM CT this morning as the storms rolled through.
Expires at 1:00pm on Thursday March 18th, 2021
A strong storm system that is expected to produce an outbreak of tornadoes and damaging winds over Alabama, Mississippi, and Georgia could also produce a few instances of severe weather in parts of the Panhandle and North Florida late Wednesday night into Thursday.
An extensive area of warm, humid, and unstable air will flow northward from the Gulf of Mexico on Wednesday. The winds high in the atmosphere are still strong in the spring months and, in concert with unstable air mass, are likely to contribute to a severe weather episode over the Deep South. Thunderstorms with hail, damaging winds, and strong tornadoes are most likely to form over east Texas, Arkansas, and Louisiana around midday Wednesday and spread eastward into Mississippi and Alabama late Wednesday afternoon and night. It is possible scattered showers and storms could produce reports of damaging weather as soon as Wednesday afternoon in the Florida Panhandle, near the Alabama state line; however, the greatest threat is likely to hold off until late Wednesday night.
The cold front attached to this storm will approach the Panhandle during the wee hours of Thursday morning. The storms over Louisiana and Mississippi are likely to congregate into a squall line as they move into the Panhandle from Pensacola to Panama City between midnight and sunrise Thursday. Damaging wind gusts and a few tornadoes could be embedded within the line. If severe weather occurs in the Tallahassee area, it's more likely to occur some time Thursday morning. Thunderstorms are likely to be in the Lake City, Gainesville, and Jacksonville areas Thursday afternoon. Strong wind gusts are possible, but it is unclear whether the storms will be as strong over such a large area as they move eastward along the I-10 corridor.
Expires at 11:00am on Thursday March 18th, 2021