An active weather pattern is possible for parts of the Sunshine State this weekend as a strong cold front moves in from the west.
High pressure to the northeast of the state Thursday will continue to keep most of the region dry through the end of the work week. However, beginning Friday night, a warm front stretching from a low pressure system in the southern Plains will begin to lift northeastward across the Florida Peninsula. A few showers will be possible along this frontal boundary as it lifts northward through the state.
The severe weather risk will begin to increase Saturday, especially across the Florida Panhandle as the warm front situates itself to the north of the state and a cold front approaches from the west. This will place most of the Panhandle and North Florida in a "warm sector". Within this section temperatures and moisture will be high allowing for the development of showers and thunderstorms.
Weather models are indicating moderate wind shear with atmospheric instability increasing in the afternoon. This environment will be favorable for severe thunderstorms capable of producing strong winds, small hail, and isolated tornadoes. Heavy rainfall will also be a concern, especially for areas that have received an abundant amount of rainfall from the previous event which took place last weekend. Isolated flash flooding will be possible through the weekend.
The Storm Prediction Center, as of Thursday afternoon, has so far issued a Slight Risk (hazard level 2 out of 5) for the entire Florida Panhandle and Big Bend area for Saturday. A Marginal Risk (hazard level 1 out of 5) extends into parts of North Florida extending from Cedar Key, through Gainesville, and towards Jacksonville. This could change over the next few days as the event draws closer. However, residents in the Florida Panhandle and North Florida should be prepared for the chance of strong to severe thunderstorms mainly for Saturday.
The cold front is anticipated to move through the western Florida Panhandle during the morning hours on Saturday before approaching the Big Bend and North Florida towards the afternoon and evening. Overnight into Sunday the cold front will continue to move steadily southeastward towards Central Florida. The frontal boundary should exit into the Atlantic by the end of the day Sunday allowing for high pressure to build back into the Sunshine State making for a sunnier and drier start to the new work week.
Expires at 11:59pm on Saturday April 24th, 2021
Tropical Storm Eta restrengthened overnight, but has come to a near halt in the southern Gulf of Mexico. The storm is likely to remain over water for several more days before weakening, and chances are decreasing that it will become a significant tropical threat to Florida.
The tropical storm was responsible for numerous reports of flooding in South Florida Sunday through Monday morning. 6 to 12 inches of rain occurred in many parts of metropolitan Miami-Dade and Broward counties. Nearly 18 inches of rain fell near Miramar in Broward county according to a report passed along by the National Weather Service in Miami Monday afternoon.
A few wind gusts in excess of 60 mph were reported both in Miami-Dade and Broward, with widespread gusts greater than tropical storm force north into Palm Beach county. Tropical storm gusts were also reported on the west coast of Florida also: a 54 mph wind gust was recorded officially in Naples early Monday morning and gusts to tropical storm force extended as far north as Citrus county on the Nature coast.
As of mid-morning Tuesday, the Eta had nearly stalled about 60 miles from the western tip of Cuba with top sustained winds of 60 mph. The storm is expected to move little on Tuesday, but is likely to drift toward the north Wednesday and could strengthen to near hurricane status once again. A few outer rain bands not directly associated with Eta are likely to continue producing locally heavy rain occasionally in South and Central Florida through Wednesday. The National Weather Service continued Flood Watches into Wednesday evening for Southeast Florida because of the possibility of additional heavy rain on top of already saturated ground.
A high risk of rip currents will continue for several more days in Collier county on the west coast and along the Gold coast of Southeast Florida. High Surf Advisories were issued from the Treasure and Space Coasts northward to the First Coast, and rip currents are also anticipated in these areas through Thursday.
Eta is increasingly likely to encounter higher wind shear and dry air starting Thursday, which would cause the storm to weaken over the Gulf of Mexico. Forecasters at the Hurricane Center said confidence in the forecast is still not high and that residents along the Gulf coast should monitor Eta's progress in the coming days. If Eta does not weaken as forecast, it could impact the Gulf coast anywhere from the Florida Panhandle to Louisiana this weekend.
Subtropical Storm Theta formed in the open waters of the central Atlantic Ocean Monday evening. It's the season's 29th named storm -- a new all-time record for the number of named storms in the Atlantic Basin in one season. Theta is not forecast to affect land areas at this time. Yet another tropical wave in the central Caribbean has a high chance of becoming the season's next tropical depression later this week or weekend when it reaches the western Caribbean. It is far too soon to say whether it will ever impact the U.S. coastline.
Expires at 11:00am on Wednesday November 11th, 2020
Hurricane Delta is made landfall near Puerto Morelos on Mexico's Yucatan Peninsula around 5:30 AM Wednesday morning as a category 2 hurricane. It is expected to weaken on land before re-strengthening in the Gulf of Mexico late this week as makes its move toward the United States Gulf Coast.
Forecasters at the National Hurricane Center said dangerous storm surge and strong winds are expected over the Yucatan Peninsula. A sensor on Cancun reported peak sustained winds of 84 mph and a wind gust to 106 mph as Delta passed nearby early Wednesday.
The hurricane is forecast to move into the warm waters of the Gulf of Mexico Tuesday afternoon, where it is expected to re-strengthen. As of the early morning forecast, Delta was expected to regain category 3 status Thursday afternoon and category 4 status Thursday night. Confidence is increasing for life-threatening storm surge and hurricane-force winds along the coasts of Louisiana and Mississippi beginning on Friday, the Hurricane Center said. They encouraged residents there to have their hurricane plan in place ahead of hurricane and storm surge watches that the center said they would likely issue later Wednesday.
Cooler water, stronger wind shear, and dry air near the coast may cause Delta to weaken some as it approaches the coast on Friday, but it is expected to cause potentially life-threatening impacts to the coastline. So far, the geographic extent of Delta's hurricane and tropical storm force winds have been confined, but the wind field is expected to grow wider in the Gulf of Mexico.
Delta is expected to make landfall as the 10th tropical storm or hurricane this season — which would be a record for the number of landfalls. Hurricane records extend as far back as 1851.
Outer fringe rain bands are possible as far as the western Florida Panhandle late Friday and into Georgia, the Tennessee Valley, and the Carolinas over the weekend. Forecasters at National Weather Service offices along the Gulf coast said some coastal flooding was possible into the Florida Panhandle Friday and Saturday, even though the hurricane was expected to make landfall farther west.
Expires at 12:00pm on Thursday October 8th, 2020
12 hours after the National Hurricane Center classified Delta as a tropical storm, it was upgraded to hurricane status Monday evening. The hurricane continued to intensify overnight as it moves toward Mexico's Yucatan Peninsula.
As of the mid-morning advisory from the Hurricane Center, Delta was located a little less than 400 miles from Cozumel and top sustained winds had increased to 110 mph. Delta is moving quickly toward the west-northwest near 15 mph. It is forecast to become a category 4 hurricane by tonight and before it reaches the Yucatan Wednesday morning.
The government of Mexico issued hurricane warnings from Tulum to Dzilam, and for Cozumel in anticipation of Delta's likely arrival. Extremely dangerous storm surge of 6 to 9 feet above normally dry ground was expected somewhere within the hurricane warning area. Tropical Storm Warnings were in effect for parts of western Cuba and the Cayman Islands where the storm was expected to be close to enough to produce tropical storm conditions.
As Delta traverses the deep, warm waters of the northwest Caribbean and southern Gulf of Mexico under light wind shear conditions, rapid intensification is likely to continue until a possible landfall on the Yucatan Peninsula. Similar favorable conditions are in place over the southern Gulf of Mexico, where the hurricane may regain much of the strength it loses over land.
Delta is expected to reach the Gulf later Wednesday before turning north and northeastward toward the northern Gulf coast. A landfall is likely between the coast of Louisiana and the western Florida Panhandle some time late Friday or early Saturday, although the timing of the storm's arrival is subject to additional adjustments. The most likely arrival of tropical storm force winds is during the daylight hours of Friday ahead of the storm based on the latest Hurricane Center projections.
Somewhat cooler water temperatures in the northern Gulf, increasing wind shear, and drier air are likely to contribute to some weakening before Delta reaches land, but it is not clear exactly how much the hurricane would weaken. Forecasters at the Hurricane Center said there is a significant risk of dangerous surge, wind, and rainfall hazards along the Gulf coast from Louisiana to the western Florida Panhandle, but could not pinpoint where the worst of the conditions would likely occur at this time. They are encouraging residents of these communities to continue monitoring the forecasts this week and to begin preparations if they have not already done so.
Expires at 8:00am on Wednesday October 7th, 2020
Two new tropical storms and a new tropical depression have formed in the past 24 hours, joining Major Hurricane Teddy in an already historic hurricane season.
Hurricane Teddy is the strongest of the current storms, a Category 4 hurricane, and is located over the open waters of the Central Atlantic. It is forecast to track northwestward this weekend before being deflected due north by a frontal system exiting the United States. Teddy is expected to near Bermuda early next week, and could deliver another round of heavy rain and storm surge to the island that was impacted by Category 1 Hurricane Paulette on September 14. Forecasters at the National Hurricane Center say that Teddy could still be a hurricane toward the middle of next week as it approaches Nova Scotia.
Tropical Storm Wilfred, the last storm name from the Latin alphabet, formed in the eastern Atlantic on Friday morning. Wilfred will likely not exhibit too much additional strengthening as moves westward over the weekend. By early next week, forecasters at the National Hurricane Center say that Wilfred will likely degenerate into a remnant low.
Tropical Storm Wilfred, the last storm name from the Latin alphabet, formed in the eastern Atlantic on Friday morning. Wilfred will likely not exhibit much additional strengthening as moves westward this the weekend. By early next week, forecasters at the National Hurricane Center say that Wilfred will likely degenerate into a remnant low.
Tropical Depression Twenty-Two has the nearest proximity to the United States: On Friday morning it was located over the western Gulf of Mexico, about 250 miles southeast of the Texas and Mexico border. This system has exhibited signs of organization, and forecasters expect it to strengthen into a tropical storm late Friday or early Saturday. Once this occurs, it will acquire a name Beta.
Subtropical Storm Alpha also formed on Friday and was located off the coast of Portugal during the early afternoon. This marks the first time since 2005, and only the second time in history, that the Greek alphabet has been employed to name storms. Alpha will likely be a short-lived system, but is expected to douse Portugal with heavy rain and create rough seas.
Regardless of when or if Tropical Depression Twenty-Two intensifies, the system is expected to remain over the western Gulf of Mexico through at least the middle of next week. After that, remnant moisture and energy from the system could track toward the Central or Eastern Gulf Coast, including Florida's Gulf Coast. Should this occur, rain chances will likely increase and dangerous surf could develop at the beaches. Interests in these areas should follow the forecast closely in the coming week.
A tropical wave producing thunderstorms over the Bahamas has strengthened into Tropical Depression Nineteen (TD 19).
As of 5 pm Friday, the National Hurricane Center said that the system had become better organized, was producing maximum sustained winds of 35 mph, and was moving to the west-northwest at 8 miles per hour.
The system is expected to continue on a northwestward track, and should enter the Gulf of Mexico early on Saturday, where it could intensify. Regardless of when this occurs, periods of heavy rain are expected to impact parts of South Florida on Saturday, and the parts of Florida's Gulf Coast on Sunday. A Tropical Storm Watch has been issued for parts of Southeast Florida from Jupiter Inlet along the Treasure Coast to just north of Ocean Reef in the Northern Keys. A Flood Watch is in effect from Levy County along the Nature Coast to southern Collier County in Southwest Florida.
Rainfall amounts through Sunday are likely to range from 2 to 4 inches along and west of I-75 from Tampa to Naples, with locally higher amounts possible in some areas. Generally, 1 to 3 inches of rain is expected over the three-day period across the western half of the peninsula and along coastal sections of the Florida Panhandle. Lesser amounts of rain are expected along Florida's Atlantic Coast, except for portions of South Florida where amounts up to 2 inches will be possible.
Elsewhere in the tropics, there are multiple areas being monitored for possible future development in the next five days. However, none of them are an immediate threat to the Sunshine State. Tropical storms Paulette and Rene also continue to spin across the central Atlantic, but are not likely to affect any land areas of North America.
The next tropical storm of the 2020 Atlantic Hurricane Season would be named "Sally". The current record for earliest "S" named storm belongs to Stan which formed on October 2, 2005. There have already been an impressive fourteen records for earliest named storms this year in the tropical Atlantic basin.
Expires at 9:00pm on Saturday September 12th, 2020
The National Hurricane Center is monitoring several tropical waves near Africa, but none pose a current threat to the Southeastern United States.
The month of September is certainly living up to its reputation of being an active month in the tropics. So far this month, Nana and Omar have developed and dissipated in the Atlantic Basin. In addition, a train of tropical waves is progressing off the west African coast and into the eastern Atlantic Ocean. These clusters of thunderstorms all have the potential to develop into tropical cyclones.
The National Hurricane Center is currently monitoring three areas off the coast of Africa. All could develop into tropical cyclones within the next week. In this region, sea surface temperatures remain elevated and the atmosphere is rich with moisture. Both of these factors support cyclone development. However, upper level winds are strong and these may detract from intensification. As these areas of interest track westward, the wind shear is forecast to decrease which could encourage storm organization.
Regardless of which waves, if any, become the season's next storm, broad scale weather patterns suggest that they may not be a threat to land. Several global models indicate that over the next week or two high pressure ridging will develop over both the eastern Atlantic and over the Bahamas. A gap between these two ridges may guide any tropical systems toward the north before they reach the United States.
There are many other factors that play into the formation, intensification, and track of a tropical cyclone. The long range forecast is uncertain, but confidence is high that there will be no tropical threats to the Southeast this Labor Day weekend.
Expires at 6:00pm on Saturday September 5th, 2020
The center of Tropical Storm Laura is likely to pass south of Florida, sparing most of the Sunshine State any direct impacts. However, tropical storm conditions are possible across the Florida Keys Monday, where a Tropical Storm Watch has been issued.
In their most recent forecast, meteorologists at the National Hurricane Center say that strengthening high pressure over the western Atlantic should keep Laura's center from passing through Florida. Instead, the storm will likely track over the mountains of Hispaniola and Cuba over the next few days, which should inhibit near term intensification. Laura is expected to exit Cuba and enter the Gulf of Mexico early next week.
The center of the storm, and the most dangerous weather, should remain well southwest of Florida but hazardous conditions will still be possible in parts of the state. Outer rain bands are expected to approach the Lower Keys Sunday and Monday. Locally heavy rainfall and storm surge flooding will be the primary hazards from these bands, and an isolated tornado cannot be ruled out. As Laura tracks northwestward Monday and Tuesday, there is the potential that outer rain bands could wrap onto Florida's Gulf Coast. Again, locally heavy rain, gusty winds, and storm surge flooding will be the primary hazards but isolated tornadoes cannot be ruled out.
Locations farther inland and east will likely be not directly impacted by Laura, however large scale circulation around the system should draw deep tropical moisture overhead. In these areas, scattered to numerous showers and thunderstorms will be likely in the coming days- with locally heavy rainfall possible.
Hurricane Isaías is now expected to move directly toward Florida's East Coast Saturday night, producing hurricane force winds and a life-threatening storm surge along portions of the Treasure and Space Coasts.
As of 5 PM, the National Hurricane Center has shifted the track of Isaías a bit farther west, which includes a possible landfall near West Palm Beach.
Aside from the slight fluctuation change in official forecast track, potential hazards to Florida from Isaías remain unchanged. Interests toward interior and eastern parts of the peninsula should anticipate strong winds and periods of heavy rain this weekend. Localized flash flooding and storm surge inundation will be possible, especially directly along the coast. Beach erosion, rough surf, and life threatening rip currents are highly likely.
Expires at 5:00pm on Saturday August 1st, 2020
Showers and thunderstorms will likely become more numerous across the Sunshine State over the next several days, potentially putting a damper on some holiday weekend plans.
An uptick in afternoon thunderstorm chances are expected in most locations, and portions of Central and North Florida may see heavier and longer lasting episodes of rain Saturday and Sunday.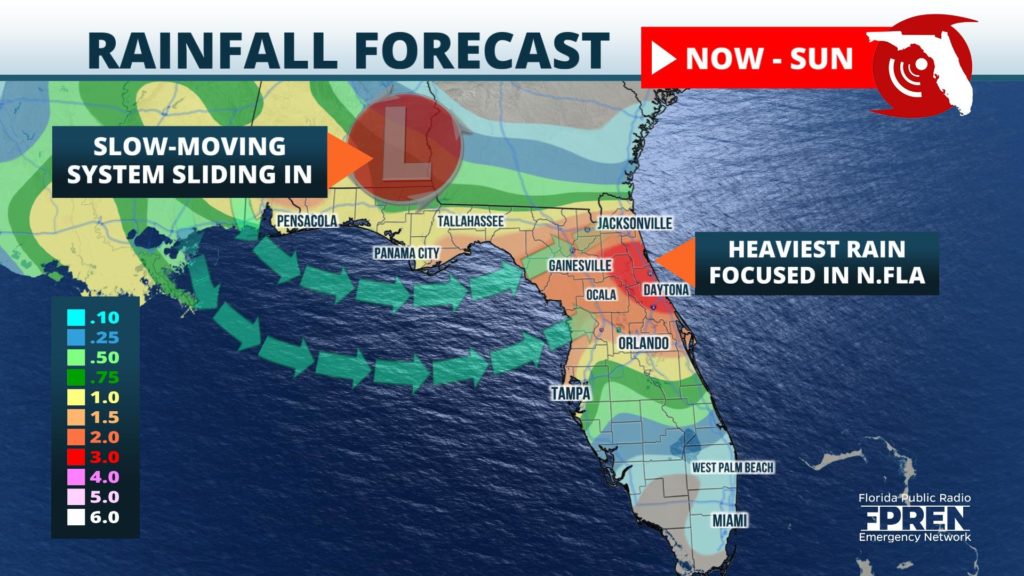 On Wednesday, the Saharan dust plume, which was first introduced into the Florida Panhandle last Thursday, was observed to be moving away from Florida. At the same time, a potent trough in the mid-levels of the atmosphere was dipping into the Mid Atlantic from the Northeast, while a cold front at the surface was sagging into the Southeast. The circulation around these two features will draw in rich Gulf of Mexico moisture across the northern half of Florida.
The unsettled pattern is expected to remain in place over the Southeast through the holiday weekend, enhancing the diurnal sea breeze thunderstorms across the northern two-thirds of the state each afternoon. Periods of rain might also develop in the overnight and early morning hours near the Gulf Coast from the disturbance.
This is welcome news for residents in west-central Florida, where rainfall has been well below normal since mid-June. Three-day rainfall totals from the Nature Coast to the First Coast, stretching as far south as the I-4 corridor near Orlando, are expected to be in the one to three-inch range. Locally higher amounts will be possible where multiple downpours occur. Lesser rainfall amounts of around an inch are possible across surrounding areas of the Florida Panhandle and Northeast Florida.
Central and South Floridians are not expected to receive an abundant amount of moisture from the storm system, therefore rainfall chances and amounts are likely to be closer to normal for this time of year in cities such as Fort Myers and Miami.
Temperatures will cool down a bit in the areas that experience the most widespread rain and cloud cover. However, much of South Florida is likely to continue baking in well-above normal temperatures through at least Sunday where rain chances will be lower.
Expires at 6:00pm on Friday July 3rd, 2020