Hurricane Isaías is now expected to move directly toward Florida's East Coast Saturday night, producing hurricane force winds and a life-threatening storm surge along portions of the Treasure and Space Coasts.
As of 5 PM, the National Hurricane Center has shifted the track of Isaías a bit farther west, which includes a possible landfall near West Palm Beach.
Aside from the slight fluctuation change in official forecast track, potential hazards to Florida from Isaías remain unchanged. Interests toward interior and eastern parts of the peninsula should anticipate strong winds and periods of heavy rain this weekend. Localized flash flooding and storm surge inundation will be possible, especially directly along the coast. Beach erosion, rough surf, and life threatening rip currents are highly likely.
Expires at 5:00pm on Saturday August 1st, 2020
Showers and thunderstorms will likely become more numerous across the Sunshine State over the next several days, potentially putting a damper on some holiday weekend plans.
An uptick in afternoon thunderstorm chances are expected in most locations, and portions of Central and North Florida may see heavier and longer lasting episodes of rain Saturday and Sunday.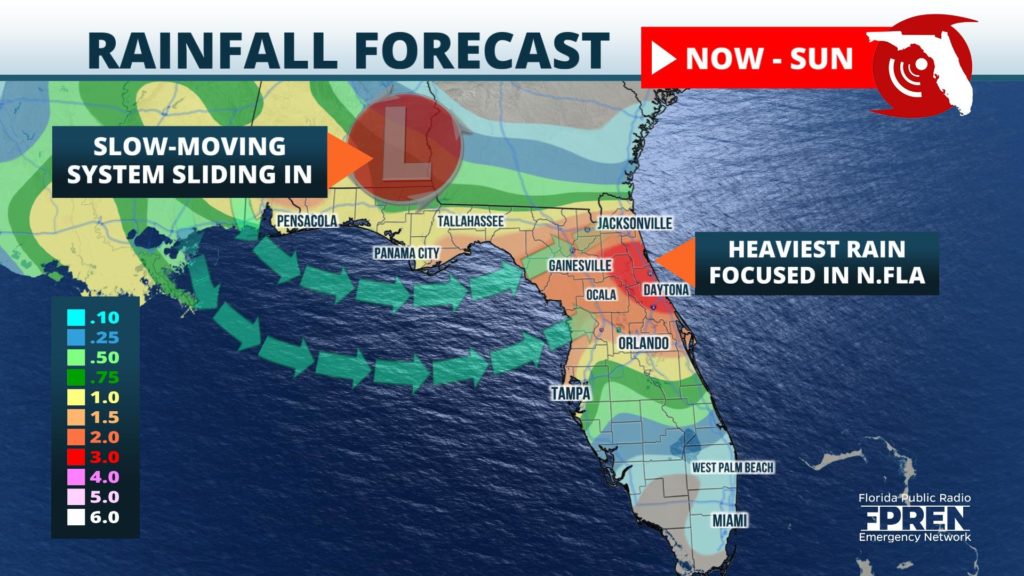 On Wednesday, the Saharan dust plume, which was first introduced into the Florida Panhandle last Thursday, was observed to be moving away from Florida. At the same time, a potent trough in the mid-levels of the atmosphere was dipping into the Mid Atlantic from the Northeast, while a cold front at the surface was sagging into the Southeast. The circulation around these two features will draw in rich Gulf of Mexico moisture across the northern half of Florida.
The unsettled pattern is expected to remain in place over the Southeast through the holiday weekend, enhancing the diurnal sea breeze thunderstorms across the northern two-thirds of the state each afternoon. Periods of rain might also develop in the overnight and early morning hours near the Gulf Coast from the disturbance.
This is welcome news for residents in west-central Florida, where rainfall has been well below normal since mid-June. Three-day rainfall totals from the Nature Coast to the First Coast, stretching as far south as the I-4 corridor near Orlando, are expected to be in the one to three-inch range. Locally higher amounts will be possible where multiple downpours occur. Lesser rainfall amounts of around an inch are possible across surrounding areas of the Florida Panhandle and Northeast Florida.
Central and South Floridians are not expected to receive an abundant amount of moisture from the storm system, therefore rainfall chances and amounts are likely to be closer to normal for this time of year in cities such as Fort Myers and Miami.
Temperatures will cool down a bit in the areas that experience the most widespread rain and cloud cover. However, much of South Florida is likely to continue baking in well-above normal temperatures through at least Sunday where rain chances will be lower.
Expires at 6:00pm on Friday July 3rd, 2020
Downpours are returning to Central and South Florida over the next few days, following a brief period of unusually dry conditions.
Numerous showers and thunderstorms are expected over the Florida peninsula for locations near I-4 and points southward through the weekend. Some of the cells could produce excessive rain, which could cause localized flooding. As of Thursday afternoon, a Flood Watch was in effect for the Treasure Coast, where the National Weather Service says up to six inches of rain is possible through Saturday. In addition to the pockets of heavy rain, a few strong thunderstorms could develop and produce damaging wind gusts across portions of south and central Florida.
An upper level disturbance was lifting out of the Mid-Atlantic states on Thursday, after remaining parked over the region for the past several days. The system's steering winds guided drier air into the Sunshine State earlier in the week, providing a brief stretch of cooler than normal mornings, and primarily rain-free afternoons.
Subtropical moisture was noted to be replacing the drier air Thursday, thanks to a pulse of energy moving out of the Caribbean Sea toward Florida. Southerly winds in response to this system will encourage tropical moisture to move northward into Central and South Florida.
Afternoon downpours and thunderstorms should become numerous as sea breezes progress inland, thanks to the elevated humidity levels. This could result in torrential rainfall rates, and with weak low-level winds, the storms will be slow-moving and flooding will be a formidable concern.
A brief dry period is expected in Florida over the weekend, as a high pressure system moves in and suppresses afternoon storm development. In addition, a slight warming trend is expected. High temperatures should climb to the low 90s along the coast, and mid-90s inland.
Expires at 6:00pm on Friday June 19th, 2020
A tropical storm that passed more than 400 miles to the west dumped more than a foot of rain and spawned several tornadoes over a three-day period across portions of the Florida peninsula.
Cristobal, which is now a tropical depression and moving into the Midwest, is no longer directly influencing the weather across the Sunshine State, but tropical moisture is forecast to linger for several more days. As a result, numerous showers and thunderstorms are in the forecast through at least Friday, some of which could cause localized flooding.
Flooding was severe enough Sunday to prompt the closure of I-10 in Suwannee County, where an estimated 12 to 15 inches of rain accumulated over a 48-hour period. Rainfall estimates elsewhere from Tropical Storm Cristobal ranged from 3 to 7 inches in Northeast Florida, to 1 to 3 inches across much of South Florida.
At least five tornadoes were reported across Florida over the weekend from Tropical Storm Cristobal, including and EF1 that moved through downtown Orlando.
Other tornadoes were observed Sunday near Lake City and Lake Butler, which according to the National Weather Service, produced EF0 damage in Columbia and Union counties respectively. This video was sent to us from our Facebook fan Matt Rocco.
The widespread tropical moisture from Cristobal has come to an end across Florida, however, a humid air mass will remain in place for several more days. This moisture will aid in the development of scattered to numerous afternoon showers and thunderstorms, which will be most focused across inland areas of north and central Florida. Locations near Florida's Big Bend and Suwannee River Valley that have recorded over a foot of rain in the past three days are most susceptible to additional flooding.
On Thursday, a cold front is expected to approach from the west, then stall across North Florida Friday. This will add more lift and energy to an already charged and saturated atmosphere, likely triggering more rounds of mainly afternoon and evening thunderstorms. This will keep elevated rain chances and periodic episodes of localized flooding in the forecast for sections of north and central Florida through at least the start of the weekend.
Expires at 10:00pm on Wednesday June 10th, 2020
Tropical Storm Cristobal has turned north and will soon be moving into the Gulf of Mexico, where it is then expected to strengthen and make landfall in Louisiana Sunday.
The hazards from Cristobal, which primarily include heavy rain and a potential storm surge, could extend more than 400 miles to the east of where the storm's center comes ashore.
A Tropical Storm Warning was issued late Friday afternoon for the greater Pensacola area, including coastal areas of Escambia, Santa Rosa and Okaloosa counties.
A Storm Surge Watch has been issued along Florida's Big Bend and Nature Coast, where forecasters at the National Hurricane Center say a surge of 2 to 4 feet may occur. A storm surge of 1 to 2 feet may also occur along the Emerald Coast and in Pensacola Bay, although the National Hurricane Center did not issue a watch for those areas.
Storm Surge Specialist Jaime Rhome says the discontinuous nature of the surge watch is a "function of the details" on the coastline, along with the very large wind field anticipated with Cristobal. The details Jaime speaks of include the concave nature of the Big Bend, the shallow shelf waters over the northeastern Gulf of Mexico, and the persistent southerly winds that are expected through Sunday.
National Weather Service Meteorologist Tom Johnston explains what that will do to the water.
"This will drive water north into Apalachee Bay and the Big Bend, which will likely cause coastal flooding at high tide on Sunday," he says.
Numerous showers and thunderstorms are expected across the state this weekend, and by Monday, most of Florida could have received more than three inches of rainfall. The highest accumulations will likely occur along the Nature and Forgotten Coasts. Along these shores, up to 5 inches of rain, with locally higher amounts will be possible. Two to four inches of rain are likely toward interior and western parts of the peninsula. Toward the Atlantic coast, one to three inches of rain will be more likely.
Showers and thunderstorms will be possible all weekend, but the heaviest rain should fall overnight Saturday through Sunday afternoon, before taping off Sunday evening. Tropical moisture will remain in place across Florida through the first half of next week, but the widespread, steady rains will subside as the tropical storm weakens over land and moves north into the Midwest.
Expires at 6:00pm on Saturday June 6th, 2020
Tuesday 10 am EDT Update: Tropical Storm Bertha made landfall Wednesday morning at 9:30AM EDT about 20 miles east of Charleston, SC. Maximum sustained winds were at 50 mph, according to a special statement from the National Hurricane Center.

Bertha will continue to move north-northwest through the Lowcountry and Pee Dee regions Wednesday afternoon before turning more northward and moving through the Midlands through the overnight Wednesday and into Thursday.

Tropical Storm Bertha is expected to produce heavy rainfall across portions of eastern and central South Carolina along with Tropical Storm force winds to the coastline.
Tropical Storm Bertha formed Wednesday morning about 30 miles east-southeast of Charleston, SC. Maximum sustained winds were 45 mph at the time, and the storm is expected to make landfall in the South Carolina Lowcountry by midday.
The second named storm of the season began organizing off the east coast of Florida Monday, and it began strengthening as it moved over the warmer waters of the western Atlantic Ocean. As of 8:30 am EDT, the center was 30 miles east-southeast of Charleston and is moving northwest at about 9 mph.
The National Hurricane Center issued a Tropical Storm Warning from Edisto Beach to South Santee River in anticipation of Bertha's landfall late this morning or early this afternoon. Tropical storm force winds in squalls are likely near the coast in the warning area.
Heavy rain and flash flooding is expected over portions of the Lowcountry, primarily from Charleston north and east, and over the Pee Dee, and Grand Strand. Rainfall amounts of 2 to 4 inches are forecast over eastern and central South Carolina, with local amounts up to 8 inches according to the National Hurricane Center.
Rain is expected to continue after the storm moves inland and continue into tonight before diminishing early Thursday morning.
Expires at 12:00am on Thursday May 28th, 2020
Saturday 11 pm EDT Update: Hurricane hunters have found the tropical depression east of #Florida has strengthened into Tropical Storm #Arthur. Forecast track shifted slightly east, farther off the coast of the Carolinas.
Original story Saturday afternoon: The first tropical depression of the year has formed just east of Florida, sixteen days prior to the official start of the Atlantic hurricane season.
Tropical Depression One is no threat to Florida, but it could track close enough to produce tropical storm conditions along the Outer Banks of North Carolina.
Tropical Depression One was located 125 miles east of Melbourne, Fla and had maximum winds of 35 mph, according to the first advisory issued by the National Hurricane Center at 5 pm EDT Saturday. The system was moving to the north-northeast at 13 mph and is expected to continue on that track through Sunday morning. Forecasters at the NHC expect the system to intensify into a tropical storm sometime Sunday, and when it does, it would acquire the name Arthur.
A Tropical Storm Watch was issued for coastal counties of North Carolina, where the storm may move close enough to produce winds greater than 39 mph and heavy rain. Significant wind or rain from this system is not expected across any other land areas, but high surf and dangerous rip currents are possible along all Atlantic Coast beaches from Florida to Virginia though midweek when the future tropical storm pull way.

Heavy rain, gusty winds and rough surf are expected Friday across southeast Florida from a potential tropical or subtropical storm developing nearby. The system is likely to move across the northern Bahamas Saturday, then out to sea Sunday.
An assortment of warnings and advisories have been issued for parts of Palm Beach, Broward and Miami-Dade counties for the possibility of strong winds and high seas through Friday.
Gale Warnings are in effect for near-shore waters from West Palm Beach to Key West, where the combination of wind and rough surf will be a significant hazard to mariners. A Wind Advisory has been issued for coastal areas of the same counties for the possibility of minor wind damage caused by frequent gusts up to 35 mph. Beach-goers are also urged to stay away from the water due to high surf and a high risk of rip currents along all of Florida's Atlantic Coast.
On Thursday, a weak area of low pressure formed in the Florida Straits, where tropical moisture had already been in place, and a broad area of showers and thunderstorms formed. Wind gusts between 15 and 25 mph were also reported across the Florida Keys and portions of Monroe and Miami-Dade counties throughout the day. Hurricane Hunters have been asked to fly into the system Friday to sample data around it for future forecasts.
The large area of unsettled weather is expected to migrate north and east along the southeast coast of Florida Friday. Showers could begin in Miami as early as dawn Friday with activity progressing northward along the Treasure Coast by midday. Spottier downpours are also expected farther inland and to the west, potentially reaching the Gulf Coast from Sarasota to Naples by late afternoon or evening.
This content has expired.
During the periods of heavier rain, winds could gust up to 35 mph across land areas, with even higher gusts possible along the eastward-facing shores. Rainfall totals are likely to be in the one to two-inch range across much of Miami-Dade and Broward counties. Around an inch of rain is to be expected in Palm Beach County and the eastern half of the Everglades. Locations farther west, such as in Collier, Lee, and Hendry counties, will likely receive less than an inch of rain.
The wet and windy weather is expected to subside across most of South Florida Saturday, with the exception for areas immediately along the coast where gusty winds and showers may linger a bit longer. The rain is welcome news to the region, where abnormally dry condition have developed in recent weeks. However, the heaviest rain from this system is unlikely to affect the areas that need it the most - Southwest Florida, where a severe drought has aided in the development of several large wildfires in recent days.
The rainy season typically begins in South Florida between May 15 and May 25, so some improvement in the drought is likely over the coming weeks. The Atlantic Hurricane Season begins June 1, and this could become the sixth year in a row that a tropical cyclone forms prior to the official start of season.
Expires at 6:00pm on Friday May 15th, 2020
Beneficial rain is still in the forecast in South Florida Sunday and Sunday night, where some of it could be heavy. However, lesser amounts are now expected across the rest of the peninsula, thanks to a southward shift in the projected path of an approaching storm system from the Gulf of Mexico.
Showers are first expected to develop across portions of North Florida Saturday night, behind a slow-moving front. Cities such as Gainesville, Jacksonville, Ocala, and St. Augustine will likely wake up to some wet weather early Sunday. In these areas, only spotty rain showers are then expected during the day on Sunday, and even those may completely dry up by late afternoon.
It isn't until midday Sunday, when a disturbance develops along the southward sagging front, that the heaviest rain is expected to fall across Central Florida. Downpours will likely develop over cities such as Tampa, Orlando, and Melbourne by Sunday afternoon, then across much of South Florida from Fort Myers to Miami by Sunday evening. A few strong thunderstorms with gusty winds are also possible across the Florida Keys Sunday night.
The rain event will be rather brief in most spots north of The Everglades, lasting only a few hours before quickly exiting to the east. However, locations along and south of I-75 in Collier, Monroe, and Miami-Dade counties may see several more hours of heavy rain Sunday night. This is due to more instability and moisture being present closer to where the storm system tracks, which is most likely to be across the Florida Straits early Monday.
Rainfall accumulations will likely be less than inch in most of north and central Florida, but could be as high as two inches in the aforementioned areas of South Florida near and south of I-75. Locally higher rainfall amounts will be possible, especially in areas that receive multiple rounds of showers and thunderstorms. This appears most likely across the Florida Keys and in southern portions of Miami-Dade County.
Sunday and Monday's rain will alleviate some of the drought conditions that have developed over much of the Sunshine State, especially across Southwest Florida where the largest rainfall deficits have been this year. The storm system should exit Florida's Atlantic coast before sunrise on Monday, with drier air presiding across the state through midweek.
Expires at 6:00pm on Sunday May 10th, 2020
Beneficial rainfall is on its way to Central Florida Thursday, although it won't completely erase the region's moderate drought.
On Wednesday morning, a cold front was observed moving into North Florida from the panhandle and southern Georgia. Several clusters of thunderstorms had developed along the leading edge of the boundary, dumping heavy rain from Cross City to Jacksonville.
The steadiest and heaviest rain that will move across cities such as Tampa, Orlando and Melbourne will not arrive until the front approaches early Thursday . However, some showers and thunderstorm activity is possible over portions of Central Florida as early as Wednesday evening. Later in the day Thursday, the heavier downpours are forecast to move toward the Treasure Coast and Space Coasts, while locations north of I-4 begin to dry out some. The wet weather is then likely to diminish some across Central Florida Thursday night as the front weakens and stalls, but a few showers will remain in the forecast again Friday.
Widespread rainfall accumulations between 1/2 and 1 inch are expected through early Friday. Locally higher amounts will be possible, especially in areas where thunderstorm cells repeat over some of the same areas across east-central Florida. Thursday's rain is likely to only make a small dent in the recent deficit, as much of Central Florida is between 6 and 8 inches below normal for the year to date. However, long range forecast data suggests a more active pattern could yield several more chances of rain to the region in the next seven days.
Expires at 6:00pm on Thursday April 16th, 2020