Record-breaking warmth experienced this week in Florida is likely to be replaced by colder-than-normal temperatures early next week. Multiple freezes are even possible across the northern third of the state, as arctic air surges in behind a strong cold front over the weekend.
A strong storm system was developing over the Central Plains Friday, and it should move into the Midwest on Saturday. It will likely create blizzard conditions in the Dakotas and Minnesota, while at same time produce heavy rain and thunderstorms across the Mid-South and Ohio Valley. A strong front associated with the storm system will approach the Florida Panhandle Saturday evening, before sweeping across the rest of the state Sunday.
A brief period of heavy rain, or even a few thunderstorms, are expected to mark the arrival of the front Sunday. However, the most notable impacts will come behind it. The front will carve out a path that gives arctic air from Canada a free pass to move deep into the Southeast U.S. Both surface and upper-level winds are forecast to support the intrusion of an air mass that is 10 to 15 degrees below normal for the time of year.
The coldest air will likely arrive Monday night and Tuesday morning, when temperatures are projected to fall into the 30's as far south as the I-4 corridor from Tampa to Orlando. A freeze is possible across the Florida Panhandle and along the I-10 corridor, where morning lows Monday could dip into the upper 20s and lower 30s. A second freeze is also likely for the same areas, and maybe even a few miles farther south, on Tuesday morning. Afternoon highs will likely only reach the 40s 50s in these locations Tuesday and Wednesday, which is a 30-degree difference from what was experienced this past week.
The Florida Public Radio Emergency Network will provide updates on specific temperature forecasts and possible watches or warnings related to the freeze as the event draws closer. You can also keep tabs on your latest 7-day forecast in our mobile app Florida Storms.

Expires at 10:00am on Monday January 20th, 2020
Forecast data continues to suggest a line of destructive thunderstorms will move through portions of the Florida Panhandle Saturday. Confidence is also increasing on when the strongest cells will arrive, which we've listed below...

Pensacola: 11 am to 3 pm
Panama City: 2 to 6 pm
Tallahassee: 7 to 11 pm

There are two primary hazards posed by this storm system. First, thunderstorms that develop ahead of the squall line could rotate and produce a tornado. Second, damaging wind gusts in excess of 60 mph are possible along and directly ahead of the leading edge of the squall line.

These hazards will be most likely in the Panhandle. By the time the front arrives to the Big Bend and Northern Florida early Sunday morning, it is expected to have weakened significantly, or dissipate entirely.

Expires at 4:00pm on Saturday January 11th, 2020
A line of strong thunderstorms capable of producing destructive winds or a tornado is expected to move through the Florida Panhandle Saturday.
In addition, a brief period of torrential rain and localized flooding will also be possible from the powerful storm system as it moves through.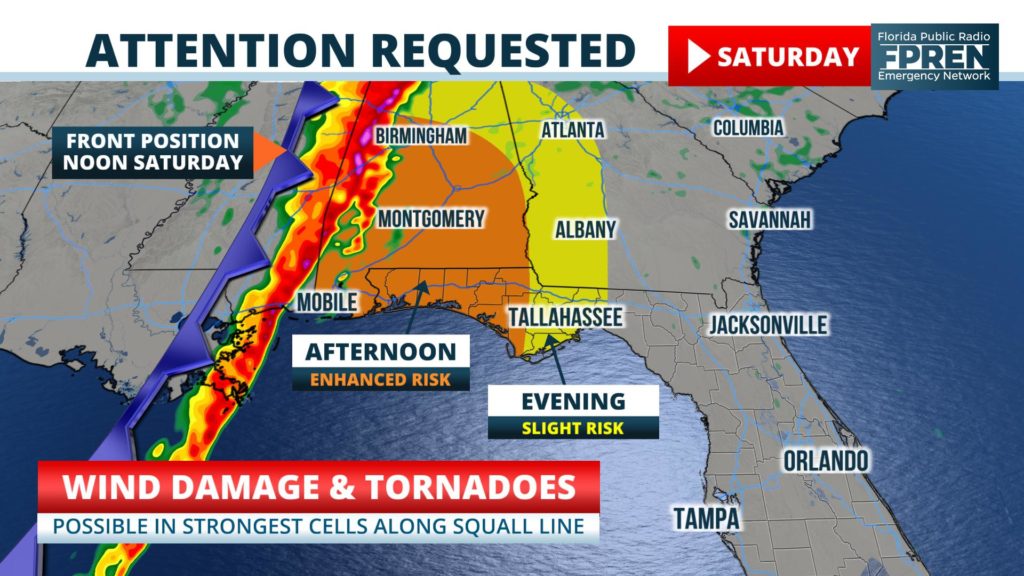 Forecasters at the Storm Prediction Center in Normal, Oklahoma have highlighted the western half of the Florida Panhandle as having an "enhanced risk" of severe storms Saturday, which is a level three out of five on their scale. In her forecast notes issued early Thursday, Meteorologist Elizabeth Leitman said the primary hazard would be wind damage, but that tornadoes could not be ruled out. She communicated uncertainty in to how "pristine" the atmosphere would be ahead of the front for this to occur, and labeled the tornado threat as more "conditional".
The weather map across the Southern Plains was rather quiet Thursday, although the ingredients were beginning to come together for a major storm. Meteorologists at the National Weather Service in Tallahassee were beginning to identify the features on water vapor imagery Thursday.
Surface and upper air observations indicated a large pocket of lower pressure and colder air was rotating through the Intermountain West toward Texas. At the same time, southerly winds were sending unseasonably warm and humid air as far north as the lower Ohio River Valley. When the pocket of colder air aloft attempts to replace the increasingly moist and unstable air mass on Friday, a large of upward motion and lowering pressure is forecast to rapidly develop.
Most likely arrival times
Penascola: 11 am to 4 pm CT
Panama City: 1 pm to 7 pm CT
Tallahassee: 3 pm to 10 pm ET
Lake City: After 5 pm ET
Atmospheric dynamics along a cold front associated with this system are likely to trigger numerous clusters of thunderstorms Friday afternoon across eastern Texas and Oklahoma. The storms are then expected to quickly organize into a squall line that races east through Arkansas, Louisiana, Mississippi, and Alabama Friday night. The leading edge of these cells will pose the greatest risk of significant wind damage or tornadoes when they arrive on Saturday.
A few thunderstorms are possible in the western sections of the Florida Panhandle as early as midday. If these were to develop, they would have the potential to quickly produce a tornado as they race northward on the heels of strong southerly winds. The main squall line, which represents the more widespread and significant risk of severe weather, is then likely to approach Pensacola by early afternoon, Panama City later in the afternoon, and Tallahassee by early evening.
The cold front is expected to weaken and slow down over sections of Northeast Florida Saturday night and early Sunday. The risk of severe weather in these areas is remarkably lower than for areas farther west, although a few stronger storms near cities like Lake City or Jacksonville can't entirely be ruled out. There is no official risk areas highlighted by the Storm Prediction Center beyond Saturday at this time.

Expires at 4:00pm on Saturday January 11th, 2020
It's been a decade of wild swings and weather extremes in Florida. Record-setting temperature and precipitation trends were noted during the first half of the decade, while multiple major severe and tropical weather events characterized the last five years. We summarized the major weather stories from each year in the article below.
2010: A year governed by climate signals
The second decade of the second millennium began with a strong El Nino. This warming of sea surface temperatures in the eastern Pacific often correlates to an uptick in severe weather in the Southeast. Multiple rounds of strong thunderstorms moved through Florida in January that year. The most notable event occurred on Jan. 21, 2010 when an EF-1 tore through the Bradford County town of Starke. The twister carved a 10 mile path through several neighborhoods and crossed State Highway 301. Thankfully there were no deaths or injuries reported, but extensive property damage was incurred by dozens of local residents.

Another climate pattern, and its subsequent impact on Florida, arrived in December. The Arctic Oscillation Index is used to measure anomalies in pressure at the North Pole. It entered a negative phase, which allowed arctic air to plunge deep into the eastern half of the United States for many days. According to the National Weather Service, December 2010 was the coldest December on record for both central and south Florida. The coldest morning was on Dec. 28, when frost was reported as far south as Miami.

2011: Heat-waves, drought, and fires
The El Niño that dominated the early part of 2010 gradually faded by the end of the year. El Nino's counterpart, La Nina, began to develop in the eastern Pacific by the spring of 2011. This cooler-than-normal spell of sea surface temperatures usually translates to a warmer and drier weather period of weather in the Southeast. And this is precisely what occurred.

An extreme drought developed over much of Florida during the spring months, and this was followed by a record-setting heat wave in early summer. Wildfires were widespread for several months, and an estimated 299,991 acres of land were burned across the Sunshine State in 2011.
2012: First tropical storm of the decade
Florida had yet to be affected by a tropical storm or hurricane this decade until June of 2012. A tropical storm named Debby made landfall on the 26th near the mouth of the Suwannee River in Florida's Big Bend. The slow-moving storm stunned residents of North Florida with 20 to 30 inches of rain, causing extensive flooding that lingered for weeks. Entire neighborhoods near Live Oak and Lake City became inhabitable, and a record flood occurred along the Sopchoppy River in Wakulla County.

Debby's outer rain bands also spawned 10 tornadoes across the Florida peninsula, with the most notable ones touching down in Collier and Palm Beach Counties. All of the twisters were rated an EF-0, but they caused notable damage and were unfortunately responsible for one death.
2013: Wettest Summer on Record
The drought in 2011 was largely erased by Tropical Storm Debby in 2012, and the rain kept falling in 2013. It was the wettest summer on record for the state (at the time), and according to the Florida Climate Center, a statewide average of 27.87" of rain fell between June and August that year.

Tropical Storm Andrea was the largest contributor to the soggy summer. Taking a similar path as Tropical Storm Debby, Andrea made landfall in Dixie County June 6th. Rainfall accumulations exceeded five inches in portions of central Florida, and Andrea's rain squalls spawned 10 tornadoes that ripped through the eastern half of the state from the First Coast to Palm Beach County.
2014: Double trouble in the Panhandle
2014 was not a nice year (weather speaking) along Florida's Emerald Coast. Two extreme precipitation events with the span of three months shut down roads, closed schools, and even damaged homes near Pensacola. One was a rare ice storm, the second a freak flash flood.

A seemingly endless supply of arctic air flowed into Florida's Panhandle during the first few weeks of January. This was followed by a winter storm on Jan. 28-29 that pelted the region with sleet and freezing rain. Ice accumulations of up to 1/2 inch closed Interstate 10 for 200 miles, and accumulating sleet even fell at the beaches.

Exactly three months later, on April 28 and 29, another extreme event hit the same areas of the western panhandle. A stalled front produced round after round of torrential rain. Two-day totals exceeded 20 inches, and in Pensacola six inches of rain fell in one hour. This produced extensive flash flooding that destroyed sections of major roads and caused numerous sinkholes.
2015: A relatively quiet year
Another flooding event hit the Florida Panhandle in 2015, but it wasn't as extreme as what took place in 2014. The remnants of Hurricane Patricia (from the Pacific Ocean) moved along the Gulf Coast in October, dropping over seven inches of rain over the course of three days in some spots. Gusty winds and ten foot waves contributed to substantial coastal flooding, and the rough seas caused a floating restaurant near Destin to sink.

No other major weather events or significant temperature trends were noted in 2015. However, El Nino was planning a comeback that would manifest itself in the form of severe weather the following year.
2016: Florida's hurricane drought ends
28 tornadoes touched down in Florida during the months of January and February in 2016. Two of them were rated EF-3, each producing substantial damage to homes and businesses near Pensacola and Century, Florida. There were numerous injuries reported, but thankfully no fatalities.
At this point in the decade, one event was markedly missing from the history books: a hurricane. This would soon change.

Florida's 10-year hurricane drought came to end on Sept. 1 when Hermine made landfall in Florida's Big Bend as a Category 1 storm. Damage was extensive in and around Tallahassee, where wind gusts exceeded 60 mph and three tornadoes were confirmed by the National Weather Service. Hermine produced the fifth highest storm surge near Cedar Key and dumped more than five inches of rain up and down the Nature Coast.

Just a few weeks later, residents along the Atlantic coast were staring at a major hurricane named Matthew. Even though it didn't officially make landfall, significant wind damage and storm surge flooding occurred from the First Coast to the Space Coast. Highest rainfall amounts were recorded in the Jacksonville Metro area, and ranged between 10 and 15 inches. The highest recorded gust in Florida was 93 mph at the Kennedy Space Center.
2017: Hurricane Irma
The 2017 Atlantic Hurricane Season was considered hyperactive, featuring 17 named storms, 10 hurricanes, and 6 major hurricanes. It was also the costliest tropical cyclone season on record in the United States. Historic flooding from Hurricane Harvey in Texas and Louisiana captured most of America's attention in late August, but it was the next storm on the list that began to worry Floridians.

Irma was the first major hurricane to officially hit Florida since Wilma in 2005. The category 5 monster tracked across the Atlantic for nearly two weeks, before making landfalls as a Category 3 storm at Cudjoe Key and Marco Island on Sept. 10. The extremely large hurricane then tracked up the Florida peninsula, spreading destructive winds and flooding rains from coast to coast. Wind gusts up to 120 mph were reported near Naples, and tropical storm force winds destroyed trees and damaged roofs as far north as the Florida-Georgia border. 10 to 15 inches of rain fell in Irma's path, and both coastlines were inundated with several feet of storm surge. More than 6.7 million utility customers lost power, and at least 84 deaths were directly or indirectly caused by the hurricane. Damage estimates across Florida topped $50 billion.
2018: Hurricane Michael
The impacts of Hurricane Irma seemed unsurpassable at the time, but one year later, the worst case scenario unfortunately came to pass. A category 5 hurricane, intensifying rapidly just before landfall, slammed ashore with only a few day's notice.

Hurricane Michael hit Mexico Beach on Oct. 10, 2018 with winds up to 160 mph. It's ferocious eye wall damaged or destroyed tens of thousands of homes,

We have included a detailed account of the damage from Hurricane Michael from the National Hurricane Center's official report (page 11) on the storm published on May 17, 2019.
The damage assessment from Michael
Michael's winds and storm surge caused devastating to catastrophic damage in Bay County, Florida, with the worst of the damage occurring in Mexico Beach (Fig. 10) and at the Tyndall AFB. In Mexico Beach, 1,584 buildings out of 1,692 in the town were reported damaged, with 809 of those reported destroyed. While exact numbers are not available from the Tyndall AFB, every building was reported damaged with many destroyed. The winds and surge also caused less severe, but extensive, damage elsewhere in the eastern portion of the Panama City metropolitan area. This resulted in a total of more than 45,000 structures damaged and more than 1,500 destroyed in Bay County, including severe damage to two hospitals.
Widespread damage also occurred along the Florida Gulf Coast east of the Panama City area to Alligator Point. In Gulf County, over 2,000 structures suffered minor damage, while more than 1,200 received major damage and 985 structures reported as destroyed. An additional 80 structures were reported destroyed in Franklin County. Coastal highways were also washed out in several places between Panama City and Alligator Point. Relatively minor damage was reported along the coast east of Alligator Point to near Keaton Beach.
Inland, a swath of major wind damage to both structures and agriculture/forestry occurred along the track of Michael from the Florida Panhandle across extreme southeastern Alabama into southwestern and central Georgia. Jackson County, Florida, including the town of Mariana, was hard hit, with 400 buildings reportedly destroyed and 600 more suffering major damage. Farther to the northeast, Seminole County, Georgia, including the town of Donaldsonville, reported damage to 99% of the homes, along with severe damage to timber and agriculture. Also hard hit was Dougherty County, Georgia, including the town of Albany, which reported 3,000 residential structures damaged (including 49 destroyed) and significant damage to timber and agriculture. Elsewhere along the path of Michael, a combination of wind and freshwater flooding caused relatively minor damage from eastern Georgia northeastward through southeastern Virginia.
As of this writing, the NOAA National Centers for Environmental Information estimates the total damage from Michael in the United States at approximately $25 billion. Of this total, about $18.4 billion occurred in Florida (with about $3 billion of this on Tyndall AFB), $4.7 billion occurred in Georgia, and $1.1 billion occurred in southeastern Alabama, with smaller amounts of damage in South Carolina, North Carolina, and Virginia. The vast majority of this damage was to property and infrastructure. However, about $3.3 billion of the damage was agricultural and forestry losses, primarily in Florida and Georgia. Widespread power outages occurred due to the storm, especially in the Florida Panhandle, extreme southeastern Alabama, and southwestern and central Georgia.
Michael was the strongest storm on record to hit the Florida panhandle. It killed 50 Floridians and produced an estimated $18.4 billion in damage across the state. Communities in the Panhandle are still struggling to rebuild their homes, businesses and livelihoods after the catastrophic hurricane.
The Florida Disaster Fund helps provide financial support to Florida's communities in times of disaster. To make a contribution, please visit www.FloridaDisasterFund.org or text DISASTER to 20222 to make a one-time donation of $10.
2019: More Scares, but Mostly Unscathed
Another massive hurricane threatened Florida in 2019, but much of the state was spared. Hurricane Dorian was a catastrophic storm when it hit the Bahamas on Sept. 1 with winds of 185 mph. The category 5 monster then stalled less than 100 miles from Miami for more than 12 hours!

With images of Hurricane Michael's destructive winds fresh in their minds, many Floridians feared there would be a repeat of that type of damage along the Space and Treasure Coasts from Dorian. Thankfully, forecasts of a northward turn verified and the storm stayed well offshore. Moderate storm surge flooding was reported from Jupiter Inlet to Jacksonville, and there were some sporadic reports of wind damage. However, most Floridians were left untouched by Dorian's destructive power.

Two notable tornado outbreaks also occurred in 2019. Five confirmed tornadoes touched down in the Panhandle on March 3, one of which was an EF-3 that tore through Leon County. Tropical Storm Nestor also spawned three tornadoes over west-central sections of the state in October, with the most notable one rated an EF-2 near Lakeland.
Final thoughts
Thousands of Floridians were directly affected in a negative way by individual weather events of the past decade. Many Floridians have also witnessed firsthand how a changing climate has affected their community, namely due to warmer temperatures and rising sea levels. This data is evaluated every 10 years by NOAA, and it may not be until this time next year that we know how extreme the changes were, or what could be considered a new "normal" in Florida.
The Florida Public Radio Emergency Network was founded in 2015 to be a lifeline for your community in times of need. We're reachable from anywhere in the state on public radio, or on any device via social media and our app Florida Storms. We stand ready to serve you any time hazardous weather threatens our state, but we wish and hope for nothing but the best nature has to offer in 2020 and beyond.
Expires at 12:00am on Sunday January 5th, 2020
Widespread rain and a few strong thunderstorms are likely on Friday over much of the Big Bend, North, and Central Florida. The strongest storms may produce isolated damaging wind gusts and a low chance for a brief tornado.
The unsettled weather is expected to develop ahead of a gradually intensifying area of low pressure that will move quickly from the northeastern Gulf of Mexico to the Mid-Atlantic states. The Storm Prediction Center has placed portions of the Florida Panhandle and sections of North-Central Florida under a marginal risk for severe thunderstorms on Friday.
Scattered showers are expected to develop across the peninsula Thursday, then increase in coverage and intensity late Thursday night and Friday morning as they expand north to the I-10 corridor. The rain is also forecast to become heavier shortly after sunrise in the Jacksonville and Gainesville areas. Enough unstable air from the Gulf of Mexico may produce a few thunderstorms with gusty winds, as well.
With daytime heating Friday, the storms could intensify near the Tampa/St. Pete metro areas around midday. Winds from the southeast near ground level and from a different direction — from the south a few thousand feet of the above the ground — may create enough rotation for a brief tornado or two.
High resolution model simulations forecast the rain and thunderstorms to move across central Florida during the mid and late afternoon hours. If the air mass becomes unstable enough, a few pockets of damaging wind are possible near Interstate 4 before the heaviest rain departs shortly after sunset.
Drought conditions have been improving in recent weeks over the north Florida, but a moderate drought remains over much of the Big Bend and Panhandle areas. 1 to 1.5 inches of rain are forecast in these areas. Abnormally dry conditions have developed over south Florida, where less rain is forecast from this system.
Expires at 10:00am on Friday December 13th, 2019
A short-lived tropical depression is likely to form over the Gulf of Mexico Friday, before merging with an approaching front this weekend.
The system is not expected to be a significant threat to Florida, but it could bring more beneficial rain to parts of the Sunshine State through at least Monday.
The National Hurricane Center said showers and thunderstorms over the Bay of Campeche were "becoming better organized" Thursday evening, and that further development was anticipated overnight. Forecasters also mentioned that if a tropical depression formed, it would most likely be short-lived. Regardless, gale force winds were expected across the western Gulf of Mexico Friday and Saturday thanks to an approaching cold front.
Florida is unlikely to be in the crosshairs of any tropical weather hazards, but unsettled weather may develop across portions of the state for a second straight weekend.
The drought continues
Residents of the Florida Panhandle might consider this good news, as many were left with far less rainfall than hoped for last weekend from Subtropical Storm Nestor.
When and where
Beneficial rain is in the forecast for several days across Florida, but the weekend is not expected to be a washout in any given location.
The interactions of the approaching front, the potential tropical system, and an area of high pressure over the western Atlantic Ocean will induce a deep southeast flow over Florida. A warm and humid tropical air mass will be transported north by the clockwise circulation to our east and counter-clockwise motion to our west. This pattern is likely to remain in place over the peninsula through at least the beginning of next week.
Rain chances will be at their highest when a piece of energy or frontal boundary lifts the tropical air mass and produces organized areas of showers and thunderstorms. Forecast data suggests this is most likely to occur across portions of South Florida Friday, then spread into central and northern sections of the state late Saturday and Sunday. Pockets of heavy rain will be possible in some areas, especially where stronger thunderstorms occur. Outside of these areas, widely scattered showers are possible across the entire state at any time Friday through at least Monday.
How much rain
Rainfall amounts are likely to vary greatly across Florida through Monday, but there are two areas more susceptible to meaningful amounts on a wider scale. One of those areas will be southeast Florida near Fort Lauderdale and West Palm Beach, where 1 to 2 inches are projected by the Weather Prediction Center (a branch of NOAA) thanks to the persistent wind out of the southeast from the Atlantic Ocean. The aforementioned front is likely to slow down as it approaches the Florida Panhandle, which is where another widespread area of greater than one inch of rain may fall through Monday.
Rain chances are expected to stay elevated across the northern half of the peninsula early next week, where the front will likely stall. Whereas areas farther north and west will likely dry out for a few days, thanks to drier air moving in behind the front.
Expires at 9:16pm on Thursday October 24th, 2019
Nestor is moving away from the Sunshine State, but the storm was much more than a nuisance for some Floridians.
At least three tornadoes have been confirmed across the peninsula, and heavy rain and storm surge caused moderate flooding across portions of the panhandle.
A recap of Nestor's damage...
The season's 14th tropical storm spawned powerful super cell thunderstorms that produced at least three confirmed tornadoes. One of them was particularly strong in Polk County just before midnight Friday night. The tornado damaged several structures, including a middle school, and even flipped a semi truck on I-4 near Lakeland. Other tornadoes were reported in the town of Seminole near Saint Petersburg and in Cape Coral.
A storm surge of up to three feet and torrential rains also berated Florida's Big Bend overnight Friday, where moderate coastal flooding was reported. Heavy rain was also reported in portions of central Florida, were five inches have been estimated along I-4 between Orlando and Daytona Beach.
Post-tropical Storm Nestor will continue to accelerate northeastward, and by this evening, the majority of the rain shield will exit the Florida peninsula. However, southwesterly winds will continue, so a few showers or thunderstorms are possible through early evening Saturday.
Nestor's influence on our state's weather will diminish Sunday, and skies will become mostly sunny by late morning in most areas. Drier air will surge in from the northwest, giving most Floridians a break from the unsettled weather through Monday.
Expires at 2:13pm on Saturday October 19th, 2019
This story was updated Thursday morning to include the latest update from the National Hurricane Center.
A tropical storm is likely to form over the Gulf of Mexico by Friday or Saturday, and confidence is increasing that it will track toward the Florida Panhandle this weekend.
The storm could produce heavy rain, gusty winds and isolated tornadoes across a large portion of the state Friday night and Saturday.
The area of interest, referred to as Invest 96 by meteorologists, was producing a large area of showers and thunderstorms that were becoming better organized Thursday morning over the Bay of Campeche.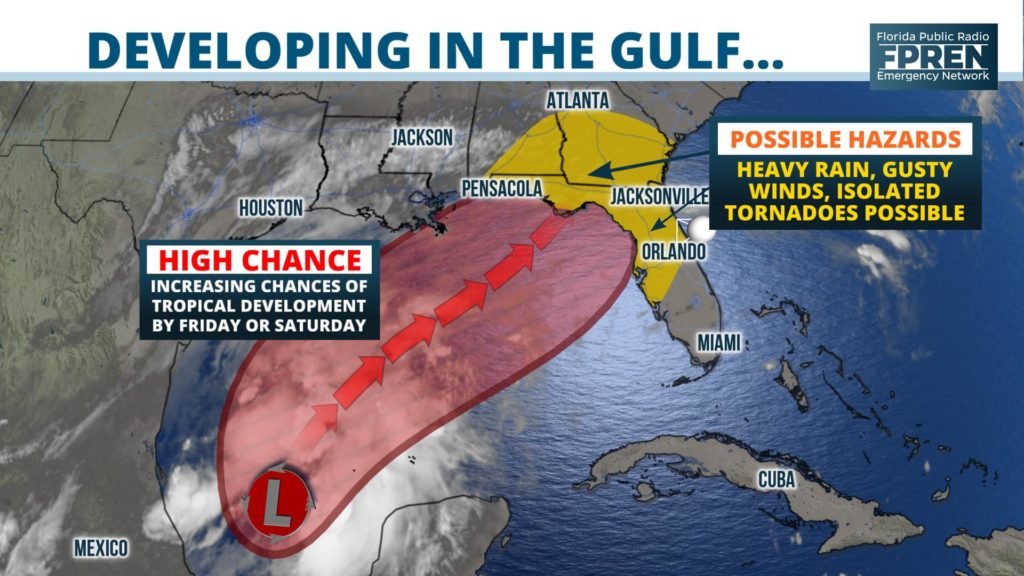 Tropical chances
The National Hurricane Center has requested assistance from the Air Force Reserve hurricane hunters on Thursday to determine if it is acquiring tropical characteristics. Forecasters at the center have increased the probability of tropical or subtropical development to 80 percent, as of their 8 am Thursday tropical outlook.
Potential impacts to Florida
Upper level winds are likely to steer Invest 96 to the northeast in the coming days, where warm sea surface temperatures could allow for further organization and strengthening. However, those same winds are also expected to produce wind shear that could limit the extent of intensification before it reaches land. Most of the reliable forecast models are in agreement that, at the very least, a strong area of low pressure will approach the northern Gulf Coast states by Saturday.
Heavy rain and gusty winds will be possible along and east of where Invest 96 comes ashore, regardless of whether it acquires tropical characteristics or is classified as a named storm. Isolated tornadoes or water spouts will also be possible east of its path where low-level spin and instability is present.
Rain timing and amounts
The first periods of rain could arrive along portions of the Emerald and Nature Coasts by Friday afternoon or early evening. A more widespread area of rain is likely to develop and move farther inland overnight, generally expanding in coverage to include most of the Florida Panhandle and north-central Florida by Saturday morning. Current forecast data suggests the heaviest bands of rain will set up somewhere between Panama City and Cedar Key as the center of Invest 96 nears the coast Saturday afternoon and evening. The system is then likely to move swiftly to the northeast, resulting in a gradual reduction in rainfall intensity and coverage by Sunday morning.
The timing of the rain over a weekend may be disappointing to some, but many Floridians will welcome it. A moderate drought has developed over the past few months along the I-10 corridor, which is actually where some of the heaviest rain may occur. Current forecast data suggests 2 to 4 inches of rain could fall in the Panhandle, with locally higher amounts possible. Some of the rainfall accumulations could come over a short period of time, making flash flooding possible, especially in poorly drained and low lying areas.
Meteorologists at the Florida Public Radio Emergency Network will continue to monitor the system and provided updates as necessary. Stay up to date with forecasts and alerts for your area by downloading the Florida Storms App, available for all iOS and Android phones or tablets.
Expires at 9:03pm on Wednesday October 16th, 2019
The Tropical Atlantic is void of any imminent threats, with just over a month and a half of hurricane season remaining.
Two areas of interest have been identified by the National Hurricane Center as having a "low chance" of developing, but neither are likely to be a significant threat to Florida. Tropical Storm Melissa is expected to move farther away from land across the northern Atlantic, also directly affecting any land areas.
The first area of interest is a broad area of showers and thunderstorms located over the western Caribbean Sea. This activity could become more organized as it is pushed westward toward Belize by the beginning of the coming week. Most reliable forecast data suggests the system would then enter the eastern Pacific Ocean by the end of the week, where gradual strengthening is possible. At this time, the disturbance is unlikely to pose a threat to the United States.
The second area of interest is a tropical wave moving off the west coast of Africa. Conditions could become marginally favorable for development as it moves west of the islands of Cape Verde early this week. However, models suggest that an increase in wind shear by Wednesday will likely negate any further development. Regardless, the system will remain over the Atlantic Ocean and poses no threat to any land areas.

Expires at 6:00pm on Sunday October 13th, 2019
A moderate drought is now affecting much of the Florida Panhandle, and some cities haven't received a drop of rain in more than four weeks. This comes as Florida's rainy season ends early and the driest months of the year are still to come.
Rainfall has been below average for the entire state this month, and in some spots, non-existent. As of Thursday, Pensacola and Tallahassee had not received any measurable rain in September. Average rainfall for the month in Pensacola is 5.98 inches, with Tallahassee receiving 4.69 inches on average. A similar situation has developed on the other side of the state in Miami, where there is a September rainfall deficit of 6.62 inches.
Monthly rainfall accumulations as of Sep. 26, compared to normal September values, are provided below.
| | | |
| --- | --- | --- |
| CITY | RAIN SO FAR | SEPT. NORMAL |
| Pensacola | 0.00" | 5.98" |
| Tallahassee | 0.00" | 4.69" |
| Gainesville | 0.93" | 4.42" |
| Tampa | 1.45" | 6.30" |
| Orlando | 1.84" | 6.06" |
| Melbourne | 2.09" | 7.64" |
| Jacksonville | 2.35" | 8.19" |
| Fort Myers | 2.86" | 8.31" |
| Miami | 3.24" | 9.86" |
| Fort Pierce | 3.42" | 6.03" |
The departures from normal may look extreme, but it must be noted that average rainfall numbers in September are often skewed by tropical storms or hurricanes.
The National Drought Mitigation Center (NDMC) at the University of Nebraska publishes a weekly Drought Monitor Index to assess how severe the conditions are. In their update Thursday, all of north Florida was considered to be at least "abnormally dry", and 21% of the state - nearly all areas along and north of I-10 - was classification as being in a "moderate drought". The NDMC identifies the situation as a "flash drought", which is used to describe a period of abnormally high temperatures and increased evaporation rates that exacerbated the drought.
Climatology alone would suggest drier days are in Florida's future, as the rainy season typically ends over the next couple of weeks. However, it seems to have concluded early this year thanks to a quasi-persistent wind pattern that promotes warm temperatures and little rain.
State Climatologist David Zierden says this pattern can be traced back to the beginning of September, when Hurricane Dorian decided to turn north and miss Florida.
"When you get a big, strong, big storm that is that strong, it can kind of pull in dry or air from the north and enhance the ridging," he says. Zierden is referring to an area of high pressure that causes sinking air and suppresses precipitation. "And then we had Humberto, that didn't come as close, but it still had much the same effect on pulling in a dry and warmer air mass," he adds.
Recent forecast data also suggests the dry pattern will continue through at least the beginning of October, as yet another ridge of high pressure is set to build across the Southeast. Above average temperatures and dry air accompanied by the high will likely persist, allowing the drought to continue or even become more severe.
It would appear the only change for significant rain in Florida's near future might be from a tropical weather system, which is not expected in the next five days. However, tropical weather activity is still very possible over the next few weeks, based on historical data that suggests the height of hurricane season continues through mid-October.
Expires at 9:15pm on Thursday September 26th, 2019