A soaking rain is likely across the Sunshine State Sunday, and it could be heavy enough to cause river or street flooding in some areas.
Thunderstorms capable of producing minor wind damage or a brief tornado are also possible in portions of South Florida Sunday afternoon, although considerable uncertainty remains on whether this risk will materialize.
An area of low pressure is forecast to form in the central Gulf of Mexico Saturday, then gradually strengthen as it moves across the state Sunday. The first area to receive widespread rain is likely to be the Florida Panhandle Saturday night. This will then spread east along I-10 toward Jacksonville and portions of North Florida Sunday morning.
Clusters of heavy rain with embedded thunderstorms are also expected to develop farther south by Sunday afternoon, moving ashore from the Gulf of Mexico near and south of the I-4 corridor. The rain will end in most areas by Monday morning, although scattered showers may persist a bit longer in northeast Florida.
When the heaviest may fall
The following windows of time are when the heaviest and most persistent rain is expected.
Pensacola: Sat 6 pm - Sun 3 pm
Panama City: Sat 10 pm - Sun 6 pm
Tallahassee: Sun 12 am - Sun 9 pm
Jacksonville: Sun 6 am - Mon 6 am
Gainesville/Ocala: Sun 4 am - Mon 3 am
Tampa/St Pete: Sun 8 am - Sun 9 pm
Orlando/Melbourne: Sun 10 am - Mon 12 am
Fort Myers: Sun 12 pm - Sun 9 pm
Fort Pierce: Sun 2 pm - Mon 12 am
Miami/West Palm: Sun 4 pm - Mon 3 am
How much may fall
The greatest threat from the storm system is excessive rain. Computer model projections as of Friday afternoon are showing widespread 1 to 3 inch rainfall amounts over the state, with a few locations perhaps receiving upwards of 4 inches.
There are some indications from the American and European global models that two pockets of heavy rain — one near I-10 in the Panhandle and another over central Florida — may develop. However, forecasting the precise location of flooding downpours more than a few hours in advance is typically not possible.
Coastal hazards possible
Gusty winds from the storm have prompted the National Weather Service to issue Small Craft Advisories or Gale Watches for both the Atlantic and Gulf waters. If the track of the low pressure is over the Panhandle, there may be minor coastal flooding for portions of Florida's Big Bend as well. Rough surf and rip currents may also create a hazard for those looking to enter the water over the holiday weekend.
Low severe potential
The air mass is expected to become warm, humid, and unstable enough to produce strong thunderstorms, primarily south of Interstate 4, Sunday into Sunday evening. The Storm Prediction Center has issued a "marginal risk", a level 1 out of a possible 5, for the possibility that a few of the storms may be strong enough to produce damaging gusts and a tornado or two. A widespread outbreak of damaging winds and tornadoes is not presently anticipated, but residents are advised to occasionally monitor the forecast over the weekend for changes.

Scattered showers and a few downpours are possible into Monday, with a clearing trend and return to more typical Florida-like December weather for Christmas Eve and Christmas Day.

Expires at 12:00pm on Saturday December 21st, 2019
The storm responsible for more than three dozen tornado reports across Louisiana, Mississippi, and Alabama on Monday is now moving through the Sunshine State. It is not as robust as it once was, but it still could produce thunderstorms capable of damaging gusts and perhaps a tornado.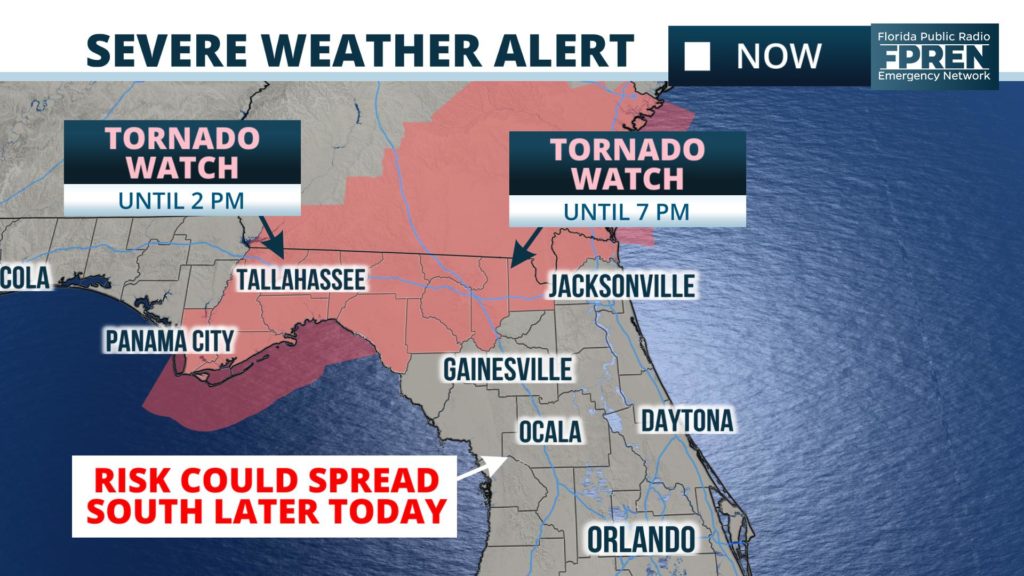 A Tornado Watch is in effect until 2 PM for portions of the Big Bend and Panhandle, including Tallahassee and Panama City. A new Tornado Watch has also been issued for areas farther east along I-10 toward Jacksonville until 7 pm.
Isolated tornadoes and damaging gusts from thunderstorms are possible in and near the watch area. The National Weather Service in Tallahassee said radar data confirmed a tornado in Jackson county, near Graceville, shortly after 7 o'clock this morning. It is not immediately clear at the time of this story how extensive the damage was from the tornado.
Thunderstorms were moving into the Tallahassee area midday, with a threat for damaging gusts and isolated tornadoes. The cold front attached to this storm is expected to sweep eastward Tuesday afternoon and evening. Scattered showers and thunderstorms could develop earlier in the afternoon, well ahead of the front, but the more widespread activity is expected to accompany the front. Here are the estimated times of arrival for the main line of thunderstorms:
Gainesville, Jacksonville: 3-6 PM
Tampa/St Pete: 5-8 PM
Orlando/Melbourne: 4-9 PM
Fort Myers: 8-11 PM
Vero Beach/Fort Pierce: 10 PM - 2 AM
As the front moves across the southern half of the peninsula, upper-level winds are forecast to weaken somewhat, reducing the number of wind damage reports. Residents should still be aware that gusty winds are possible with the strongest thunderstorms as they move through. The high moisture in place will also result in downpours with the showers and thunderstorms.
Scattered thunderstorms are possible before the times listed above. The main line of thunderstorms is forecast to weaken considerably as it reaches Naples, West Palm Beach, and Miami, but scattered thunderstorms are possible in those areas between 3 AM and 10 AM on Wednesday.
Much colder air is expected to flow in behind the front on Wednesday and Thursday. There is a chance of a light freeze in North Florida and the Florida Panhandle, especially closer to the Interstate 10 corridor early on Thursday morning.
Expires at 7:00pm on Tuesday December 17th, 2019
The National Weather Service has issued a Tornado Watch until 2 PM for much of the Florida Big Bend and portions of the Panhandle. The Tornado Watch includes Tallahassee, Panama City, Marianna, and Apalachicola.
The larger storm system produced more than 3 dozen tornado reports over Alabama, Mississippi, and Louisiana on Monday. Its associated cold front is moving into an environment that is not quite as favorable for tornadoes today, but there is enough wind shear and unstable air for a few tornadoes in and near the tornado watch area this morning into early afternoon. Damaging wind gusts may accompany the thunderstorms, as well.
Storms were approaching the Panama City and Marianna areas as of mid-morning, and will reach the Apalachicola and Tallahassee areas around midday. At least one tornado warning has been issued in the Florida Panhandle northwest of Marianna, where radar data strongly suggested there was a touchdown in Jackson County.
The storms are expected to leave the Big Bend area during the mid and late afternoon. Much colder weather is forecast behind the front tonight and Wednesday, and a light freeze is possible early Thursday morning.
Forecasters at the National Weather Service Storm Prediction Center have also placed much of north and central Florida under a "marginal" (level 1 of 5) risk for severe weather later Tuesday afternoon and evening. Current forecast data suggests minor wind damage or a brief tornado may occur in these areas with the strongest cells.
Expires at 2:00pm on Tuesday December 17th, 2019
A strong storm system is expected to bring tornadoes, hail, and damaging winds to portions of Louisiana, Mississippi, and Alabama Monday afternoon. It could then trigger a few strong storms capable of producing damaging wind gusts in the Florida Panhandle late Monday night or early Tuesday morning.
The factors that are forecast to come together to produce the tornado risk over portions of the Deep South will not be as well aligned for the thunderstorms that move into the Florida Panhandle after early Tuesday morning. However, unstable air streaming northward from the Gulf of Mexico and strong winds aloft have prompted the Storm Prediction Center to place areas west of the Apalachicola River under a "slight" (level 2 of 5) risk for severe weather. In their early morning outlook, forecasters say there is the potential for scattered damaging winds and an isolated tornado, despite the slightly less favorable conditions than farther west.
High-resolution computer models show the thunderstorms reaching the Pensacola region between 10 pm and 6 am. They will then spread east into areas from Panama City to Marianna between 2 am and 8 am, followed by the Tallahassee area around or shortly after sunrise Tuesday. Occasional storms may not clear the capital city region until mid-afternoon. Gusty winds, downpours, and lightning are possible with these storms, but the risk of damaging thunderstorms is considerably lower over the central and eastern regions of Florida's Big Bend.
Much colder air will flow in behind the cold front Tuesday night and Wednesday. A light freeze is even possible over much of the Florida Panhandle, Big Bend, and North Florida by Thursday morning. The greatest chance of freezing temperatures is away from the immediate Gulf coast and closer to Interstate 10, areas that have already experienced a freeze this season.
Expires at 8:00am on Tuesday December 17th, 2019
Widespread rain and a few strong thunderstorms are likely on Friday over much of the Big Bend, North, and Central Florida. The strongest storms may produce isolated damaging wind gusts and a low chance for a brief tornado.
The unsettled weather is expected to develop ahead of a gradually intensifying area of low pressure that will move quickly from the northeastern Gulf of Mexico to the Mid-Atlantic states. The Storm Prediction Center has placed portions of the Florida Panhandle and sections of North-Central Florida under a marginal risk for severe thunderstorms on Friday.
Scattered showers are expected to develop across the peninsula Thursday, then increase in coverage and intensity late Thursday night and Friday morning as they expand north to the I-10 corridor. The rain is also forecast to become heavier shortly after sunrise in the Jacksonville and Gainesville areas. Enough unstable air from the Gulf of Mexico may produce a few thunderstorms with gusty winds, as well.
With daytime heating Friday, the storms could intensify near the Tampa/St. Pete metro areas around midday. Winds from the southeast near ground level and from a different direction — from the south a few thousand feet of the above the ground — may create enough rotation for a brief tornado or two.
High resolution model simulations forecast the rain and thunderstorms to move across central Florida during the mid and late afternoon hours. If the air mass becomes unstable enough, a few pockets of damaging wind are possible near Interstate 4 before the heaviest rain departs shortly after sunset.
Drought conditions have been improving in recent weeks over the north Florida, but a moderate drought remains over much of the Big Bend and Panhandle areas. 1 to 1.5 inches of rain are forecast in these areas. Abnormally dry conditions have developed over south Florida, where less rain is forecast from this system.
Expires at 10:00am on Friday December 13th, 2019
A fast-moving front will approach the Florida Panhandle Monday night, likely triggering a cluster of potentially severe thunderstorms ahead of it. The strongest cells may produce damaging winds and perhaps an isolated tornado.
Thunderstorms were ongoing across the Mid-South along the approaching the front Monday morning. The National Weather Service received more than 230 reports of large hail and high winds from the storms Sunday night in parts of Texas, Oklahoma, Arkansas, Missouri, and nearby states. At least three tornadoes, including what appeared to be a strong tornado in the Dallas, TX, also were reported Sunday evening.
This line of storms is tied to a cold front moving through the lower Mississippi River Valley. An increasingly moist and unstable air mass ahead of it will spread over the Florida Panhandle this evening. Strong winds through a deep layer of the atmosphere will create an environment that is favorable for strong thunderstorms, especially after sunset. The Storm Prediction Center in Norman, OK has issued a "slight risk" for severe thunderstorms. Forecasters say scattered thunderstorms should pose a risk of damaging gusts along with a few tornadoes.
High-resolution computer models are forecasting the greatest chance of strong thunderstorms in the Pensacola, Fort Walton, Destin, and Crestview areas some time between 7 pm and 11 pm Central Time. It is possible a few isolated storms with damaging winds and tornadoes could develop along the immediate Gulf coast, west of Panama City, prior to 7 pm CT.
A broken line of showers and thunderstorms are expected to move east, reaching the Florida Big Bend and the Tallahassee areas around or just after midnight Tuesday morning, but it is not clear whether the storms will be as strong when they arrive. There is a "marginal risk" for a spotty wind damage report or brief tornado overnight into early Tuesday morning as far east as Jacksonville, Lake City, and Gainesville. At this time, it is most likely the storms will be weaker in these areas.
Additional thunderstorms are likely to develop along the cold front Tuesday morning in the Big Bend and move to North-Central and Northeast Florida during the afternoon. Gusty winds are possible with the storms, but the environment is not expected to be as favorable for damaging thunderstorms as it will be on Monday evening in the Panhandle. Scattered showers and storms are expected over central and south Florida Tuesday night into Wednesday as the front approaches and stalls there.
Much cooler and drier weather will follow the cold front, mainly north of I-4, on Wednesday.
Expires at 11:00pm on Monday October 21st, 2019
It finally rained in Florida Monday, but the areas that needed it the most missed out.
Many Florida cities have had little or no rain in over a month, resulting in an expansion of drought conditions across most of the Florida Panhandle and sections of North Florida.
A nearby weak weather system triggered numerous rounds of showers and thunderstorms Monday, but they primarily affected areas farther south.
Radar estimates and numerous ground-truth reports indicate that 3 to 5 inches of rain fell over portions of the Jacksonville metro area Monday, with 5.36" observed at the Mayport Naval Station gauge. Pockets of heavy rain were also observed across the rest of the peninsula from Gainesville to Orlando Monday afternoon. The National Weather Service in Jacksonville tweeted a lengthy list of preliminary reports at 9:15 pm ET.
Public Information Statement
National Weather Service Jacksonville FL
915 PM EDT Mon Oct 7 2019

...PRELIMINARY RAINFALL REPORTS DURING THE PAST 24 HOURS...

Location                     Amount    Time/Date       Lat/Lon              
Mayport Naval Station        5.36 in   0852 PM 10/07   30.38N/81.42W        
Orange Park                  4.27 in   0900 PM 10/07   30.13N/81.76W        
0.9 N Jacksonville Beach     3.99 in   0500 PM 10/07   30.29N/81.39W        
Lake George                  3.90 in   0804 PM 10/07   29.40N/81.81W        
Jacksonville Craig           3.86 in   0853 PM 10/07   30.33N/81.52W        
Jacksonville                 3.67 in   0848 PM 10/07   30.25N/81.69W        
Jacksonville Nas             3.62 in   0853 PM 10/07   30.22N/81.67W        
Jacksonville                 3.39 in   0846 PM 10/07   30.26N/81.72W        
Jacksonville Beach           3.33 in   0736 PM 10/07   30.27N/81.46W        
Jacksonville                 3.28 in   0904 PM 10/07   30.36N/81.81W    
Saint Johns                  3.14 in   0855 PM 10/07   30.12N/81.62W        
Jacksonville                 3.02 in   0855 PM 10/07   30.27N/81.65W        
Gainesville                  2.77 in   0846 PM 10/07   29.73N/82.42W        
Fruit Cove                   2.58 in   0827 PM 10/07   30.11N/81.64W        
Jacksonville                 2.53 in   0901 PM 10/07   30.21N/81.60W        
Eddy Tower                   2.49 in   0804 PM 10/07   30.54N/82.34W        
Jacksonville                 2.45 in   0858 PM 10/07   30.28N/81.48W        
Crescent City                2.37 in   0832 PM 10/07   29.39N/81.47W        
Gainesville                  2.17 in   0855 PM 10/07   29.67N/82.39W        
Jacksonville                 2.15 in   0857 PM 10/07   30.30N/81.87W        
3.0 NE Orange Heights        2.01 in   0800 PM 10/07   29.75N/82.10W        
Gainesville                  1.78 in   0853 PM 10/07   29.70N/82.28W        
Keystone Heights             1.73 in   0856 PM 10/07   29.85N/81.89W        
Kingsland                    1.64 in   0900 PM 10/07   30.77N/81.73W        
Palm Coast                   1.62 in   0847 PM 10/07   29.58N/81.23W        
Ocala                        1.57 in   0846 PM 10/07   29.15N/82.13W        
Gainesville                  1.48 in   0846 PM 10/07   29.81N/82.30W        
Palm Coast                   1.41 in   0846 PM 10/07   29.57N/81.21W    
Jacksonville                 1.34 in   0854 PM 10/07   30.50N/81.57W        
Yulee                        1.32 in   0846 PM 10/07   30.66N/81.58W        
Jacksonville Intl Airport    1.27 in   0856 PM 10/07   30.50N/81.68W        
3.2 NE Espanola              1.25 in   0200 PM 10/07   29.53N/81.27W        
Gainesville                  1.20 in   0846 PM 10/07   29.66N/82.32W        
Benton 2nnw                  1.18 in   0800 PM 10/07   30.51N/82.67W        
Palatka                      1.14 in   0858 PM 10/07   29.64N/81.65W        
Candler                      1.07 in   0900 PM 10/07   29.06N/81.98W        
Weirsdale                    1.06 in   0903 PM 10/07   29.00N/81.92W        
Bunnell                      1.01 in   0856 PM 10/07   29.43N/81.35W        
Palm Coast                   0.98 in   0855 PM 10/07   29.57N/81.17W        
1 NNW Saint Augustine        0.89 in   0905 PM 10/07   29.91N/81.32W        
2.0 NE New River             0.85 in   0800 PM 10/07   29.98N/82.24W        
I-95 @ Camden Welcome Center 0.78 in   0850 PM 10/07   30.75N/81.65W        
Ocala Airport - Jim Taylor F 0.74 in   0858 PM 10/07   29.17N/82.22W        
Palm Coast                   0.73 in   0900 PM 10/07   29.51N/81.25W        
2 WSW University of Florida  0.71 in   0905 PM 10/07   29.64N/82.39W        
Brunswick                    0.70 in   0904 PM 10/07   31.28N/81.53W        
Olustee                      0.69 in   0804 PM 10/07   30.25N/82.42W        
Oke-East                     0.69 in   0847 PM 10/07   30.74N/82.13W        
Alachua                      0.61 in   0857 PM 10/07   29.79N/82.51W        
Sterling                     0.60 in   0804 PM 10/07   31.26N/81.61W        
1.1 N Woodbine               0.57 in   0800 PM 10/07   30.97N/81.73W        
Brunswick Glynco             0.56 in   0855 PM 10/07   31.25N/81.47W        
Trenton                      0.47 in   0855 PM 10/07   29.59N/82.83W        
2.0 NW Belleview             0.43 in   0500 PM 10/07   29.08N/82.08W        
Trenton                      0.39 in   0905 PM 10/07   29.67N/82.70W        
1.4 NW Steven Foster State P 0.39 in   0901 PM 10/07   30.83N/82.36W        
Jones Island                 0.38 in   0801 PM 10/07   30.83N/82.36W        
3.6 NW Lake Butler           0.38 in   0700 PM 10/07   30.04N/82.39W        
3 WNW Alachua                0.37 in   0905 PM 10/07   29.81N/82.52W        
High Springs                 0.37 in   0900 PM 10/07   29.74N/82.62W        
Hawthorne                    0.37 in   0846 PM 10/07   29.67N/81.95W        
Waynesville                  0.35 in   0857 PM 10/07   31.23N/81.79W        
Reddick                      0.34 in   0855 PM 10/07   29.35N/82.24W        
5.7 S High Springs           0.33 in   0800 PM 10/07   29.74N/82.61W        
1.6 NE Ichetucknee Spring    0.33 in   0800 PM 10/07   29.98N/82.75W        
Brunswick                    0.32 in   0853 PM 10/07   31.15N/81.38W        
Fernandina Beach             0.30 in   0855 PM 10/07   30.62N/81.47W        
2.3 NW High Springs          0.26 in   0800 PM 10/07   29.85N/82.61W        
Fort White                   0.22 in   0858 PM 10/07   29.88N/82.66W        
Bell 3n                      0.21 in   0800 PM 10/07   29.80N/82.87W        
Oke-Nw                       0.19 in   0810 PM 10/07   30.98N/82.40W        
Folkston                     0.17 in   0846 PM 10/07   30.85N/81.99W        
6.2 NE Midway                0.17 in   0800 PM 10/07   30.09N/83.03W        
Clermont                     0.14 in   0845 PM 10/07   29.07N/82.23W        
4.9 SW Belmont               0.12 in   0800 PM 10/07   30.44N/82.78W        
Live Oak                     0.11 in   0847 PM 10/07   30.38N/83.08W        
3.9 N Houston                0.11 in   0800 PM 10/07   30.31N/82.90W        
Alapaha Tower                0.09 in   0800 PM 10/07   30.53N/83.04W        
Fargo                        0.09 in   0715 PM 10/07   30.68N/82.56W        
Blackshear                   0.09 in   0855 PM 10/07   31.24N/82.29W        
US 341 @ SR 38               0.09 in   0850 PM 10/07   31.61N/81.88W        
2.1 NE Fargo                 0.07 in   0800 PM 10/07   30.71N/82.54W        
Doctortown                   0.02 in   0800 PM 10/07   31.65N/81.83W        
Waycross                     0.01 in   0804 PM 10/07   31.25N/82.40W        
3.8 S Folkston               0.01 in   0745 PM 10/07   30.78N/82.02W        

Observations are collected from a variety of sources with varying
equipment and exposures. We thank all volunteer weather observers 
for their dedication. Not all data listed are considered official.
Penascola and Tallahassee received no measurable rain at their official climate reporting sites during the month of September. Gainesville had a top 10 driest month. Even places over the Florida Peninsula, which had a wet summer, saw a noticeable drop off in rain during the second half of the month. For example, Orlando, Tampa, Miami, and Fort Myers all officially received between 0.90" and 1" of rain during that same period. Meanwhile, on Florida's southwest coast, a measly 0.04" fell in Naples. All of these numbers are a fraction of what these cities typically receive during late September.
Those who are looking for additional rain in South Florida will likely receive their wish this week, but the wetter pattern will not extend to the areas that need it the most. A weak area of low pressure will move across the southern half of the state Tuesday, while at the same time, a cold front will slowly approach from the north. These two weather systems are forecast to produce anywhere from 1/2" to as much as 2" of rain over central and southern sections of the Peninsula, according to the latest forecast from NOAA's Weather Prediction Center.
The center says a few pockets of flash flooding are not out of the question over the metro areas of South Florida through Tuesday, particularly if heavy showers pass over the same areas frequently.

The Florida Panhandle and Big Bend — which need the rain most of all — are expected to have the least in the coming days. The last few drought monitors have seen a notable worsening of the drought conditions. Much of the I-10 corridor is in a "moderate drought", and pockets of "severe drought" conditions have cropped up near Lake City and Tallahassee based on NOAA's most recent update.
Rainfall amounts over the next week are projected to be less than 1/2" in these areas. There is a distinct possibility that a few places will go another week with no rain at all, which would lead to a worsening and expansion of the ongoing drought.

Even though the dominant heat ridge that has been producing record highs over North Florida is flattening and weakening, the upper air winds are forecast to blow from the west over a long distance. These winds effectively cut off the Florida Panhandle from a consistent moisture feed from the Gulf of Mexico. The main storm track from the mid-latitude westerlies is likely to stay well north of the state, which means there are no signs the drought will break any time soon.

Expires at 12:00pm on Tuesday October 8th, 2019
Cue the lights, strike up the band - a cast of three tropical storms could make for some interesting Atlantic theater over the next two weeks.
But here's a thought we won't "dance around": It is far too soon to speculate whether any of them will be a U.S. threat.
Tropical storms Jerry, Karen and Lorenzo have all taken the stage, but they may not be in rhythm. Jerry will likely take the lead with Karen, but both may be no match for Lorenzo's moves. The question then is whether Karen will be just a supporting role, or possibly become a headliner with significant implications for Florida.
Dancing analogy aside, the situation in the Atlantic is complex and requires a bit of training (or explaining on our part).
Do they do the Fujiwhara?
Tropical Storm Karen is expected to move north out of the Caribbean into the southwestern Atlantic, almost following in Tropical Storm Jerry's footsteps. However, Jerry is expected to move more slowly than Karen, which means the two circulations may come close enough to interact and spin around one another — a process known as "Fujiwhara". Fujiwhara becomes more likely when two tropical cyclones come within about 500 miles of one another. Not all models are showing this unusual occurrence, but the possibility exists.
More on the Fujiwhara Effect
When two hurricanes spinning in the same direction pass close enough to each other, they begin an intense dance around their common center. If one hurricane is a lot stronger than the other, the smaller one will orbit it and eventually come crashing into its vortex to be absorbed. Two storms closer in strength can gravitate towards each other until they reach a common point and merge, or merely spin each other around for a while before shooting off on their own paths. But often, the effect is additive when hurricanes come together — we usually end up with one massive storm instead of two smaller ones.
Or does Karen turn around?
Even if Fujiwhara does not take place, the track forecast for Karen still has complexities. The position and strength of a building ridge over the eastern United States and western Atlantic will have a large say on the future track of Karen. Also, the strength and vertical depth of Karen itself will determine how and where it is likely to be steered. The various models that typically do the best in forecasting storm strength have also been in strong disagreement.
When Lorenzo takes over
There is one more, potentially complicating factor: Hurricane Lorenzo is rapidly strengthening and is expected to become a large, powerful hurricane over the central tropical Atlantic Ocean this weekend. If Lorenzo gets close enough to Jerry or Karen, there is the potential of interaction between it, and one or the other. In this situation, the circulation of influence from Lorenzo might be so large that Karen and/or Jerry could dissipate entirely.
So let's take "five"
Even though few people like uncertainty, these potentially complex, hard-to-predict interactions — if they happen at all — are most likely to occur in the open waters of the Atlantic Ocean over a span of nearly a week.
It may be more than five days from now before we can confidently project whether Jerry, Karen, or Lorenzo will ever have an effect on the United States mainland.
Latest on all three storms
The official advisories from the National Hurricane Center for each tropical storm or hurricane are provided below.
Expires at 6:00pm on Tuesday September 24th, 2019
Wednesday morning update: Tropical Storm Imelda came ashore in southeast Texas Tuesday evening and has weakened, but it will continue to produce heavy rain and possible flooding as a remnant tropical low through the day Wednesday. 
Tropical Depression Ten intensified early Wednesday morning and became the season's tenth named storm, Tropical Storm Jerry.  
Hurricane Humberto intensified into a category 3 storm overnight, becoming the season's second major hurricane.
The original story below has been edited to reflect recent changes to Tropical Storm Imelda and formerly Tropical Depression Ten.
A new tropical storm and tropical depression formed Tuesday, both within a span of two hours. Neither are a threat to Florida at the present time. However, water enthusiasts on the Atlantic coast are still urged to be mindful of dangerous beach hazards from Hurricane Humberto through the end of the week.
The remnants of Tropical Storm Imelda is likely to produce flooding rains across portions of southeast Texas through Wednesday, while Tropical Storm Jerry is poised to strengthen in the central Atlantic Ocean this weekend. Meanwhile, Hurricane Humberto is pulling away from land, but intensified to a category 2 storm Tuesday and is still producing hazardous coastal conditions across the Southeast.
Hurricane Humberto is expected to stay over the open Atlantic Ocean, but the storm's large size has produced dangerous rip currents and large swells from the Mid Atlantic states to South Carolina, Georgia, and Florida. The rip current risk is likely to last a few more days, even as the hurricane moves farther away from the Atlantic seaboard.
A tropical storm warning has been upgraded to a hurricane warning for the island of Bermuda, as forecasters now fear the enlarging wind field will clip the island late Wednesday. Hurricane Humberto is officially forecast to become a major hurricane within the next 24 hours, before weakening over cooler waters in the northern Atlantic late this week.
TROPICAL DEPRESSION IMELDA
Tropical Storm Imelda (pronounced ee-MEHL-dah) was reported to be sitting just offshore of Freeport, TX, about 50 miles southwest of the Houston/Galveston metropolitan area. Forecasters at the National Weather Service are warning of the potential for flash flooding in parts of southeast Texas and southwest Louisiana from the slow-moving tropical storm. Rainfall amounts of 5 to 10 inches, with isolated amounts as high as 15 inches, are expected in these areas through Thursday.
Tropical Storm Jerry formed as a tropical depression late Tuesday morning in the deep tropics, roughly midway between the Cape Verde Islands and the Lesser Antilles. Warm ocean waters and light wind shear are expected to create an environment favorable for strengthening, and the latest National Hurricane Center forecast calls for now Tropical Storm Jerry to become a hurricane by Friday morning.
A subtropical ridge of high pressure, which often steers storms through the tropics, is expected to keep the depression moving west-northwestward for the next 4 to 5 days. The official track places the center of what is then likely to be a hurricane over or just north of the northern Leeward Islands on Friday. The projected hurricane is then expected near or north of Puerto Rico and the Dominican Republic this weekend.
A new tropical wave soon to be moving through the far eastern Atlantic has also been identified by the National Hurricane Center as having a "low chance" of developing over the next five days. Rising air motion from equatorial waves and an active train of tropical waves moving off of Africa suggest additional tropical depressions or storms may form next week. However, it is much too early to determine whether Tropical Storm Jerry — or anything that forms behind it — will ever affect the United States mainland.

Expires at 11:00am on Wednesday September 18th, 2019
This story has been updated to reflect the issuance of official advisory information from the National Hurricane Center.
A strong tropical wave over the southeast Bahamas is likely to become Tropical Storm Humberto over the weekend. The National Hurricane Center began issuing advisories on Potential Tropical Cyclone Nine (PTC Nine) Thursday afternoon.
Forecasters at the center have noted that uncertainty is "greater than normal", and they urge Floridians to stay informed of future forecasts because tropical-storm-force winds and rain are possible across portions of the peninsula this weekend.
There are two possible scenarios that could unfold this weekend, with two very different outcomes from the eventual track and strength of PTC Nine. The National Hurricane Center has seemingly split the difference between the two with their first "cone of uncertainty."
Outcome A
There are considerable differences between the most reliable models where PTC Nine will go and how strong it may get. The U.S. global model is forecasting a weaker system moving across Florida late Friday into Saturday before heading toward the central Gulf Coast Sunday evening. If this occurs, an increase in showers are expected over central and south Florida on Saturday, spreading to the Big Bend and Panhandle Saturday night into Sunday. The rain would be welcome in the Big Bend and Panhandle where some areas are experiencing moderate drought according to the NOAA Drought Monitor.
Outcome B
Two models run in Europe — the UKMET and ECMWF models — have made a significant change and show a stronger tropical storm forming near the Atlantic coast of Florida this weekend. If this happens, rain and gusty winds would be confined primarily to the Atlantic coast in Florida. The rain bands could reach parts of southeast Florida late Saturday and spread up east coast of the state on Sunday and Monday. In this scenario, the exact track would determine how significant the rain and wind will be. A more offshore track would result in fringe effects, while a track hugging the coast may result in heavy rain, strong winds, and beach erosion. The Florida Panhandle would receive little or no rain.
If the ECMWF and UKMET models are correct, the storm is likely to be slow-moving and at least some effects — in the form of high surf, coastal flooding and rip currents — may spread northward toward Georgia and the Carolinas toward the middle of next week. However, this is highly uncertain and subject to additional change.
The National Hurricane Center will likely issue what they call a "Potential Tropical Cyclone" advisory on the system within the next 24 hours, which will provide more clarity into their forecast leanings and possible hazards for Florida from the developing system.
Elsewhere in the Tropics
Another tropical wave near the Cape Verde Islands has a chance to develop next week as it heads toward the Caribbean. The National Hurricane Center says there is a 40 percent chance a depression could form. It is far too soon to know if there will be any effects over the U.S. mainland from this tropical system. If there are any, those effects would be more than a week away.
Expires at 8:00am on Friday September 13th, 2019