Gusty winds and widespread rain are anticipated over much of the state Friday into Saturday. Coastal flooding is also likely along a portion of the Atlantic coast.
An unusually deep dip in the jet stream is traversing the Gulf of Mexico and it has helped to spawn an area of low pressure that will move over the peninsula Friday night and then into the Atlantic waters on Saturday. The storm will move farther away on Sunday, but lingering clouds, cool temperatures, and a gusty breeze will be left in its wake.
Coastal Flood Warnings were in effect for the First Coast, where moderate to major coastal flooding and beach erosion is likely. The National Weather Service said parts of downtown Jacksonville and the southern tier of the St. Johns River south of State Highway 16 are most prone to flooding. High tides occur Saturday and Sunday mornings, which is when the coastal flooding may be at its worst. The Intracoastal Waterway is also expected to experience some flooding. Coastal Flood Advisories continued for the Space and Treasure coast, where minor to locally moderate coastal flooding near the time of high tide is also possible through the weekend.
Heavy rain has prompted Flood Watches for Northeast Florida southward to the Space Coast area, where 3 to 6 inches of rain are expected Friday into Saturday. These rainfall totals may lead to flooding of some creeks, streams, and other low-lying and flood-prone areas. The rest of the peninsula, Big Bend, and eastern Panhandle may see 1 to 3 inches of rain, which could result in spotty areas of flooding.
Just enough warm and unstable air, mainly from the I-4 corridor and southward, could result in a few stronger storms Friday afternoon and evening. There is a low risk of tornadoes in these areas. The Weather Service issued several Severe Thunderstorm Warnings early Friday in South Florida for locally strong winds.
Cool mornings are anticipated through early next week, but more sunshine should boost temperatures into the 70s over a large portion of the state Sunday or Monday.
Expires at 1:51am on Sunday November 7th, 2021
Afternoon highs are on track to approach or achieve their daily records, especially Thursday and Friday mainly over the interior and Gulf side of the peninsula.
A large high pressure ridge over the central Gulf coast will move over the Carolinas this week. East winds over the state, combined with a warm airmass, may cause a few records to be tied or broken. Tampa's forecast high of 91 degrees on Thursday would be within 1 degree of its record high set just last year. Fort Myers forecast high of 91 would also be within 1 degree of its record high set two years ago, in 2019. Leesburg is expected to top out in the lower 90s on Friday, which would approach its record of 92 last set in 2018.
Areas that do not tie or surpass their record highs will experience above normal temperatures, especially over the Panhandle and the northern and central peninsula. Average highs are generally in the lower 80s over the Panhandle, and mid 80s over north and interior Central Florida. Highs are expected to run about 5 degrees above average for most of the week. The exception to the warmer-than-usual temperatures will be along the Atlantic coast, especially from the Space Coast south to the Treasure and Gold Coasts. A stronger easterly flow from the Atlantic will have a moderating effect on these areas.
A cold front will move through the Panhandle Saturday afternoon and evening, with somewhat cooler temperatures there on Sunday. The front will stall over central Florida Sunday and Monday, with a modest decrease in temperature by early next week.
Days of heavy rain has deposited more than a foot of rain in portions of Northwest Florida, but a drying trend is expected this weekend.
Widespread rainfall amounts of 5 to 10 inches of rain have fallen south of Interstate 10 from Escambia and Santa Rosa counties eastward into Okaloosa, Walton, and western Bay counties. A separate area of more than 5 inches of rain has fallen along the Forgotten Coast in Franklin and western Wakulla counties. Nearly all of it has fallen since late Sunday or early Monday. Substantial flash flooding remains a concern over the western Panhandle Wednesday, even with only a small amount of additional rain.
Additional rain was ongoing from Walton county eastward into the Panama City, Tallahassee, and areas south toward the Gulf coast Wednesday morning. Despite a break in the rain farther west, Flash Flood Warnings continued in parts of Okaloosa and Santa Rosa counties overnight Tuesday into the wee-hours of Wednesday morning.
A Flash Flood Watch continues through Wednesday evening from Tallahassee, westward. The National Weather Services says another 2 to 4 inches of rain is possible, with locally higher amounts near heavy thunderstorms. Another disturbance moving along the Gulf coast will mean additional rain for the Destin and Fort Walton areas and east Wednesday night and Thursday. Additional rain is forecast on Friday in the Tallahassee area and to the east, but gradual drying is forecast farther west in the Panhandle. A ridge of high pressure building in from the west over the weekend is forecast to bring a longer period of drier conditions.
Several more inches of rain over portions of the western Florida Panhandle will extend the threat of flash flooding through Wednesday evening.
The National Weather Service has continued Flash Flood Watches from the Tallahassee area westward to the border with Alabama and southward to the Gulf coast. Bay, Walton, Okaloosa, Santa Rosa, and Escambia counties, south of Interstate 10, have been particularly hard hit with heavy rain since late Sunday. Rain gauge data and estimates from radar indicate that 5 to 10 inches of rain have already fallen, and more is to follow.
A large and deep trough of low pressure stretches from the lower Ohio Valley into the middle and lower Mississippi Valley. This low is largely "cut off" from the main jet stream, which means it will move slowly this week. Broad southerly winds from the Gulf through a deep layer of the atmosphere will transport moisture northward, resulting in periods of heavy rain and flash flooding.
An additional 3 to 6 inches of rain is forecast across the watch area through Wednesday evening. This new rain on top of what has already fallen will enhance the risk for flash flooding. There are signs the rain will become more intermittent on Thursday into the upcoming weekend as a ridge of high pressure builds along the Gulf coast states into the Florida Panhandle.
The drier pattern that had settled into the Sunshine State the last two weeks of September is not likely to last much longer.
Flash Flood Watches are in effect through Tuesday evening for much of the Florida Panhandle from Panama City west to Pensacola. Heavy rain had already prompted Flash Flood Warnings in parts of Walton, Okaloosa, and Santa Rosa counties early Monday morning. Drier air persisted over the remainder of the state to start the week, but a change in the weather pattern will erode the dry air.
A deep trough of low pressure is expected to stall over the lower Mississippi River Valley for much of this week. At the same time, the strong subtropical ridge that had been dominating the state will shift into the Atlantic waters. The winds between these two systems will be out of the south, which will transport moisture northward as the week progresses. This moisture will lead to an increase in showers and a few thunderstorms over the interior of the state, mainly during the afternoon and evening hours. Coastal areas, especially along the Nature Coast, could see showers each morning. Despite the increase in moisture, average rainfall over the peninsula should be less than an inch this week, but there will be neighborhoods that see locally more in scattered downpours.
The Panhandle is in line to see the most rain. 2 to 5 inches are forecast within the Flash Flood Watch area over the western Panhandle. The National Weather Service says a few spots could receive in excess of 6 inches. This heavy rain will fall over areas that have been abnormally wet -- even by wet season standards -- over the summer months. It makes these areas more vulnerable to flash flooding.
A slow decrease in rain coverage is forecast over the Panhandle by Thursday. However, rain chances are likely to stay elevated over the peninsula late this week into next weekend.
The tropics have quieted down now that Hurricane Sam has bypassed Bermuda and is recurving into the open Atlantic Ocean. Victor weakened to a tropical depression over the open ocean. The Hurricane Center is monitoring an area of disturbed weather near the Bahamas. It has a low chance of development later this week or next weekend, but strong wind shear is likely to prevent it from becoming a powerful system.
Update as of Friday 9:30am: The National Weather Service is warning of high rip current risks along Atlantic Beaches from the Georgia line southward to Palm Beach county. Swell from powerful Hurricane Sam east of Bermuda is reaching the coastline and is forecast to continue over the weekend. The swell is likely to generate rip currents that can be dangerous to swimmers.
The hurricane itself is maintaining category 4 intensity with 150 mph winds as of early Friday morning. Tropical Storm Warnings are in effect for Bermuda, which will get brushed with the outer winds from the large hurricane as the core passes east of the island. Sam is forecast to slowly weaken over the weekend as it moves over progressively cooler water. It is forecast to lose its tropical characteristics over the open waters of the North Atlantic early next week.
Tropical Storm Victor is 630 miles west-southwest of the Cape Verde Islands. It strengthened some Thursday. It could strengthen a little more, but it is no longer forecast to reach hurricane strength before turning northward over the open waters of the eastern Atlantic.
Original story from Thursday morning: Swells from Major Hurricane Sam are expected to reach the coast on Friday and continue into the weekend as it spins well offshore.
The category 4 hurricane strengthened again early Thursday, with its top sustained winds reaching 145 mph. It is still on track to pass east of Bermuda Friday and Saturday, but its larger size means there is a chance tropical storm force winds will reach the island. For that reason, a Tropical Storm Watch is in effect for Bermuda.
Swells are likely to contribute to a heightened rip current risk from Florida to the Carolinas lasting through the weekend before subsiding early next week.
Meanwhile, Tropical Storm Victor was located 550 miles from the Cape Verde Islands early Thursday. It is forecast to become a hurricane Friday and turn northward over the open ocean this weekend. The other tropical wave forecasters were monitoring a few hundred miles west of Victor has weakened considerably and is no longer expected to develop.
Neither Victor nor Sam are expected to directly affect the U.S. coastline, but hurricane season continues through the end of November. Climatologically, tropical storms are more likely to form in the Caribbean, southwest Atlantic, and Gulf of Mexico during the month of October.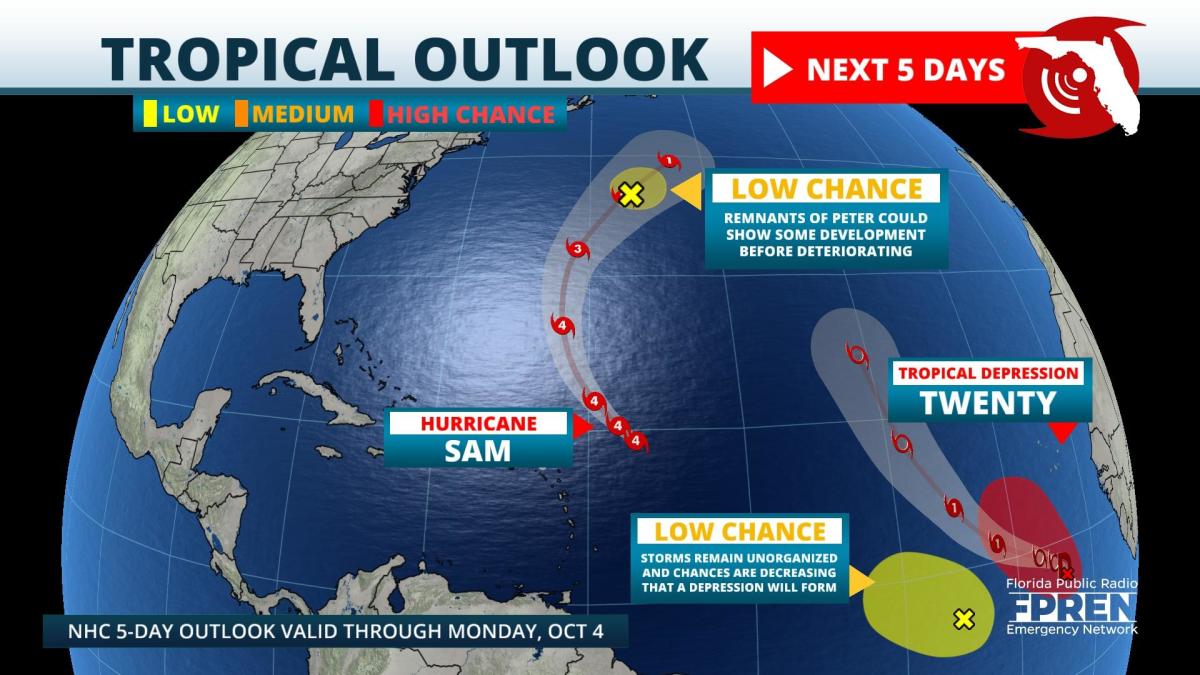 Update as of 11am Wednesday: The tropical wave, referred to as "Invest 90L", south of the Cape Verde Islands has become Tropical Depression Twenty according to the National Hurricane Center. It is forecast to become a tropical storm later Wednesday, and a hurricane by Friday. The forecast track keeps it out over the open Atlantic, far away from the U.S. coastline. The next name on the list is "Victor"; it is the second to last name on the primary season's list.
Original story from 9:45am Wednesday: Hurricane Sam is not expected to reach the U.S. coast, but beachgoers will feel the effects in the form of swell starting in a day or two.
Hurricane Sam is near its closest approach to the Caribbean; it's about 450 miles east of the Leeward Islands. It's expected to miss those islands and turn northward on Friday and then northeast a couple hundred miles to the east of Bermuda on Saturday. Swells from Sam will gradually reach the Atlantic coastline from the Carolinas to Florida Thursday and Friday, then peak on Saturday. The swell will continue on Sunday, but gradually diminish early next week.
Heavy showers and thunderstorms are located off the coast of Africa that are tied to a natural phenomenon called the monsoon trough. The trough forms where northeasterly trades and southeasterly trades meet up near or south of the Cape Verde Islands. Forecasters have been monitoring two disturbances within the monsoon trough: "Invest 90L" and "Invest 91L". 90L is situated a couple hundred miles south of the Cape Verde Islands, and is most likely to become a tropical depression later Wednesday. The development of 91L, which is a few hundred miles west of 90L, is a lot less likely than it appeared just yesterday. Both systems are currently forecast to turn northward and not get on this side of the Atlantic Ocean.
Global models are forecasting a substantial increase in moisture from the central Caribbean northward to near the Carolina coast next week. There are no indications of a tropical system forming at this time, but this area is climatologically favored for development in October and will have to be monitored for possible changes.
Update as of 9:30am Tuesday: Sam remains a major hurricane about 600 miles from the Leeward Islands. It briefly weakened to a category 3 hurricane Monday, but regained category 4 intensity Tuesday morning. It is forecast to move northwestward and miss the Leeward Islands through Thursday, followed by a northward turn this weekend. The latest track keeps Hurricane Sam east of Bermuda. Swells are still forecast to reach the Atlantic coast Thursday and Friday. These swells should peak Saturday morning and slowly diminish on Sunday. Swimmers at Atlantic coast beaches are encouraged to monitor beach conditions.
A tropical wave a few hundred miles south-southeast of the Cape Verde Islands, now classified as "Invest 90L", is still likely to become a depression Wednesday or Thursday. Most forecast models turn 90L toward the north over the open waters of the eastern Atlantic over the upcoming weekend.
Another disturbance is located a few hundred miles south-southwest of the Cape Verde Islands. This disturbance is recognized as "Invest 91L" for tracking purposes. It, too, is likely to become a depression according to the National Hurricane Center either Wednesday or Thursday. Some models turn 91L northward, while others keep it moving toward the Caribbean by early next week.
Original Story from Monday morning: Hurricane Sam matched Hurricane Ida as the season's strongest hurricane late Sunday, but is forecast to stay at sea. Two new tropical depressions are likely to form behind Sam, closer to the coast of Africa this week.
Sam's sustained winds topped out at 150 mph Sunday, but those winds have come off their peak by Monday morning thanks to a process called an eyewall replacement cycle. Typically, hurricanes will form concentric eyes, where the inner eye weakens and gives way to a larger, outer eye. The new larger eye then contracts and the same process can happen several times during a hurricane's lifecycle. These eyewall replacement cycles will cause Sam's intensity to fluctuate upward and downward over the next few days. The official forecast from the National Hurricane Center keeps Sam at a major hurricane — category 3 intensity or greater — through Friday.
A strong trough of low pressure moving off the U.S. East coast is expected to block Sam, and instead direct it northward later this week into the weekend. On its projected path, the powerful hurricane will bypass the Leeward Islands to the north Wednesday and Thursday, and likely pass east of Bermuda over the weekend. However, a small portion of the forecast cone covers Bermuda, so impacts are still possible over the island.
Even though Sam is not expected to directly impact the Southeast U.S. coastline, swells from the hurricane may contribute to dangerous rip currents along the Atlantic beaches, especially Friday through the upcoming weekend. Those planning to enter the ocean should check forecasts later this week, swim near lifeguards, and watch for beach flags that will inform swimmers of expected conditions.
There are two disturbances behind Sam that are likely to become tropical depressions. Both are forecast to stay over the deep tropics through the upcoming weekend. The remnant of what was once Tropical Storm Peter is located about 300 miles east-southeast of Bermuda. The National Hurricane Center says it could briefly become a tropical depression again Tuesday or Wednesday before moving to the northeast, out into the open Atlantic Ocean.
Update as of 11am Sunday: Sam continued to strengthen Saturday afternoon and evening, attaining category 4 intensity on the 5pm Saturday advisory. Sam had top sustained winds of 145 mph as of Sunday morning. Its intensity is forecast to fluctuate, but the Hurricane Center forecast maintains Sam as a major hurricane — category 3 or higher — through the upcoming week.
All model simulations that compromise of the U.S. and European ensemble are now forecasting Sam to miss the northern Leeward Islands Wednesday and Thursday, when the storm is likely to be at its closest approach. A turn more toward the north-northwest is forecast on Friday, which would hold the storm well south of Bermuda through that time.
The Southeast U.S. coast is not likely to see any direct impacts from Sam, but increasing swell may start arriving on Atlantic beaches from Florida to the Carolinas on Thursday. The swell is likely to increase Friday into next weekend. Swimmers and visitors to Atlantic beaches next weekend should bear this in mind and check on forecasts later in the week.
Two other disturbances closer to the coast of Africa have a chance of becoming tropical depressions during the middle or latter part of the week.
Original story from Saturday afternoon: Hurricane Sam reached category 3 status late Saturday morning, becoming the fourth Atlantic hurricane to achieve major hurricane status in 2021.
As of midday Saturday, Sam was located a little less than 1100 miles east of the Lesser Antilles with top sustained winds of 120 mph. It is moving toward the west-northwest at about 10 mph. The National Hurricane Center is forecasting Sam to attain category 4 intensity on Sunday, slow its forward motion, and turn more toward the northwest on Monday. The hurricane itself is compact: hurricane force winds extend outward up to 25 miles from the center and tropical storm force winds extend 105 miles away from Sam's eye.
The forecast track keeps the eye of Hurricane Sam north and east of the Leeward Islands by Thursday. It is still unclear how close the center will come to those islands, but there is still a chance of peripheral effects from the hurricane. Nearly all of the global models and their ensembles predict Sam to turn toward the north and stay over the open Atlantic through the upcoming week. It is not possible to confidently say whether Sam will miss the U.S. coastline, but longer term models are favoring that scenario.
A strong hurricane over the Atlantic almost always generates swell, much like Hurricane Larry did earlier in the month. The most recent simulations from America's global model shows long-period swell reaching the Atlantic coastline of the United States next weekend. Those planning to enter the Atlantic Ocean next weekend to swim or surf should monitor forecasts later this week as rip currents could become a concern.
Subtropical Storm Teresa formed late Friday afternoon north of Bermuda. It weakened to a subtropical depression Saturday morning and will move out into the open Atlantic. The remnant of what was once Tropical Storm Peter has a small chance of regenerating well south of Bermuda early this upcoming week, but it is not expected to threaten land areas. Finally, another tropical wave is expected to move off the coast of Africa on Monday. It has a good chance of becoming the season's next tropical depression during the middle of the week over the Tropical Atlantic.
Tropical Depression Eighteen formed in the eastern Atlantic Ocean Wednesday afternoon and is likely to become a long-lived hurricane.
Tropical Depression Eighteen is expected to become a tropical storm by Thursday, acquiring the name Sam. It is then likely to move west to west-northwestward across the deep tropics and strengthen over the upcoming weekend. It remains unclear whether Tropical Depression Eighteen will affect the Caribbean or turn northwestward and bypass the Lesser Antilles to the north. If it does affect the Caribbean, it would likely happen early next week. Most of the global models forecast the storm to intensify steadily in the coming days, and the National Hurricane Center projects soon-to-be Sam to be a major category by Monday.
Confidence is quite low in its future path; there is at least a 1000 mile difference between the various global models. This is often a sign the atmosphere is in a chaotic, or highly unpredictable state, later this weekend and early next week. For that reason, it is not possible to be confident that Sam will turn out to sea like Tropical Storms Peter and Rose, and Hurricane Larry before it.
Elsewhere in the tropics, Tropical Storms Peter and Rose both weakened to tropical depressions. Peter is located about 215 miles north of San Juan, Puerto Rico as of early Wednesday morning. It is forecast to turn toward the north then northeast through Friday and dissipate this weekend well south o of Bermuda. Rose is also expected to turn toward the north and northeast, and dissipate between the Azores and Cape Verde Islands late this weekend.
A separate area of low pressure is located a few hundred miles southeast of New Foundland. This low is the remnant of what was once Tropical Storm Odette which formed Friday afternoon east of North Carolina. The low could reacquire tropical or subtropical characteristics this week, but will eventually turn out to sea by the weekend.
Expires at 6:00pm on Thursday September 23rd, 2021