A slowly-developing area of showers and thunderstorms over the far southern Bay of Campeche is expected to bring the risk of flooding to a portion of the already water-logged Gulf coast this weekend.
The National Hurricane Center says there is a high potential of the disturbance becoming a depression or named storm late Thursday or Friday. So far, the system has moved little. It is expected to move northward beginning on Thursday in between two ridges of high pressure, one over the Southwestern U.S. and the other over the western Caribbean and South Florida.
Strong upper-level winds and dry air on the disturbance's western flank should prevent this system from rapidly strengthening. Instead, abundant moisture on the eastern side of the circulation is likely to bring locally heavy rainfall a portion of the Gulf coast, particularly from Louisiana eastward to the Florida Panhandle.
Forecasts from NOAA's Weather Prediction Center indicate to 5 to 10 inches of rain may fall in these areas, with locally higher amounts. Above normal rain has been observed this spring along this section of the Gulf, and sections of coastal Louisiana and Mississippi have received more than double their average rainfall since the start of March.
Rain from the developing system may start as soon as Friday, but is likely to be heaviest Friday night into Saturday. Heavy rain may spread from Georgia into the Carolinas on Sunday or Monday before the remnant circulation of the storm departs on Tuesday.
Expires at 8:00am on Thursday June 17th, 2021
The National Hurricane Center continues to monitor the southwest Caribbean Sea for the first time in the young 2021 Season for possible tropical development.
It gives an area near the coast of Nicaragua and Costa Rica a low chance of development, where an area of low pressure is expected to form Thursday or Friday. The latest outlook says gradual development is possible after the area of low pressure forms, toward next weekend.
An atmospheric wave that tends to increase the number of showers and thunderstorms is forecast to move eastward from the eastern Pacific into the Caribbean and Atlantic Ocean Basins late this week into next week. It is this wave that has a small chance of spawning a tropical cyclone in the Caribbean, but it is too soon to be certain.
June is often a quiet month in the tropics compared to the active months of August, September, and October. However, the southwest Caribbean is a climatologically-favored area for tropical development in June if an area of disturbed weather develops there.
Expires at 2:00pm on Wednesday June 9th, 2021
A line of heavy thunderstorms moving through the Panhandle is capable of producing areas of wind damage late Wednesday morning into early Wednesday afternoon. A Severe Thunderstorm Watch has been issued until 2 PM ET / 1 PM CT.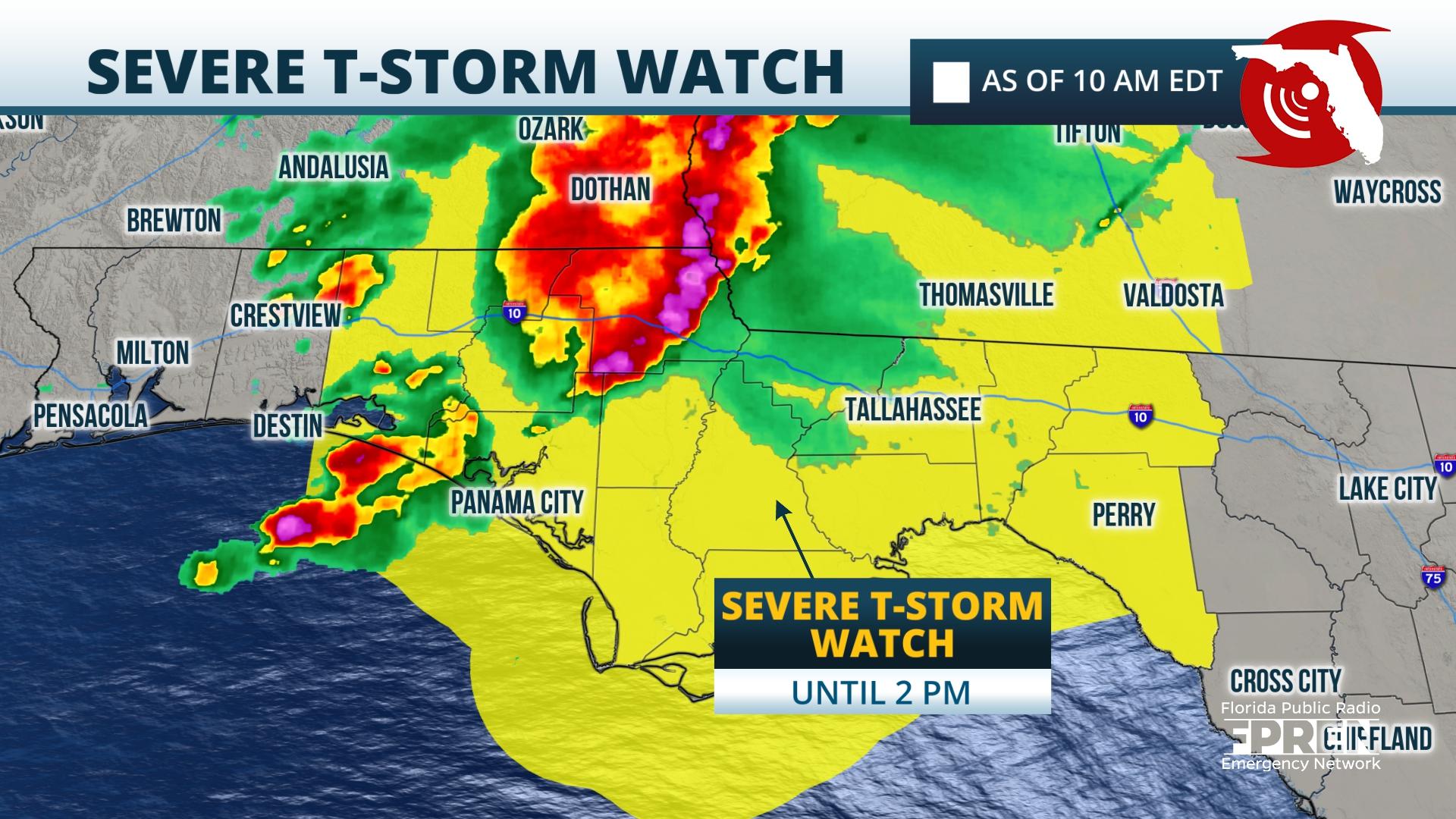 The line of thunderstorms was already responsible for a 58 mph wind gust at Pensacola International Airport shortly after 7 AM CT. The National Weather Service had issued several Severe Thunderstorm Warnings in Escambia, Santa Rosa, Okaloosa, and Walton counties early this morning. Those warnings extended into the Panama City as of 9 AM.
Strong, damaging wind gusts are the primary hazard as the line heads toward Marianna and Tallahassee late this morning and into the eastern Big Bend early this afternoon. Torrential rainfall may also cause areas of flash flooding, making conditions dangerous for motorists.
The line of storms is expected to move eastward toward Live Oak and Lake City by the middle of Wednesday afternoon. Scattered storms and a few storms are possible over the Panhandle into Wednesday evening before drier air arrives overnight Wednesday into Thursday.
Expires at 2:00pm on Wednesday May 12th, 2021
Not everyone needs to evacuate from a hurricane, but if you do, knowing your zone will make it much easier to know when to go.
As a hurricane approaches, emergency managers will tell residents when to leave based on the zone they live in. Even if you can't see the water, it may still be necessary to evacuate depending on your proximity to nearby waterways and points of access. Conversely, if you don't need to evacuate, you may be asked to ride out the storm at home to prevent unnecessary traffic on evacuation routes.
There are several different ways to find out your evacuation zone. The Florida Division of Emergency Management outlines the counties that have evacuation zones in this interactive desktop map.
The Florida Storms app is a free service of the Florida Public Radio Emergency Network. The "Evacuate" button near the bottom of the home screen will find your location and show you if which zone you're in. When a storm is approaching, public radio stations throughout the state will provide the latest storm and evacuation information which can be live streamed from the app.
There are also counties in the state that are not vulnerable to surge flooding, but may experience freshwater flooding from heavy rain, high winds, and tornadoes. These counties may not be in a particular surge zone, but at the discretion of emergency managers, evacuation orders may be issued depending on the greatest threats a storm poses. Local media and county emergency managers will provide this information in the event of an emergency.
Once you've determined your evacuation zone, it's a good idea to map out an evacuation route. Knowing the designated routes allow you to map out the best location to safety, depending on the storm's track. It's important to move perpendicular to the storm's track. For example, if the storm is moving east to west, your best option is to travel north.
During an emergency, the Florida Division of Emergency Management says your local emergency management offices should always be consulted for evacuation orders related to your hometown or county.
Many communities in Central and South Florida escaped drenching rain over the weekend, but that is already changing to start the new week.
Bands of showers and thunderstorms moved onshore the Nature Coast and the Sun Coast late Sunday afternoon and evening. One storm prompted a tornado warning in a portion of Pinellas, Pasco, and northern Hillsborough counties shortly before 9:30 Sunday evening. As of Monday morning, a tornado had not been confirmed in the warned area.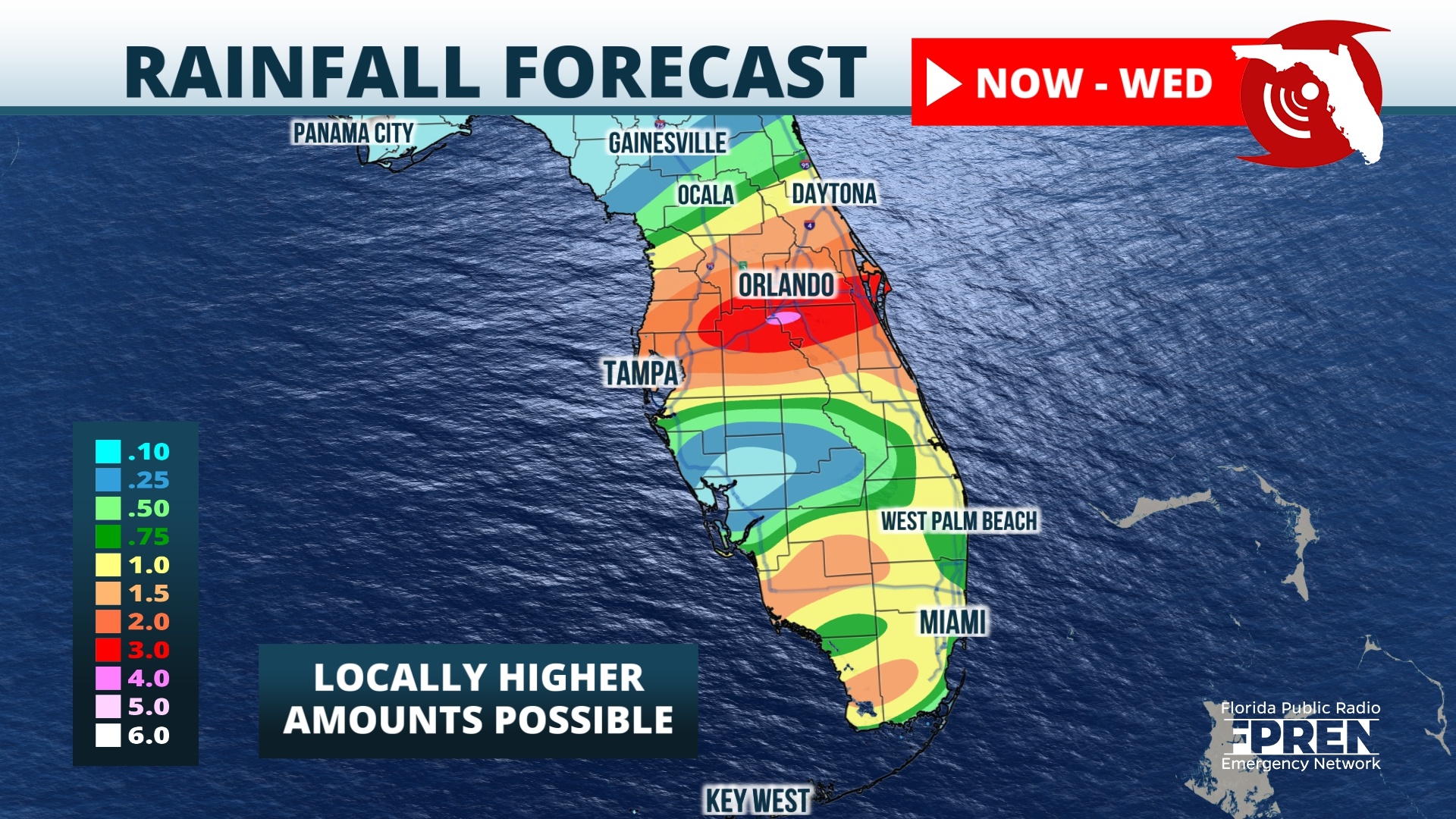 Other storms produced pockets of wind damage near Bronson in Levy county and 3 miles west of Ocala on Sunday. By far, the largest impact from the storm has been heavy rainfall. Radar and rain gauges indicated that 2 to 5 inches had fallen over a wide area from Levy and Citrus counties through Marion into Flagler and Volusia counties through Sunday evening.Occasional showers and thunderstorms are expected Monday over Central Florida, but the heaviest is likely to concentrate from Lee and Charlotte counties to the Florida Heartland and eastward toward the Treasure Coast. These areas have the greatest chance for areas of flooding, gusty winds, and perhaps an isolated tornado.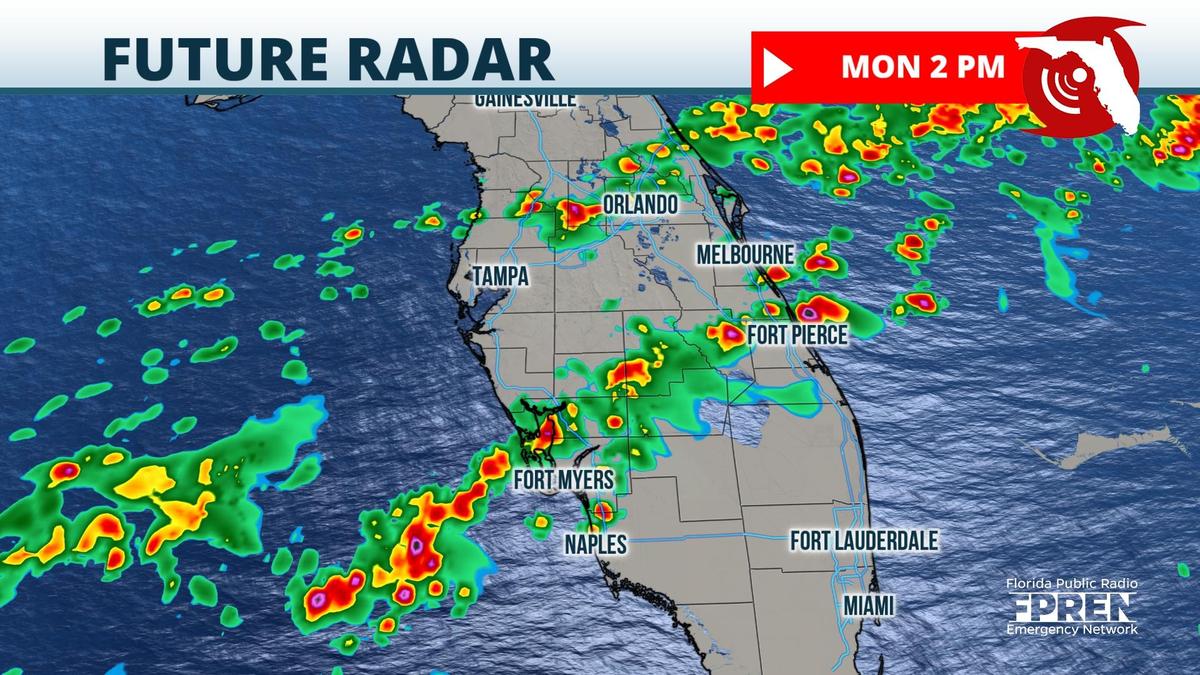 Another upper-air disturbance over Texas is on track to reach Florida on Tuesday. The first showers and thunderstorms from this approaching weather system are expected to start during the wee-hours of Tuesday morning along the Nature Coast and spread eastward after dawn through I-4 corridor all the way to the Atlantic coast. An additional 1 to 3 inches of rain is expected Tuesday. Scattered to numerous storms may deposit locally heavy rain in Southwest Florida and along the Gold Coast, but the heaviest is most probable in Central Florida. Much like Sunday night, a few of the strongest storms may be capable of strong, locally damaging winds, hail, and perhaps an isolated tornado on Tuesday.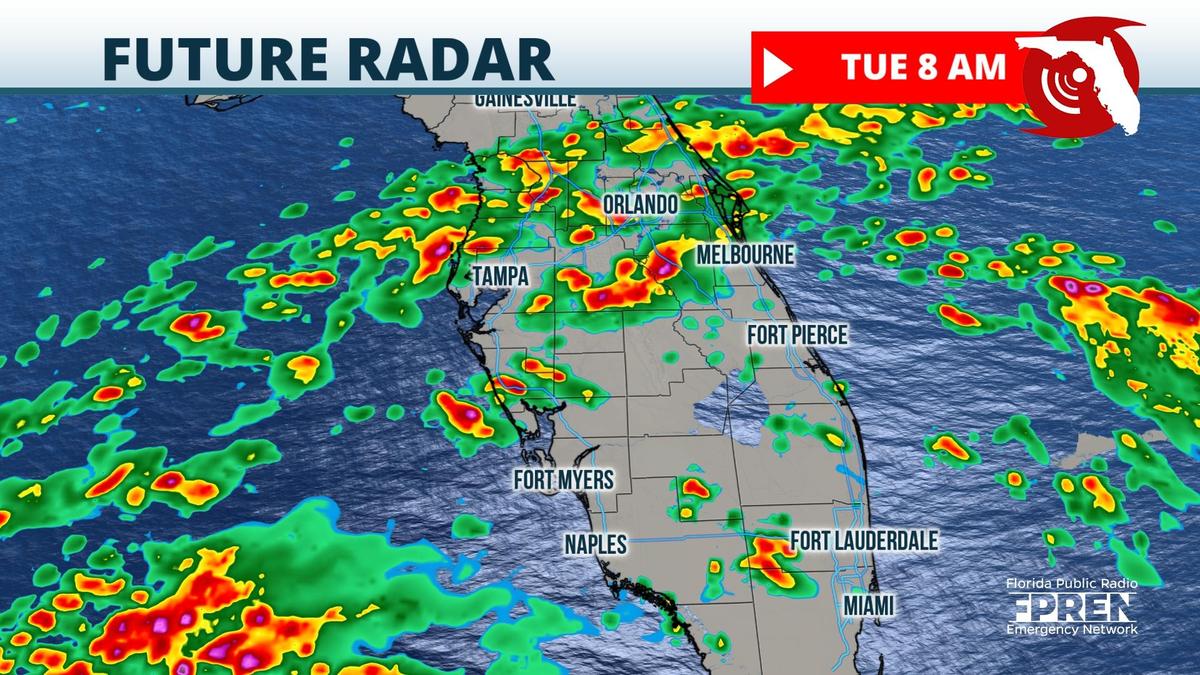 The focus for the heaviest rain and storms is expected to shift south again on Wednesday. South Florida will have the greatest chance of showers and thunderstorms, while areas farther north begin to dry out. A few more storms are possible Thursday, particularly in Southeast Florida, before the weather mostly dries out by Friday for nearly all of the peninsula.
Expires at 8:00am on Thursday April 22nd, 2021
April is climatologically one of the driest months of the year in Florida, but many parts of the state will experience multiple rounds of heavy rain and strong storms through at least Tuesday.
The first round of thunderstorms is expected Friday afternoon and evening along the coast of Florida Panhandle and into the central and north Florida Peninsula, primarily between Interstate 4 and Interstate 10. Areas from the Nature Coast to Ocala, The Villages, Daytona, and perhaps as far south as Tampa and Orlando, are most likely to feel the effects from this initial round. Heavy rainfall and localized flooding are possible and a few of the stronger storms may contain hail or strong wind gusts.
A second round is likely overnight Friday into Saturday morning along the Interstate 10 corridor from the Panhandle to Jacksonville. This second round may also affect a portion of the Nature Coast, Gainesville, Ocala, and Daytona. Heavy rain and early morning thunder may awaken some in these areas. There is again the chance of hail in some of the strongest storm cells.
It is normally more difficult to pin down the exact timing of the storms farther into the future, but most computer models agree that scattered to numerous thunderstorms will be most concentrated north of Interstate 4 Saturday night into Sunday, before sinking south and affecting Tampa/St Pete, Orlando, Daytona, and the Space coast more directly Sunday night into Monday and lasting through at least Tuesday. Widespread rainfall totals of 2 to 4 inches are expected, and locally higher amounts are probable in neighborhoods where the strongest thunderstorms happen.
Scattered showers and storms are possible this weekend over South Florida this weekend, but the greatest risk of more widespread rain is between Tuesday and Thursday of next week. Based on data from Friday, heavy rain is likely to be more hit or miss over Southwest and Southeast Florida, including the Treasure Coast. However, localized flooding can still occur underneath the downpours at any time.
There are signs that favor a drier pattern over most of the state Thursday and Friday of next week once the front clears the state.
Expires at 6:00pm on Monday April 19th, 2021
A Tornado Watch continues for portions of the Florida Panhandle ahead of a line of storms with a history of producing destructive winds and possible tornadoes.
Destructive winds gusts up to hurricane force are possible in the Florida Panhandle early Saturday morning from a line of intense thunderstorms racing in before sunrise.
A tornado is also possible, along with flash flooding where soils are already saturated from heavy rain that fell Friday.
A strong atmospheric disturbance over New Mexico Friday morning is forecast to move eastward along the Gulf coast Friday night into Saturday. A very warm, humid, and unstable environment is expected to stream northward ahead of this disturbance. Thunderstorms are likely to erupt over Oklahoma and Texas Friday afternoon and organize into a formidable squall line over parts of Mississippi and Alabama Friday night.
High-resolution model simulations are indicating this line is likely to hold its strength into the Florida Panhandle during the pre-dawn hours of Saturday into Saturday morning. This line has the potential to produce hurricane-force wind gusts as it moves through the Panhandle during this time. There is also the possibility that storm cells may develop in front of the squall line early Saturday morning, and these individual cells are capable of producing isolated tornadoes, as well.
Areas of flash flooding are becoming more probable with the frequent rounds of rain and storms. Widespread rainfall amounts of 2 to 5 inches, with locally higher amounts, could easily cause flooding of roadways. The National Weather Service in Tallahassee said that minor river flooding could gradually develop later this week along the Chipola, Apalachicola, and Ochlockonee Rivers if enough rain falls upstream of these rivers Friday into Saturday.
After a break in the weather later Saturday afternoon, another round of showers and storms is possible over the Panhandle late Saturday night into Sunday morning. There is greater uncertainty on a possible third round of thunderstorms, but early indications are the threat of damaging storms is lower with a possible final round early Sunday. Drier conditions are expected late Sunday afternoon into Monday over the Panhandle, but rip currents could continue to pose a danger to swimmers in the Gulf of Mexico this weekend.
Expires at 4:00pm on Saturday April 10th, 2021
A line of thunderstorms moving through the Florida Panhandle early this morning intensified some, and has prompted the issuance of a Tornado Watch for the Big Bend and eastern Panhandle area until 1 PM. The Tallahassee metro area is included in this watch.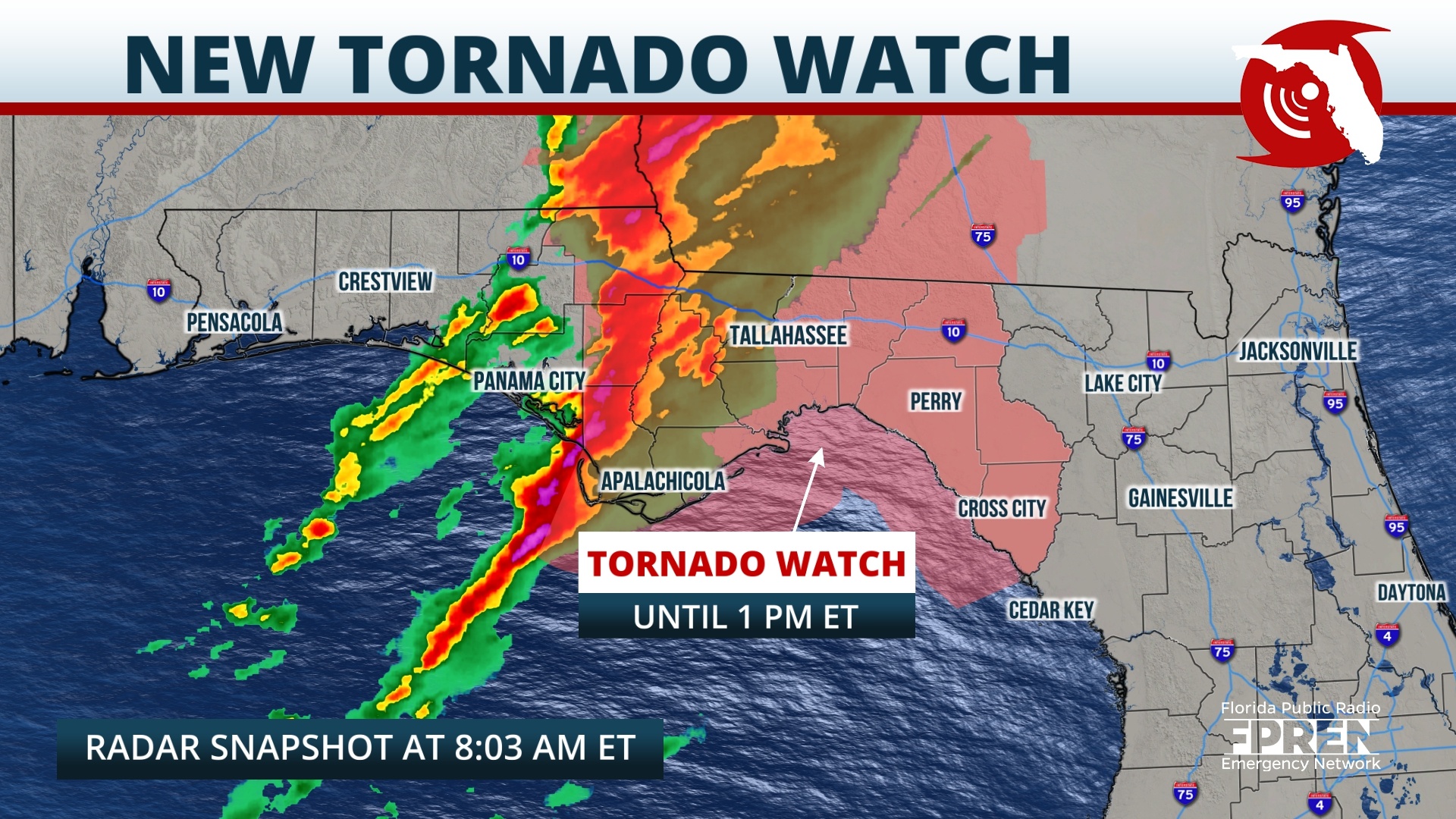 The storms are likely to be in the Tallahassee area between 9 and 11 AM before moving eastward into the Big Bend early this afternoon. A few of the storms within the line are capable of producing damaging, straight-line gusts and isolated tornadoes.
An official wind gust of 74 mph was recorded at the Northwest Florida Beaches International Airport in Panama City at 6 AM CT this morning as the storms rolled through.
Expires at 1:00pm on Thursday March 18th, 2021
A strong storm system that is expected to produce an outbreak of tornadoes and damaging winds over Alabama, Mississippi, and Georgia could also produce a few instances of severe weather in parts of the Panhandle and North Florida late Wednesday night into Thursday.
An extensive area of warm, humid, and unstable air will flow northward from the Gulf of Mexico on Wednesday. The winds high in the atmosphere are still strong in the spring months and, in concert with unstable air mass, are likely to contribute to a severe weather episode over the Deep South. Thunderstorms with hail, damaging winds, and strong tornadoes are most likely to form over east Texas, Arkansas, and Louisiana around midday Wednesday and spread eastward into Mississippi and Alabama late Wednesday afternoon and night. It is possible scattered showers and storms could produce reports of damaging weather as soon as Wednesday afternoon in the Florida Panhandle, near the Alabama state line; however, the greatest threat is likely to hold off until late Wednesday night.
The cold front attached to this storm will approach the Panhandle during the wee hours of Thursday morning. The storms over Louisiana and Mississippi are likely to congregate into a squall line as they move into the Panhandle from Pensacola to Panama City between midnight and sunrise Thursday. Damaging wind gusts and a few tornadoes could be embedded within the line. If severe weather occurs in the Tallahassee area, it's more likely to occur some time Thursday morning. Thunderstorms are likely to be in the Lake City, Gainesville, and Jacksonville areas Thursday afternoon. Strong wind gusts are possible, but it is unclear whether the storms will be as strong over such a large area as they move eastward along the I-10 corridor.
Expires at 11:00am on Thursday March 18th, 2021
Severe thunderstorms capable of producing strong tornadoes, large hail and damaging winds are becoming increasingly probably over a large area of the Deep South Wednesday, and a few of these storms may affect portions of the Florida Panhandle.
A strong low pressure area over central California Monday morning is expected to move eastward toward the lower and middle Mississippi River Valley by Wednesday. Warm, humid, and unstable air -- the fuel needed for thunderstorms -- will be in place over large portions of Mississippi, Alabama, Georgia, and neighboring states. Strong wind shear, which is an increase in wind speed or direction as one goes up in the atmosphere, is forecast to be in about the same location as the unstable air. The end result is an increasing risk for dangerous severe storms as soon as Wednesday afternoon, lasting into Thursday.
The Florida Panhandle will also have a risk for severe weather, but it may be somewhat less than areas farther north in Mississippi, Alabama, and Georgia. The start time of the greatest risk is subject to change, but the greatest potential appears to be from Wednesday afternoon until about dawn Thursday from Panama City and Marianna west to the Crestview, Destin, Fort Walton Beach, and Pensacola areas. If severe weather occurs in the Tallahassee and Big Bend areas, it would most likely happen after sunrise Thursday morning until about midday. Other parts of North Florida, including Lake City, Gainesville, and Jacksonville, could see strong storms Thursday afternoon. It is unclear at this time how widespread the severe weather could be Thursday afternoon since the greatest energy associated with the storm is more likely over Georgia and the Carolinas.
Everyone over North Florida and the Panhandle is encouraged to check in on the forecast in the coming days, especially on Wednesday and Thursday when tornado watches and severe weather warnings could be issued. Now is a good time to review or develop your severe weather and tornado safety plans in case protective action is needed later this week.
Expires at 10:00am on Wednesday March 17th, 2021