An unusually cold air mass has swept across the Sunshine State, and a late-season frost is likely Friday night across inland areas of the panhandle and northeast Florida.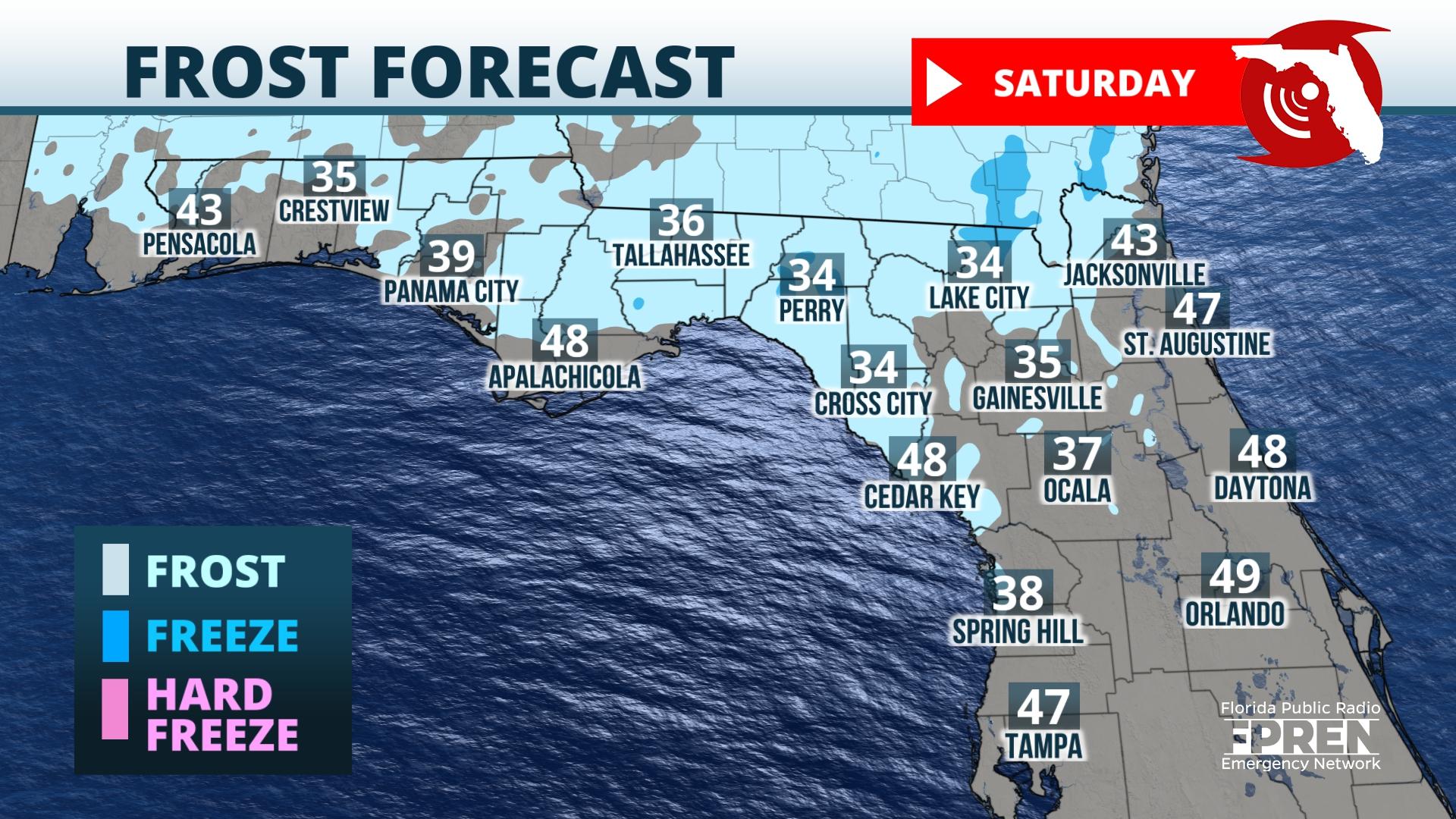 Thursday's cold front marked the arrival of an air mass that is running 10 to 15 degrees below normal, and in some areas near record-setting for this time of year. Clearing skies and lightening winds across the northern third of the state will make conditions favorable for frost formation across inland and rural areas roughly north of a line from Cedar Key to Jacksonville.
A Frost Advisory has been issued by the National Weather Service offices in Mobile, Tallahassee and Jacksonville where action is urged to prevent damage to sensitive plants, such as covering them up or bringing them inside. Temperatures in the advised locations are expected to fall into the lower and middle 30's by daybreak Saturday. Elsewhere across Florida, overnight lows will generally be in the 40s and 50s.
The cooler-than-normal weather is expected to last into the start of the weekend, followed by some moderation in temperatures by Sunday.
Expires at 9:00am on Saturday April 3rd, 2021
Millions of Floridians experienced the coldest air in several years Wednesday morning, and in some places, the coldest in nearly a decade.
Arctic air engulfed the state Monday and Tuesday, which sent temperatures well below normal for the first time in many weeks. Low temperatures ranged from the upper 20s in the Panhandle to near 40 in Miami.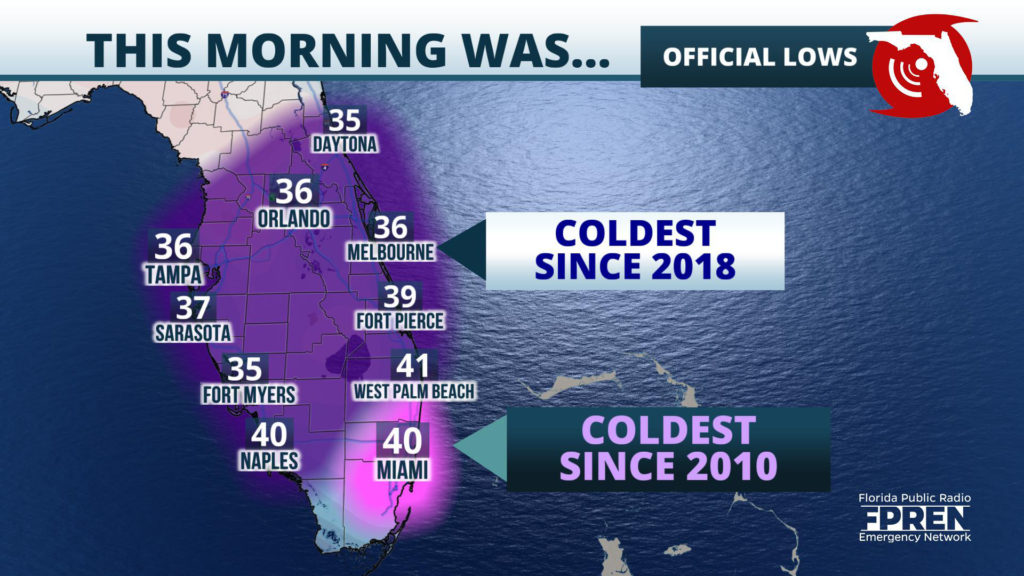 The list below includes official low temperatures from Wednesday morning, compared to the last date it was that temperature or lower.
Miami: 40, last time 12/28/2010
Fort Myers: 35, last time 1/18/2018
Sarasota: 37, last time 1/18/2018
Tampa: 36, last time 1/18/2018
Melbourne: 36, last time 1/18/2018
Orlando: 36, last time 1/19/2018
Daytona: 35, last time 1/19/2018
Naples: 41, last time 3/15/2018
West Palm Beach: 41, last time 11/29/2018
Brisk northerly winds added insult by making these already cold numbers feel even colder. Wind chills fell all the way to the freezing mark near Miami, and were as low as the lower 20s across the northern third of the state.
Warmer air is forecast to replace the Arctic air mass and by the end of the week high temperatures should return to normal.
Expires at 4:00pm on Thursday January 23rd, 2020
The coldest air mass in two years has engulfed the Florida peninsula, and subfreezing temperatures or wind chills are possible as far south as the Everglades by Wednesday morning.
A Freeze Watch has been issued for all inland areas of west-central Florida, including the outskirts of both the Tampa and Sarasota metro areas. Freeze Warnings and Hard Freeze Warnings have been hoisted from Hernando, Lake and Volusia counties north to the Georgia border. Wind Chill Advisories have been issued for the entire peninsula. All alerts are in effect overnight tonight until mid-morning on Wednesday.
The pressure gradient between a cold high pressure system over the Mid Atlantic States and a strengthening low in the Bahamas will tend to "funnel" cold air southward through the peninsula. A slight component to the wind from the east may spare the Atlantic seaboard from freezing temperatures, but areas inland and roughly along and north of I-4 have the greatest risk for subfreezing temperatures. Lows are forecast to dip into the mid to upper 20s over much of the Panhandle, Big Bend, the Nature Coast, and North-Central Florida first thing Wednesday morning. The National Weather Service predicts freezing temperatures as far south as portions of Manatee, Hardee, Desoto, and Sarasota counties. Upper 30s could be felt as far south as Naples and in the Everglades.
Areas that do not receive a freeze will be susceptible to wind chills between 18 and 25 degrees for areas near Lake City, Gainesville, and Ocala. Widespread wind chills in the 20s are in the forecast for nearly all of central and interior south Florida. Even normally milder locations along the Gold Coast and Lee Island Coast are expected to experience chills around freezing late Tuesday night into early Wednesday morning.

The unseasonably cold air will stick around on Wednesday, as highs stay in the 50s along and north of I-4 and crack into the 60s over the remainder of the peninsula.

Another freeze is not anticipated Wednesday night. Winds will veer to a more easterly direction off the Atlantic Ocean, bringing in a milder air mass. The mercury should top 70 degrees Thursday afternoon south of I-4 and over most of the rest of the peninsula by Friday. Highs are expected to recover into the 60s over the Big Bend and Panhandle by week's end.

Expires at 10:00am on Wednesday January 22nd, 2020
More than four million Floridians are likely to experience a freeze over the next two nights, including rural areas of Southwest Florida by Wednesday morning.
The cold spell follows a week of abnormal warmth in the Sunshine State, when more than a dozen record highs were tied or broken.
Coldest in two years for some
This will likely be the coldest two days in Florida since January 2018, when freezing temperatures made it as far south as Fort Myers and Lake Okeechobee. That month was also the last time the mercury dipped below 40 in cities such as Tampa, Naples, Sarasota and Bradenton. The last time 30s were observed in Miami was December 24, 2012. The latter is less likely, but still possible Tuesday night.
Two weather features are teaming up to produce the prolonged three-day stretch of cold weather. First, a cold front moved through late Sunday. Temperatures were already noted to be dramatically falling across the northern half of the state early Monday.
Second, a storm area of low pressure is expected to develop just east of Florida Tuesday. Increasing north winds on the backside of the departing storm are expected to pull even colder air into the state by sunset. Timing is a bit in question on when those winds may die down, and the coldest numbers Wednesday morning will be realized where the breeze diminishes the most by daybreak.
Freeze warnings issued
This blast of cold air is strong enough to prompt the National Weather Service to issue a Freeze Warning for portions of north and northeast Florida.
Monday night temps
Temperatures Tuesday morning are likely to range from the upper 20s in rural areas along the I-10 corridor, to the lower 30s in north Florida and the upper 30s across Central Florida.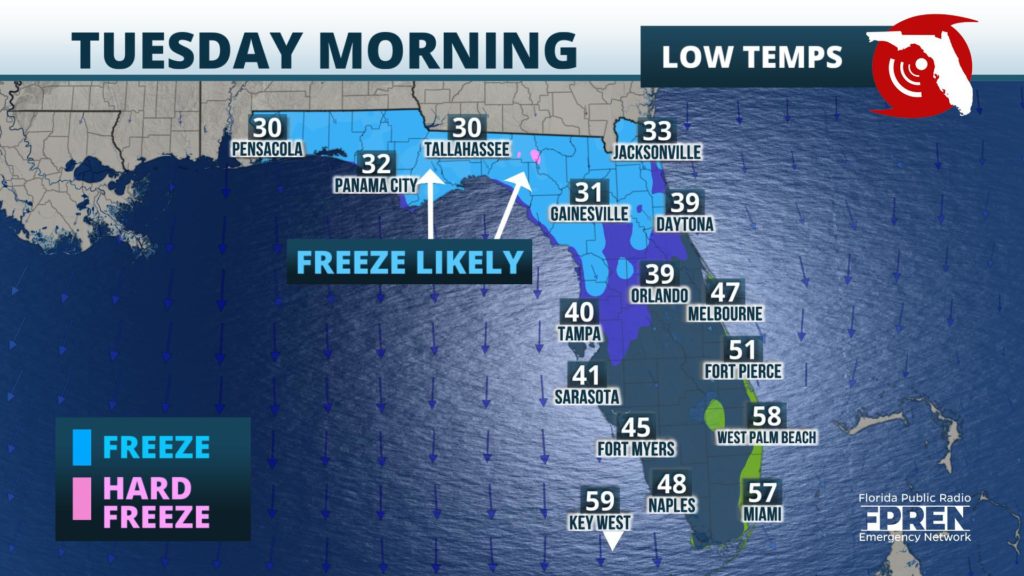 Tuesday night temps
Temperatures Wednesday morning are likely to be at least 3 to 5 degrees colder across portions of central and southwest Florida. Lows near freezing are possible in rural areas as far south as Sebring and Arcadia (just east of Sarasota and Bradenton). .
Daytime temperatures Tuesday will be running 10 to 15 degrees below normal as well, with highs likely only to reach the 40s in the panhandle, 50s along and north of I-4, and 60s across South Florida. The air mass will begin to modify Wednesday, when temperatures are expected to warm to near-normal values. Even warmer weather is possible Thursday and Friday ahead of the next front, which is anticipated to arrive Friday.
Expires at 6:00pm on Tuesday January 21st, 2020
The season's first freeze is likely tonight in the Florida Panhandle, and subfreezing wind chills are possible across portions of North Florida Wednesday morning.
A strong cold front was noted to be moving through the northwestern corner of the state early Tuesday morning, where temperatures tumbled more than twenty degrees over just two hours in Pensacola.
As of midday, the front had cleared Tallahassee and had its sights set on Jacksonville and Gainesville, where temperatures were expected to fall quickly after sunset.
A Freeze Warning has been issued for most of the Florida Panhandle west of Tallahassee from 10 pm to 8 am overnight. The National Weather Service is projecting overnight lows as cold as 27 or 28 across inland areas north of Pensacola, with subfreezing temperatures also likely from the Emerald Coast to Marianna, Florida.
Sharply colder air is also expected tonight across north and northeast Florida, where the combination of falling temperatures and gusty winds will yield wind chills - what it will feel like to exposed skin - in the upper 20s and lower 30s by daybreak Wednesday morning.
Actual temperatures in these areas will fall to the upper 30s and lower 40s around sunrise, ranging from 35 in Lake City to 41 in Gainesville and Jacksonville.
Central and South Florida will experience a notable change in temperature as well from the massive front, although not as dramatic. Wednesday afternoon temperatures along the I-4 corridor from Tampa to Orlando will only be able to recover to the lower 60's, after spending several hours in the 50s after sunrise. Farther south, afternoon highs will range from the upper 60s near Fort Myers to the lower and middle 70s along the Atlantic Coast from Miami to Melbourne.
Expires at 12:49pm on Tuesday November 12th, 2019