The 2021 Atlantic Hurricane Season was the third most active on record, and the third time the full list of designated storm names was exhausted. Despite the above normal activity, Florida was largely spared significant impacts and the last two months of the season were strikingly quiet.
There were 21 tropical storms, 7 hurricanes and 4 major hurricanes this year in the Atlantic basin. All of these numbers were above their 30-year average, but well short of the historic tallies from 2020. The storms accumulated 145 units of cyclone energy. which is also above the average of 121.5. Most of this energy was produced in the first four months of the year, and as Colorado State Meteorologist Dr. Phil Klotsbach pointed on Twitter, there has been a rare absence of cyclone energy globally since late October.
The season started a couple of weeks early on May 22, when Subtropical Storm Ana formed in the mid-Atlantic east-southeast of Bermuda. Ana was disorganized at first, but managed to develop more persistent convection near the center and became a tropical storm on May 23. Ana was confronted with wind shear and became extra-tropical as it passed by Bermuda on May 24.
In mid-June, an area of low pressure formed off the coastline of South Carolina. This low became better defined, and a tropical depression formed east-southeast of North Carolina on June 14. The depression strengthened into Tropical Storm Bill twelve hours later. Bill reached peak winds of 65 mph on June 15 while paralleling the Northeast coastline. Its northeast track soon brought the system over colder waters and into higher wind shear, resulting in Bill's transition to an extratropical cyclone on June 16. There were no reports of any damages or casualties associated with Bill.
On June 19, a potential tropical cyclone moved inland into Louisiana. Satellite imagery then revealed a well-defined surface circulation, and the system was upgraded to Tropical Storm Claudette. Claudette weakened into a tropical depression as it moved further inland, but not before producing heavy rain and tropical storm force winds across portions of Mississippi, Alabama, Georgia and Florida.
Florida Impacts from Claudette,Stronger thunderstorms well to the east of Claudette's center produced damaging winds, flooding rains, rough surf, and tornadoes across the western Florida Panhandle. Gusts at Pensacola International Airport peaked at 81 mph, and wind damage was reported throughout the metro area. Brief periods of sustained tropical storm-force winds were also experienced along the Emerald Coast. A storm surge of 6–12 ft flooded beaches and roadways in Escambia and Santa Rosa counties. Rainfall along Claudette's path across the Florida Panhandle was in the 3 to 6-inch range, with a top amount of 6.2 in observed in Century, resulting in minor flooding. Several tornadoes were spawned by Claudette, including an EF-2 tornado that caused major damage and injured 20 people in Alabama. The system caused 14 fatalities, all in Alabama. Claudette re-strengthened into a tropical storm as it moved across North Carolina and into the Atlantic, before degenerating into a trough of low pressure on June 22.
Another tropical depression formed near the Carolinas on June 27. The depression later strengthened into Tropical Storm Danny southeast of Charleston. Danny slightly intensified just off the coast of South Carolina, reaching a maximum intensity with winds of 45 mph . On June 28, Danny made landfall just north of Hilton Head and quickly weakened into a tropical depression before moving further inland and dissipating over eastern Georgia June 29.
Tropical Storm Elsa formed near the Cape Verde islands July 1. Elsa became the earliest fifth-named storm on record. Elsa also became a tropical storm farther east in the Main Development Region (MDR) than any other tropical cyclone so early in the calendar year on record. Elsa slowly strengthened as it accelerated westward. Elsa was upgraded to a Category 1 hurricane on July 2, becoming the easternmost hurricane recorded in the MDR this early in the calendar year since 1933. Elsa also was the first storm to undergo rapid intensification in that part of the Atlantic that early in the calendar year since an unnamed storm in 1908. On July 5, Elsa made landfall on west-central Cuba and weakened slightly. On July 6, Elsa entered into the Gulf of Mexico and began to re-strengthen. On July 7, Elsa regained Category 1 hurricane intensity. A few hours later, wind shear and dry air caused Elsa to weaken back into a tropical storm before making landfall in Taylor County, Florida. Elsa continued to weaken after landfall, but remained at minimal tropical storm strength as part of its circulation remained over water along the coast of the Carolinas. Elsa then became a post-tropical cyclone July 9 over eastern Massachusetts.
Florida Impacts from Elsa,Elsa's rain bands began to affect Florida at around on July 5 while moving over from Cuba. In the Keys, Elsa dropped over 4.5 inches of rain at Key West International Airport and a top amount of 10.88 inches in Port Charlotte. Key West experienced a 70-mph wind gust and Sand Key reported a 64-mph wind gust. Elsa impacted animals on Anna Maria Island, where shorebird eggs and chicks were displaced, along with sea turtle nests. At the height of the storm, more than 14,000 customers were reported without power in Southwest Florida. A 2–3 ft storm surge was recorded in Tampa Bay, while a 1.6 ft surge was reported at Port Manatee and Clearwater Beach. Cedar Key experienced just over a foot of surge. On July 7, as the storm passed over the state and into Georgia, one person was killed in Jacksonville when a tree fell and struck two cars. A high-end EF-1 tornado also struck the eastern side of Jacksonville, causing significant structural and tree damage. Another seventeen were injured at a Georgia military base during a tornado, and Elsa's damages totalled at least $1.2 billion according to insurance estimates.
The rest of July was relatively quiet. Tropical Storm Fred formed August 11 and made landfall on the island of Hispaniola. As Fred moved over the island, it became disorganized due to the island's mountainous terrain, weakening it into a tropical depression. On August 14, wind shear and land interaction with Cuba caused Fred to degenerate into an open wave. However, Fred regenerated to a tropical storm and on August 16, Fred reached its peak intensity with winds of 65 mph and then made landfall near Cape San Bias, Florida.
Florida Impacts from Fred,More than 36,000 people lost electricity in Florida from Fred. Schools in Bay County, Okaloosa County and Santa Rosa County were immediately closed. 7 inches of rain fell in Panama City within 24 hours, while 9 inches of rain reportedly fell in Southport, where serious flooding was evident. Several water rescues were carried out, where many were rescued from their flooded homes. No injuries reported. Also, in Panama City, a downed power line fell on top of a car with a man inside, trapping the man until he was rescued and hospitalized. President Biden approved the issuance of a state of emergency for 23 Florida counties in the state soon after landfall. Fred brought storm surge flooding across St. George Island, Cape San Blas, and Port St. Joe, while the road to Indian Pass was blocked after being covered with over 5 feet of water. The bridge to St. George Island was closed shortly after wind gusts at or near hurricane-force battered the island.
Fred began to weaken after as it accelerated north-northeastward through the Southeast. The system later produced several tornadoes across the Northeast as it moved up the Atlantic coast. One person died from a car accident due to hydroplaning in Bay County, Florida. In North Carolina, severe flooding led to the deaths of 5 people. The storm caused at least $1.3 billion in damages.
Around the same time Fred formed, Tropical Storm Grace formed near the Cabo Verde Islands. Grace weakened to a tropical depression on August 15. It later made landfall on Hispaniola then reorganized back to a tropical storm. Grace's intensity continued to increase and was upgraded it to a Category 1 hurricane. Grace made its first landfall in Mexico on August 19. Grace weakened into a tropical storm again while it crossed the Yucatan Peninsula. After moving offshore and into the southwestern Gulf of Mexico, Grace began re-strengthen, becoming a Category 1 hurricane once again. On August 21, Grace rapidly intensified to a Category 3 hurricane, becoming the first major hurricane of the season, peaking winds of 125 mph. The system made a second landfall in Mexico. It then rapidly weakened over the mountains of central Mexico and dissipated. The remnants of Grace traveled across Mexico and contributed to the development of Tropical Storm Marty in the Eastern Pacific. Grace was responsible for 14 deaths and $513 million in damages.
Activity continued to develop at a rapid pace in mid-August. Tropical Storm Henri formed near Bermuda on August 18. Then on August 21, Henri strengthened to a hurricane as the wind shear relaxed. The storm made landfall on August 22 on the Rhode Island coast. Shortly after landfall, Henri rapidly weakened. Coastal flooding and heavy rain on the storm's eastern side were the most notable impacts from Henri.
The storm that made the most headlines this year was Hurricane Ida. Ida formed August 26 as a tropical storm over the western Atlantic, then rapidly intensified into a Category 1 hurricane. Ida made landfall in Cuba two times on August 27. After crossing Cuba and entering the Gulf of Mexico, Ida entered a region of increasingly favorable conditions, which allowed the storm's structure to improve. Ida rapidly intensified into a Category 3 hurricane on August 29, and was upgraded to a Category 4 storm just an hour later. As Ida neared the Louisiana coast for landfall, it reached its peak intensity, with sustained wind speeds up to 150 mph. Ida tied the 1856 Last Island hurricane and Hurricane Laura as the strongest landfalling hurricanes on record in Louisiana.
Ida weakened slowly at first, remaining a dangerous major hurricane. As the storm moved further inland, Ida began to rapidly weaken. It dropped below hurricane strength on August 30 before weakening to a depression later that day. The system degenerated to a post-tropical cyclone two days later, as it moved over the central Appalachian Mountains. The extratropical low continued northeastward and stalled before being absorbed by another low developing to its east on September 4.
The storm caused widespread significant damage throughout coastal southeast Louisiana. Parts of the New Orleans were left without power for several weeks. Ida also triggered a tornado outbreak in Louisiana, Mississippi and Alabama. As Ida moved to the Northeast, its remnants spawned several tornadoes, with some being damaging and powerful. Record rain and high-level flash flooding occurred through extensive portions of the Northeast. Ida was estimated to have caused at least $65 billion in damages and 95 deaths in the United States. The majority of those deaths occurred in Louisiana, New Jersey and New York.,Shortly after Hurricane Ida made landfall, Tropical Storm Kate formed near the Cape Verde Islands. However, strong west-northwesterly wind shear led to Kate's demise and the storm dissipated by September 1.
Unlike Kate, Hurricane Larry was a strong and long-lived Cape Verde storm. Larry originated from a tropical wave that emerged off the coast of Africa, where it became a tropical storm on September 1. The storm continued to strengthen, and became a Category 1 Hurricane on September 2nd. In the days to follow, Larry underwent a period of rapid intensification, and was the fourth storm of the season to do so. By September 5th, Larry was a Category 3 Hurricane, producing 125 mph winds. After that, the storm continued on a northward track over the open ocean, and began to weaken. Larry made landfall in Newfoundland on September 11th and was the first hurricane to do so since Igor in 2010.
Tropical Storm Mindy developed in the northeastern Gulf of Mexico on September 8th, after a broad area of low pressure meandered northward from Central America. Mindy made landfall shortly after becoming a tropical storm near St. Vincent Island, Florida, on September 9th. Rainfall totals of between 2 and 4 inches across the Big Bend were common, but a few places received nearly 6 inches from Mindy. Shortly after it made landfall, Mindy would weaken into a tropical depression. Mindy became post-tropical and merged with a cold front early on September 10th.
Hurricane Nicholas formed first in the southwestern Gulf of Mexico as a tropical storm on September 12th, a product of a tropical wave that moved into the area from the Caribbean. By September 14th, a weather station at Matagorda Bay, Texas, reported sustained winds of 76 mph prompting the NHC to upgrade Nicholas to hurricane status. Less than three hours later, Hurricane Nicholas made landfall south of Houston, Texas. By September 15th, Nicholas weakened to a tropical depression and by the early morning hours on September 16th, became post-tropical. Nicholas brought damage to areas hit hard in 2017 by Hurricane Harvey, where up to 60 inches of rain fell in the Houston metro, and southwest Louisiana, where Hurricane Laura made landfall in 2020.
Tropical Storm Odette was a short lived tropical storm, forming off the North Carolina coastline on September 17th. Odette became an extratropical low just one day later. This system did not directly impact and land, however it did contribute to rough surf off the U.S. Eastern Seaboard.
Tropical Storm Peter was the 16th named storm of the season, forming east of the Bahamas and north of Puerto Rico early on September 19th. The disturbance that would eventually become the 17th named tropical system, Tropical Storm Rose, also developed on September 19th. Neither tropical systems lasted long or brought significant impact to the United States, but both systems were notable for how early in the season they developed. The naming of the 16th and 17th storms this early has only occurred during two other seasons: 2005 and 2020. Tropical Storm Peter and Rose were both impacted by strong upper levels winds, resulting in both of their eventual downgrade into remnant lows on September 23rd.
One of the strongest storms this season, which also spent its entire lifetime over water, was Hurricane Sam. Sam began as a tropical wave that ejected off of the West African Coast on September 19th. By September 21st, it organized into a depression and continued intensifying. The system became Tropical Storm Sam on September 23 over the lower latitudes of the Central Atlantic Ocean. Over the following few days, Sam underwent a period of rapid intensification as it tracked northeastward over open Atlantic waters. Sam became a hurricane on September 24th, a major Category 3 storm late September 25th, and a high end Category 4 hurricane on September 26th. Hurricane Sam underwent several eyewall replacement cycles, which caused it's intensity to fluctuate over the next week. Peak winds are estimated to have reached 150 mph during this time period. Sam held onto major hurricane status (Category 3+) until October 3rd. By October 4th, Sam's cloud pattern began to degrade and it was eventually downgraded to a Category 1 later that day. The next day, Sam completed a dynamic extratropical transition, becoming a powerful post-tropical cyclone over the far North Atlantic between Newfoundland and Iceland.
Subtropical Storm Teresa developed from a non-tropical low southeast of Bermuda on September 23rd. The following day, an upper-level trough allowed the system to develop a well-defined center as the low produced gale-force winds on the north side of its circulation. Later that day, advisories were initiated on Subtropical Storm Teresa. Cool waters, dry air, and plenty of wind shear weakened the storm, prompting an eventual downgrade to a subtropical depression on September 25th. Six hours after that downgrade, Teresa became post-tropical as it degenerated into a remnant low.
Tropical Storm Victor formed south of the Cape Verde Islands on September 29th. As it moved westward, Victor maintained strength and became better organized. Victor reached peak intensity with winds of 65 mph on October 2nd. The system quickly entered an area of strong upper level winds and rapidly became more disorganized. Victor weakened into a depression on October 2nd and dissipated by October 4th.
Tropical Storm Wanda had an interesting start during the 2021 Hurricane Season. On October 24th, a powerful nor'easter developed off the U. S. East Coast, producing heavy rainfall, damaging winds, and coastal flooding from the Mid-Atlantic to New England during from the 25th to the 27th. This nor'easter led to more than a half-million power outages in homes and business across the Northeast and resulted in two storm-related fatalities. By Halloween, the powerful low had pushed into the Central Atlantic Ocean and acquired subtropical characteristics, where it earned the name Subtropical Storm Wanda. By November 1st, the system had undergone transformations such that meteorologists at National Hurricane Center declared it a tropical storm. Over the course of the next seven days, Tropical Storm Wanda meandered eastward over the Atlantic Ocean and began to near the Azores. Wanda interacted with a deepening mid-latitude low pressure system and began accelerating northeastward. At the same time, thunderstorm activity around the storm's center began decreasing. Wanda was deemed post-tropical by the NHC on November 7th.
Meteorologist Vanessa Alonso contributed to this report.
Expires at 9:49am on Friday December 31st, 2021
Hurricane researchers at Colorado State University are forecasting another active hurricane season, even as residents of the Atlantic and Gulf coasts may still be recovering from last year's historic events.
Dr. Phil Klotzbach, program director of Colorado State University (CSU) Tropical Meteorology Project, presented the team's forecast at the annual National Tropical Weather Conference Thursday. The team is predicting 17 named storms for the North Atlantic, which runs from June 1 to November 30. Of these named storms, researchers expect eight to become hurricanes (sustained wind speed of at least 74 mph on Saffir-Simpson Hurricane Wind Scale) and four to reach major hurricane strength (Category 3 - 5) with sustained winds of 111 miles per hour or greater. Klotzbach says the reason for the above-average forecast was the forecast lack of El Niño conditions and warmer than average subtropical Atlantic sea surface temperatures.
A normal hurricane season generally produces 12 named storms, including six hurricanes and three major hurricanes.
CSU bases its forecasts on a statistical model, as well as a new model that uses a combination of statistical information and forecasts from a dynamical model. These models are built on about 30-60 years of statistical and statistical-dynamical methodologies including, but not limited to, Atlantic sea surface temperatures, sea level pressure, vertical wind shear, El Niño Southern Oscillation, and other factors.
Probability of U.S. Landfalls
The CSU report also includes the probability of major hurricanes making landfall along coastlines in the North Atlantic Basin:
69 percent for the entire U.S. coastline (average for the last century is 52 percent)
45 percent for the U.S. East Coast including the Florida peninsula (average for the last century is 31 percent)
44 percent for the Gulf Coast (average for the last century is 30 percent)
58 percent for the Caribbean (average for the last century is 42 percent)
The forecast team also tracks the likelihood of tropical storm-force, hurricane-force and major hurricane-force winds occurring at specific locations along the coastal United States, the Caribbean, and Central America through its Landfall Probability website.This is the 38th year that the CSU hurricane research team has issued their Atlantic basin seasonal hurricane forecast. Bill Gray, the founder of the seasonal forecasts, launched the report in 1984 and continued to author them until his death in 2016.
Reviewing the historic 2020 season
The 2020 Atlantic Hurricane Season broke multiple records and is currently the most active and the fifth costliest Atlantic hurricane season on record. The season features 31 total cyclones of which 30 became named storms. Out of the 30 named storms, 13 gained hurricane strength, and six achieved major hurricane status. The contiguous United States was impacted by 11 storms, breaking the record of nine set in 1916. The 2020 season was the fifth consecutive season in which at least one Category 5 hurricane formed — Hurricane Iota. The season featured 27 tropical storms which established a new record for the earliest formation by storm number. The historic season also recorded 10 tropical cyclones which underwent rapid intensification, tying the record with the 1995 season.
The season also utilized the Greek Alphabet for the second time in history; it would also be the final time the naming system would be used. The World Meteorological Organization retired the names of Laura, Eta and Iota and eliminated the use of the Greek letter storm naming system for future seasons.
The State of Florida overall was relatively lucky during the 2020 Hurricane Season. Florida was brushed by four systems of which only Tropical Storm Eta made a direct landfall. The most memorable for Floridians was likely Hurricane Sally, which crossed the southern end of the peninsula as a depression before making landfall on September 15th near Gulf Shores, Alabama. Sally brought massive storm surge and flooding to the western Florida Panhandle, especially to the city of Pensacola. The state also experienced a disturbance that crossed the Panhandle in July which later intensified into Tropical Storm Fay off the coast of Georgia. Finally, the month of August opened with Isaias running north off Florida's East Coast as a strong Tropical Storm.
The countdown to another hurricane season has begun.
Coastal residents are encouraged to prepare for hurricane season early by reviewing evacuation routes ahead of time, purchasing flood insurance, and having emergency provisions on hand along with a disaster plan in place. No matter the frequency of storms forecast, it only takes one storm making landfall to make it an active season.
The CSU forecast is intended to provide a best estimate of activity in the Atlantic during the upcoming season. It is not an exact measure. Updates to the 2021 Atlantic basin hurricane forecasts from Colorado State will be released on June 3, July 8 and August 5 as new information becomes available leading up to the most active months of the season, which are usually September and October.
Expires at 12:00pm on Thursday April 15th, 2021
The 2020 Atlantic Hurricane season was nothing short of historic, and many coastal residents are thankful the record-breaking season has come to a close.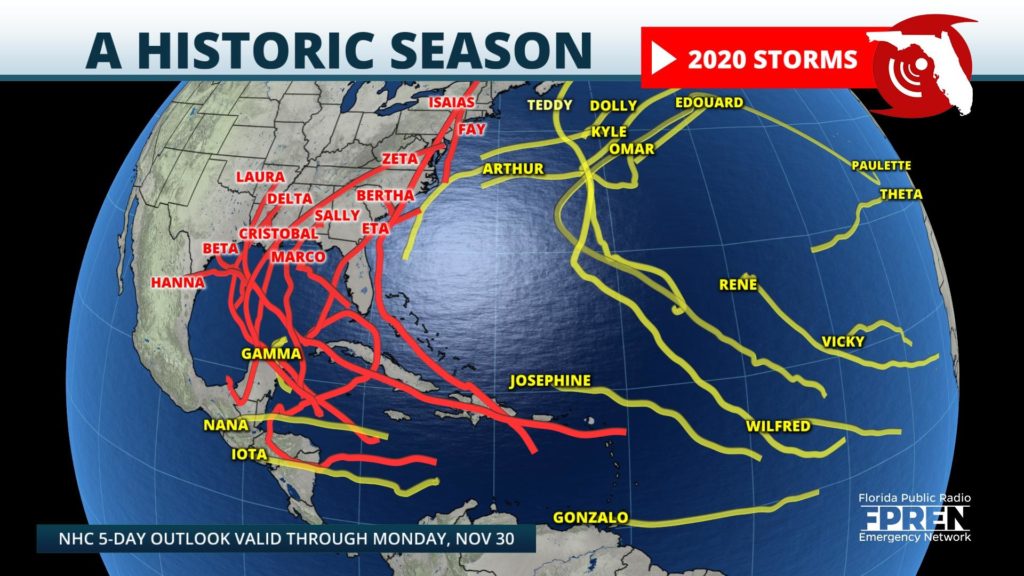 Activity began early again this year, with Tropical Storms Arthur and Bertha forming in the month of May. Cristobal was the third name storm of the year, and it formed on only the second day of the season (June 2). Cristobal was the first of 27 named storms this year that set a record for the earliest formation date in a calendar year.
The 2020 season was filled with 30 tropical storms, 13 of which became hurricanes, and 6 achieved major hurricane status (Category 3 or higher on the Saffir-Simpson Hurricane Wind Scale). An average hurricane season typically produces 12 named storms, of which six become hurricanes and three major hurricanes. 2020 was the second season to use the Greek alphabet naming system, and it was the most active season in the Atlantic Basin since records began in 1851.
Of the 30 named storms, 22 total landfalls were recorded across the whole Atlantic. 12 of those made landfall in the contiguous United States, breaking the prior record of nine set in 1916. The Gulf Coast may have received the brunt of the direct hits this year, however, no coastline was spared from the threat of tropical cyclones. According to the National Weather Service Corpus Christi, tropical storm or storm surge watches and warnings were issued for every mile of U.S. coastline along the Gulf of Mexico and Atlantic Ocean.
September was the most active month on record in the Atlantic, with 10 named storms occurring that month. The season also featured a total of 10 tropical cyclones which underwent rapid intensification, tying it with the 1995 Hurricane Season. 2020 was the fifth consecutive above-average hurricane season and the first extremely active season since 2017.
The 2020 season was also the fifth consecutive season in which at least one Category 5 hurricane formed. Hurricane Iota became a deadly Category 5 hurricane with maximum sustained wind speeds of 160 mph, making landfall as a strong Category 4 hurricane in eastern Nicaragua, only two weeks after another Category 4 (Hurricane Eta) impacted the same area. Iota broke the record of the latest Category 5 hurricane to form in the Atlantic basin, reaching that status on Nov. 16.
Louisiana was hit the hardest, with five total landfalls this season, which is also a record. Category 4 Hurricane Laura impacted the state in late August, becoming the strongest tropical cyclone on record in terms of wind speed to make landfall in Louisiana, alongside the 1856 Last Island Hurricane.
These are only a handful of records that the 2020 Hurricane Season achieved and meteorologists attribute this unprecedented activity in part to an ongoing La Niña.
A La Niña is a natural ocean-atmospheric phenomenon marked by cooler-than-average sea surface temperatures across the central and eastern Pacific Ocean near the equator, the opposite of El Niño which produces warmer-than-average sea surface temperatures in that region. The opposite effect takes place in the Atlantic. During a La Niña the Atlantic experiences warmer than average sea surface temperatures and a weakening in vertical wind shear over the Caribbean Sea and tropical Atlantic basin, which enables cyclones to develop and intensify. NOAA scientists say there is a 75% chance that La Niña will continue to be in place from December 2020 through February 2021. This could extend hurricane season past the November 30th deadline.
November 30th may mark the official end to the hurricane season, however that does not mean tropical cyclones follow this schedule. The National Oceanic and Atmospheric Administration currently defines the hurricane season as occurring between June 1st and November 30th each calendar year, which is when 97% of all Atlantic tropical cyclones occur.
There have been a total of 87 off-season tropical cyclones to have formed in the Atlantic basin since 1851. Off-season tropical cyclones are most likely to occur in May, with approximately 60% of the total forming in this month. Only 15 tropical cyclones have formed in the month of December (5.8%).
Although the season came to a close Monday, meteorologists are continuing to watch an area for potential development over the far eastern Atlantic towards Europe. This broad area of low pressure could acquire subtropical characteristics over the next few days as it meanders to the north of the Canary Islands. Environmental conditions are forecast to become unfavorable for further development but at this time the system has a moderate chance for further development. If the storm develops it will be the 32nd cyclone and given the name Kappa if it achieves Tropical Storm status.
Fifteen tropical storms or hurricanes have already come and gone in 2020, all before the traditional peak of hurricane season even arrives. Florida has escaped a direct hit so far, but is historically more vulnerable to one during the months of September and October.
The fifteen named storms to date would normally already account for a full season of activity, given that there are typically twelve named storms on average, six of which become hurricanes, and three that reach major status (Category 3 or higher). Also during an average year, four named systems, two hurricanes, and one "major" would have occurred by the beginning of September. This year to date, a total of fifteen named storms - almost four times as many in an average year - have formed, four of which have become hurricanes, and one that was a major hurricane.
Laura became the fourth hurricane and the first major hurricane of the 2020 Atlantic Hurricane Season just last week. This marks the first time four hurricanes have formed in the tropical Atlantic basin by August 25 since the the record-breaking 2005 season. However, this does not break the record for the most hurricanes seen so far up to this point. The record still stands at seven hurricanes, which occurred during the seasons of 1886 and 1893.
Hurricane Laura followed a typical path which is often seen during late August and early September. The warm sea surface temperatures and minimal vertical wind shear continue to dominate the entire Gulf of Mexico region which favors cyclone development. Tropical trade winds help to push these storms closer towards western coastlines of the Gulf of Mexico. Louisiana and Texas, both of which sustained heavy damage from Hurricane Laura, statistically experience the majority of landfalling storms in the months of August and especially September. The atmospheric pattern begins to change though during the end of September.
Once late September and October arrive, upper-level westerly winds become stronger, cold fronts begin to dip farther south towards the Gulf of Mexico, and cool air masses aid in decreasing ocean temperatures. These factors hinder tropical cyclone formation and prevent many from tracking far north into the United States. Cyclones during this transition period become less likely to develop in the Gulf of Mexico or in the far eastern Atlantic. Instead, October storms begin to favor other locations for formation including the western Caribbean, the Bay of Campeche, and the southern Gulf of Mexico, all of which are located much closer to land masses.
While northern latitude prepare to transition from summer to winter, the Caribbean is still home to warmer sea surface temperatures and minimal vertical wind shear, often creating ideal conditions which allow tropical systems to form. September may statistically be the most active month of hurricane season but October ranks as the most active month for hurricanes across South Florida due to this pattern change.
Some of the deadliest and most costly hurricanes to impact the United States have occurred in October including Hurricane Wilma (2005), Sandy (2012) and Michael (2018), with other notable storms such as Hurricane Matthew (2016) and Opal (1995). October is also the month that has produced the strongest hurricanes recorded. Hurricane Opal intensified to reach a minimum barometric pressure of 916 mb, which remained the record until Hurricane Wilma reached an intensity of 882 mb, becoming the strongest tropical cyclones worldwide outside of the West Pacific. Both of these storms impacted during the month of October and both came ashore in Florida.
"Florida is still a big target in October," said Colorado State University hurricane expert Phil Klotzbach. "The odds for Texas and the Carolinas get lower, but Florida is still vulnerable."
In records dating back to 1851, 10 major hurricanes of Category 3 or higher have made a Florida landfall in October. August yielded only 6 total major hurricanes. September still reigns supreme with 19 major hurricanes impacting the coastlines of the Sunshine State but comparing these stats to western Gulf states will show that Florida remains very vulnerable during October.
From 1851 through 2008, 68 hurricanes directly impacted the state of Texas. The majority of them took place during the months of August and September with 22 (32.4%) and 23 (33.8%) landfalls, respectively. Comparing this to a significant decrease in the month of October where only five hurricanes impacted the Lone Star State (7.4%).
Louisiana is similar, in the same time period a total of 66 hurricanes impacted Louisiana. The month of August yielded 16 (24.2%) total hurricanes; September had the maximum at 29 (44%); and October showed less at 12 (18.2%).
Laura did become a strong Category 4 hurricane with maximum sustained winds near 150 mph, just shy of Category 5 strength as it came ashore near Cameron, Louisiana. However, Laura was not an outlier with regards to its track. Nevertheless, it made its mark in the history books as becoming one of the top ten strongest hurricanes (based on barometric pressure) to impact the United States. Laura is now the seventh major hurricane to hit the state of Louisiana since records began in 1851 and, based on wind speeds, it ties for the strongest hurricane ever to make landfall in Louisiana. The last hurricane with wind speeds of 150 mph was known as the "Last Island Hurricane" which made landfall in 1856.
According to the National Hurricane Center, an average hurricane season would produce another seven named storms, four of which become hurricanes and two of which become major. If there are more than eight additional named storms, the Greek alphabet would have to be utilized for the second time on record. The last time storm names such as Alpha and Beta were used was during the historic hyperactive season of 2005.
Utilizing the Accumulated Cyclone Energy Index (ACE), which takes into account not just the frequency of tropical systems, but also the intensity and longevity of these storms, the 2020 hurricane season is the ninth-most-active season-to-date since 1966, when full satellite coverage of the Atlantic Basin began, according to Klotzbach. Using the ACE index as a better proxy for seasonal activity, 76 percent of an average hurricane season's activity happens after August 28.
The North Atlantic has been trapped in an active period for an extended amount of time. The last time the basin experienced a near-normal hurricane season was in 2015 where eleven named storms formed, four of which were hurricanes, and two of those reaching major classification. This would make 2020 the fifth consecutive hurricane season that has experienced above-normal activity which is a record for the longest active stretch going back to 1900.
The peak of the Atlantic hurricane season normally runs from mid-August until late October, with the majority of tropical systems developing within this period. This is also typically when most tropical cyclones form in the Gulf of Mexico as well as the tropical Atlantic and eastward towards Africa.
Wind shear, which can tear tropical systems apart, tends to be strong in May but gradually begins to lessen in June and July before reaching a minimum by mid to late August. Additionally, ocean temperatures in the tropics begin to increase during the summer along with an increase in air temperatures and atmospheric moisture. All the prime ingredients come together during the peak months of hurricane season which increases the frequency and strength of tropical cyclones. The statistical peak day of the hurricane season – the day you are most likely to find a tropical cyclone somewhere in the Atlantic basin – is September 10th.
Expires at 5:00pm on Thursday September 3rd, 2020
Colorado State University (CSU) released their final Atlantic hurricane season forecast for 2020, and are now calling for it to be "extremely active".
CSU released their first forecast in early April, calling for an above-normal hurricane season. The forecast was increased slightly in the second update, calling for 20 named storms, of which nine were expected to become hurricanes, and four to reach major hurricane strength (winds greater than 110 mph).
Philip Klotzbach, Research Scientist at CSU, revealed the final forecast Wednesday morning. The new forecast increases the expected number of total named storms even higher than the two previous outlooks. CSU is calling for 24 named storms of which 12 are forecast to reach hurricane strength, and five to achieve major hurricane status. This third, and final forecast already takes into account the nine named storms -- 7 tropical storms and 2 hurricanes -- that have formed this season.
A normal Atlantic hurricane season typically experiences 12 named storms, 6 hurricanes, and about 2 to 3 major hurricanes, according to the average amount of activity taken from the years 1981 to 2010.
Klotzbach shares a number of reasons as to why CSU increased their forecast including warmer than normal sea surface temperatures, weak vertical wind shear, an active West African monsoon season, and a low chance of an El Niño forming this fall which helps to suppress cyclone activity. 2020 is so far recording the fourth warmest sea surface temperatures on record since 1982, trailing 2005, 2010 and 2017. Additionally, weak vertical wind shear in the month of July is the second lowest one record (trailing the hyperactive 2005 hurricane season). Warm ocean temperatures and minimal vertical wind shear are two crucial ingredients needed to aid in tropical cyclone development and intensification.
CSU cautions that there still remains an above-average risk (69%) of a major hurricane making landfall along the entire continental coastline of the United States. On average, there is a 52% chance. The full report by the team also states that there is a 45% chance (average 31%) that at least one major hurricane will make landfall along the US East Coast plus the entire coastline, including the panhandle, of Florida. Finally, there is a 44% likelihood (average 30%) that at least one major hurricane will make landfall along the Gulf Coast from the Florida Panhandle westward to Brownsville, Texas.
Multiple meteorological agencies have released their 2020 Hurricane Season outlooks with a few already updating their forecasts a second time to trend higher. The majority of meteorological agencies are in agreement that 2020 will be more active than normal. A total of 22 groups have submitted their individual hurricane season forecast to Seasonal Hurricane Predictions. This year the average forecast calls for nine tropical systems to reach hurricane status.
CSU's report reminds coastal residents that it only takes one hurricane making landfall to make it an active season for them. Residents should prepare the same for every season, regardless of how much activity is predicted.
Expires at 8:00am on Friday August 7th, 2020
The National Oceanic and Atmospheric Administration (NOAA) anticipates an above-normal hurricane season this year for the Atlantic Ocean, Caribbean Sea and Gulf of Mexico.
Acting NOAA Administrator Neil Jacobs announced the forecast Wednesday.
The NOAA outlook predicts a 60% chance of an above-normal season, a 30% chance of a near-normal season, and only a 10% chance of a below-normal season.
NOAA is calling for 13 to 19 named storms (wind speeds of 39 to 73 mph); 6 to 10 hurricanes (wind speeds of 74 to 110 mph); and 3 to 6 major hurricanes of Category 3 strength and higher (wind speeds over 111 mph).

"It is not possible to predict at this time how many of these will impact land," Jacob says.
Dr. Gary Bell, lead hurricane season forecasted with NOAA's Climate Prediction Center, attributes the forecast to warmer than average sea surface temperatures in the North Atlantic basin, weaker trade winds, and an increase in the west African Monsoon season.
Additionally, El Niño Southern Oscillation may also play a role in the activity being forecast for the upcoming season. Currently, ENSO neutral conditions are being recorded with the possibility of La Niña conditions forming by fall -- the peak of the hurricane season -- which could increase the frequency and possible intensity of hurricanes between August and October.
"If 2020 becomes an above-normal season it will make a record of five consecutive above-normal Atlantic hurricane seasons and this would surpass the previous record of four set during 1998 to 2001," says Gerry.
As part of the method for formulating this season's predictions, forecasters from other agencies have drawn comparisons to previous years with comparable weather conditions. Forecasters have suggested that the 2020 season could be similar to the hyperactive 2005 hurricane season.

"I never want to compare one season to another. What is important is that we are predicting an above-normal season. Don't worry about what another season did, be prepared for this season," says Bell.

Due to the ongoing COVID-19 pandemic residents are concerned about the fast approaching hurricane season and how shelter will handle the situation during an approaching hurricane.

"I want to reinsure the nation that FEMA continues to take deliberate and proactive steps, working close with our state, local, tribal, territories, federal, non-profit, and private sector partners to safeguard our ability to respond and recover from future disasters that may arise during this pandemic," says Carlos Castillo, FEMA Acting Deputy Administrator for Resilience.

NOAA's hurricane season outlook announcement coincides with other forecast agencies, such as AccuWeather and Colorado State University, both of which have called for an active 2020 hurricane season.

The 2020 season is already off to an early start with Tropical Storm Arthur forming off the east coast of Florida earlier this week and brushing the Outer Banks of North Carolina. 2020 is the sixth consecutive year that a tropical system formed before the official start of the hurricane season.
Expires at 6:00pm on Saturday May 23rd, 2020
Two months remain in the 2019 hurricane season and climatology suggests forecasters should now closely watch the Caribbean.

There is a 35 percent increase in the proportion of hurricane activity that develops in the Caribbean Sea from September to October, according to NOAA's database of hurricane tracks since 1842. Historical records also reveal that more than half of October and November hurricanes (110 of 201) have moved through the Caribbean. And when a storm enters this body of water, geography alone makes them almost certain to hit land.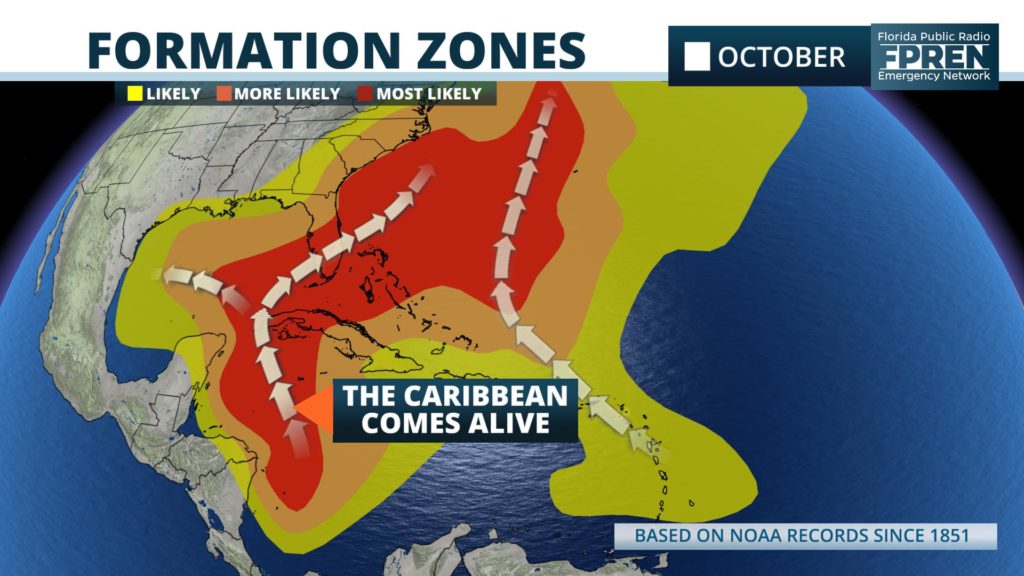 Florida is one of several land areas particularly vulnerable to a landfalling hurricane in October. No one has made this clearer than Doctor Phil Klotzbach on Twitter.
See Phil Klotzbach's Tweets
As of Tuesday evening, there were no imminent threats to Florida or the United States from the tropics. The National Hurricane Center has highlighted two areas of interest in their recent 5-day tropical weather outlooks, but both are noted as having only a "low chance" of developing.
Long range data suggests there will be an uptick in thunderstorm activity in the southern Gulf of Mexico and western Caribbean over the next ten days, but reliable forecast modeling has not been consistent on indicating where, if any, a tropical cyclone might form. We would like to remind Floridians that nearly the same number of landfalling hurricanes have occurred in October (37) as September (39).

Expires at 10:28pm on Tuesday October 1st, 2019
More than 85 percent of all hurricane activity in the Atlantic Basin occurs after the middle of August.
Some consider Aug. 15 as the "real" start to hurricane season. To others, like former FEMA administrator Craig Fugate, it's synonymous with the start of football season.
Craig was Florida's director of emergency management during the infamous 2004 season, when four hurricanes hit the Sunshine State over a period of six weeks. There were a total of 15 tropical storms or hurricanes that year, and 12 of them occurred after that date.
In this "State of the Season" report, we will discuss what the chances are the quiet season we've had so far will continue.
Quiet Season So Far
The Atlantic Basin has been quieter than normal so far this season. The Accumulated Cyclone Energy index, or ACE for short, is widely accepted in the meteorological community as a way to gauge how active the tropics have been based on the intensity, longevity, and number of tropical storms and hurricanes. As of August 15, 3.6 units of ACE have been tallied, which is less than one-third of the 12.4 units on average at this point in the season.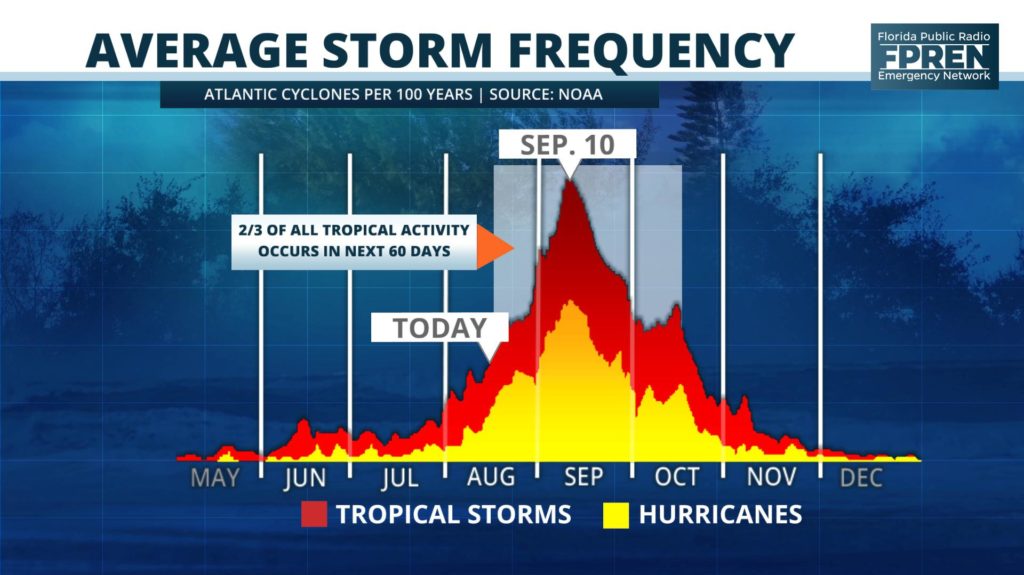 Subtropical Storm Andrea in late May and Hurricane Barry during the second week of July have been the only two named storms thus far. The most recent forecast has no named storms through at least August 19.

Dr. Philip Klotzbach, a well-regarded hurricane researcher at Colorado State University, found that the last time no named storms occurred between July 15 (when Barry dissipated) and August 19 was in 1982.

There are several reasons for the inactive season so far, but the largest factor is the vast amount of sinking air noted across the main development region (MDR). Tropical storms and hurricanes start from areas of clouds, showers, and thunderstorms, and the air must be rising for these storm clusters to organize into a cyclone.

Uncertainty Still High
In the financial world, the phrase "Past performance is not always indicative of future results" is often used as a disclaimer. This is true with hurricanes and most other weather phenomenon. Several signals indicate the 2019 Hurricane Season is about to become more active, but the level of uncertainty this year is still unusually high.
A type of wave in the atmosphere (which we wrote about in the August 1 outlook) called a convectively-coupled Kelvin wave (CCKW) can promote tropical cyclone formation if other factors are favorable. The last significant CCKW passed over the Tropical Atlantic Ocean during the last few days of July. It nearly initiated a tropical depression, but strong wind shear and sinking air behind the wave halted its development.
Another CCKW over the eastern Pacific Ocean is forecast to move eastward across the Atlantic during the final 10 days of the month. This wave should encourage upward motion and perhaps more development of tropical waves. Potentially coinciding with this wave, several global model simulations indicate a tropical cyclone may form somewhere in the Gulf of Mexico shortly after August 20th. It would be too early to credibly forecast such an event, but at the present time, this represents the area of greatest potential for development over the next 10 days.
Long range forecast data does not suggest tropical development will occur in the main development region soon, but it may happen near the end of the month as the CCKW begins to promote rising air over the eastern Atlantic. This could potentially aid in the organization of tropical waves over the MDR by the beginning of September.
Long Range Outlook
It is nearly impossible to predict what type of impacts equatorial waves might have beyond a week or two into the future.
Warmer-than-normal water temperatures continue over much of the Atlantic. NOAA officially declared El Nino's demise on August 8, which often results in lower wind shear. The African easterly jet and monsoon favor tropical waves moving off the continent into the Tropical Atlantic. All of these factors, in aggregate, point toward significantly more tropical storm and hurricane activity into the peak months of this season. However, it is still unclear if the seemingly ubiquitous sinking, stable air over the Atlantic will loosen its grip. This uncertainty is the largest downside risk to what could otherwise be a busy second half of the season.
Expires at 1:00am on Monday August 19th, 2019
The chances for above normal hurricane activity in the Atlantic Basin this year have increased according to the newly-released seasonal update from NOAA. 
The agency also said El Nino — a climate phenomenon that warms the water in the eastern Pacific Ocean and often reduces hurricanes in the Atlantic — has officially ended. This is the primary reason for the higher chance of more tropical activity.
The official update, which was released Thursday, includes a 45 percent chance of above normal hurricane activity, a 35 percent chance of below normal activity, and only a 20 percent chance of near normal activity. NOAA predicts 10 to 17 named tropical storms, which include Andrea and Barry from earlier in the season. Of those tropical storms, 5 to 9 are forecast to become hurricanes, with 2 to 4 of those reaching major hurricane (category 3 or greater) status.
Favorable Factors
The demise of El Niño is the primary reason why NOAA increased their odds for an active hurricane season. Dr. Gerry Bell, NOAA's lead hurricane seasonal forecaster says a weakening El Niño changes the atmospheric setup over the Atlantic.
"El Niño usually suppresses hurricanes, but now that it has dissipated, we're expecting conditions to be more favorable for storm development through the rest of the season."
El Niño's dissipation isn't the only reason an active season is becoming more likely. Water temperatures are now above normal over most of the Atlantic, except in a small area near the African coast. Warm ocean waters are well-known to contribute to stronger and more tropical storms and hurricanes, if other conditions are present.
Winds high in the atmosphere are lighter than average over most of the Atlantic, except in the Caribbean Sea. These weaker high-altitude winds also promote the formation and longevity of hurricanes.
The monsoon over western Africa and strong African easterly jet stream tend to aid in the formation of thunderstorms that eventually become tropical waves near the Cape Verde Islands. As more of these tropical waves move off the African coast, the greater the chance that a few of them will grow stronger.
Lingering Uncertainty
Despite the increased chances for more storms, there is still uncertainty in the forecast. In their longer form narrative, the seasonal forecasters say there are still lingering effects from the El Niño and it's unclear how strong or persistent these leftover impacts will be over the next few months.

Dr. Phillip Klotzbach of Colorado State University, who leads a team of scientists that also publish seasonal hurricane forecasts, is cautious for the same reasons NOAA forecasters are.

"There's uncertainty with every forecast, but with the August forecast there probably is a little more uncertainty, just given that the El Niño forcing is relatively weak, and also the Atlantic forcing looks to be relatively weak."

There are still strong winds at high altitudes over the Caribbean Sea, likely left behind from the El Niño. If these strong winds (known as wind shear) hang around longer than expected, it may cause some of the storms trying to form near the African coast to weaken as they move into the Caribbean.

NOAA cautions that its forecast does not predict the number of landfalling hurricanes, or whether those hurricanes will impact a particular location. It's usually not possible to make those assessments until a few days prior to a landfall. For this reason, it's important for communities vulnerable to hurricanes and tropical storms to prepare regardless of the seasonal forecasts.
Expires at 12:00am on Tuesday August 13th, 2019
This content has expired.
Meteorologists from the Florida Public Radio Emergency Network will publish an update on the state of the hurricane season on or around the beginning and middle of each month, or about every two weeks. This will include scientific explanations on current oceanic and atmospheric conditions, and how they may (or may not) play a role in the forecast for tropical cyclone activity over the subsequent two weeks. These stories are not meant to replace any forecasts for ongoing tropical activity or potential hazardous weather that may affect Florida in the near future.
Expires at 6:00pm on Sunday August 4th, 2019