10 am - 2 pm: Gainesville, Cedar Key, Ocala, Palatka and St. Augustine
12 pm- 3 pm: NE coastal areas, Bradford & Union Counties
2 pm - 7 pm: Tampa Bay Area, Orlando, Daytona and the Space Coast
5 pm - 10 pm: Port Charlotte, Okeechobee and Fort Pierce
Marginal risk northeast FL Monday morning
Slight risk FL panhandle Monday evening
Enhanced risk north-central FL Tuesday
The same weather pattern has already produced multiple rounds of severe weather across the Mid-South this weekend. As of Sunday evening, 23 wind damage and 65 hail reports had come in.
Showers and thunderstorms rumbled through the the Florida panhandle Sunday night, generally moving along a stationary front draped across the I-10 corridor. Most of the storms were not that strong, but a couple of cells west of Tallahassee did prompt warnings just after 4 am EDT.
This complex of storms is likely to move across much of north Florida during the early morning hours Monday, producing heavy rain, gusty winds, and small hail in some spots. A few of the storms could also prompt warnings for possible wind damage or even an isolated tornado.  The highest chances of this occurring are along the Nature Coast, where an inflow of moisture from the Gulf of Mexico will enhance the storm potential.
Clocks may have "sprung forward", but thermometers in Florida sure haven't. In fact, it feels like they've fallen back to a time more like January. For the second week in a row, a late-season frost or freeze is possible in parts of Florida as a persistent northwest wind will send shivers down the spines of spring-breakers from Pensacola to Miami.
The third powerful Nor'Easter in two weeks is forecast to intensify rapidly off the coast of New England Tuesday. The counter-clockwise motion around this strong area of low pressure system will steer Canadian air once again deep into the Southeast. Some sections of northern Florida and across the panhandle are prone to a second bout with near or sub-freezing temperatures in as many weeks.
Here are the projected morning lows over the next four days.
And daytime highs won't be much warmer.
Content is current now, not necessarily at the time of the post.
Strong thunderstorms are expected in portions of North Florida Sunday Night and Monday.  The cold front responsible for the unsettled weather was approaching the panhandle Sunday afternoon.
According to the National Weather Service, there is a low (or "marginal") risk of severe weather for the Florida Panhandle and sections of the Nature Coast Sunday evening and overnight. The line of showers and thunderstorms will move through Pensacola by 5 p.m. and approach Tallahassee by 7 p.m.
After the line of showers and storms moves through the Panhandle, it will approach Gainesville and Jacksonville by 11 p.m. The activity will likely weaken some as it moves inland, but some brief downpours and gusty winds are still possible. The showers are likely to fall apart after moving south of Ocala by 4 am.
Content in this section is current now, not necessarily at the time of this post.
The potential for strong or severe storms Monday includes most of central and south Florida, generally near and south of the I-4 corridor. Storms are likely to redevelop near the I-4 corridor by 9 am.  A widespread event is not anticipated, but a few of Monday's storms may grow strong enough to produce minor wind damage or an isolated tornado.
The thunderstorms are possible in Tampa, Orlando and Melbourne Monday morning and midday. As the front continues its dive south, West Palm Beach and Fort Myers will experience strong storms by 1 p.m. Fort Lauderdale and Miami's greatest chance for strong storms will be between 2 and 6 pm Monday. The wet weather should clear all of South Florida Monday evening.
Content in this section is current now, not necessarily at the time of this post.
Content in this section is current now, not necessarily at the time of the post.
February was the warmest on record in nearly all of Florida. Since then, temperatures seem to be "marching" back in time this month, a harsh reminder that winter is NOT over. At least not yet.
The second cold front in five days swept across the state Tuesday, producing some much-needed rain and even a few strong thunderstorms.  The front is clearing South Florida today (Wednesday), opening the door for a colder air mass to settle in and linger for several days. A late-season frost is even possible across northern portions of the state by Friday morning.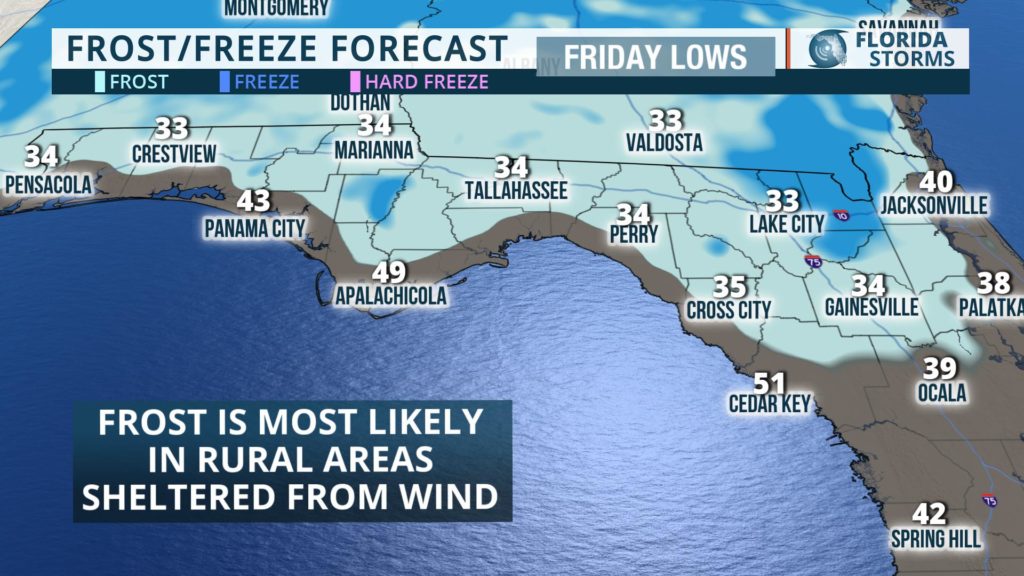 Many Floridians were wondering if there was no turning back from the relentless heat of summer. In February! Setting record highs became a daily occurrence in many cities between the 9th and 21st, and the all-time record high for the month was set in both Tampa and Sarasota on February 20th.
The first cold front over the weekend was a bit of a reality check, sending many scrambling for their sweaters and jackets. After weeks with highs in the 80s, afternoon temperatures only made it into the 60s and 70s.
The second front, the one moving through this week, is being driven by stronger upper-level winds taking a more direct aim at the Southeast. The origin of this air mass reaches further north into Canada, likely making it even colder than the recent chill. Temperatures are expected to average 10 to 15 degrees below the seasonal norms across most of the state, yielding daytime highs in the 60s to lower 70s and overnight lows in the 30s to 50s (north to south). If the winds die down Thursday night, it could be cold enough for frost generally near and north of a Tallahassee to Gainesville to Jacksonville line.
Content is current now, not necessarily at the time of the post.
Content in this section is current now, not necessarily at the time of this post.
A few of the thunderstorms with Tuesday's front might turn severe, capable of producing damaging wind gusts. An isolated water spout or tornado is also possible immediately near the coast.  Locations at greatest risk include coastal areas of the panhandle and west-central Florida, shaded in yellow on the map below.
Some areas, especially near Tallahassee, have been in a moderate drought since November.
The large area of rain and thunder will move from the panhandle into much of north-central Florida early Tuesday evening. It will then slide into much of central Florida (the I-4 corridor) closer to midnight, eventually sweeping across south Florida by Wednesday morning.
[reggif type="FutureFL" caption="Most recent Futuretrack animation (also available in the Florida Storms app)"]Tuesday's rain may not completely erase the drought, but it should help in the areas that need it the most.
At this time last year, a drought was prevalent across central and south Florida, where it turned severe by late spring. Similar global weather patterns, namely the current La Nina cycle in the equatorial Pacific Ocean, often lead to dry and warm winters and a corresponding elevated fire season across Florida.
As of Monday evening, the Florida Forest Service reported that there were 50 active wildfires across the state, burning nearly 6000 acres. These numbers are slightly down from this time last year, when 54 fires were scorching more than 7,000 acres. The long range outlook from the Climate Prediction Center is for a drier and warmer than normal conditions to persist through late spring.
Allergy season started early, levels climbing
Limit time outdoors, use air conditioning
Pattern unlikely to change for another week
You may have noticed a yellow film on your car and outdoor furniture recently.  February's warmer weather has led to an early spring, and with the budding trees and colorful azaleas comes plenty of pollen.
Dr. Mercedes Pernice, a board certified Allergist at SIMED says the season has started early, "We had a very cold stretch of winter, followed by early warmth this spring. This increases plant pollination."
For allergy sufferers, that means misery. Pollen counts have been rising across Florida since mid-February according to Iquvia, the owner of the RotoRod network that measures pollen. A ridge of high pressure is likely to keep temperatures in Florida warmer than normal for several days, and with no significant rain in the forecast, pollen counts are likely to increase through the weekend.
Pernice says limiting time outdoors is just one of the ways an allergy sufferer can reduce exposure, "They can also keep the windows and doors closed as well, using air conditioning with outdoor vents closed too.  That would help."
She also reminds us to think about what our pets may be carrying, "If you have pets, even if you are not allergic to them, consider bathing them following outdoor activity to reduce indoor contamination."
A weak front is expected to move into the northern part of Florida early next week, possibly bringing some relief to those areas.  However, a significant change in the weather pattern is not in the foreseeable future. The warm, dry weather is likely to continue for at least the next seven days.
THURSDAY MORNING UPDATE: Six record highs were added to the list Wednesday (available just beneath this paragraph), which brings the monthly total to 35.  The record high of 88 in Tampa was the seventh one tied or broken this month in that city alone.
Record highs are again in jeopardy today in Florida.  Cities projected to come within one degree of their record fro February 22 are Pensacola, Tallahassee, and yes - Tampa.[/vc_message]
---
Original story posted Wednesday...
It certainly feels like winter is over in Florida. Check that - it feels more like summer has arrived.
Wednesday could be the sixth day in a row a record high temperature will be tied or broken in the Sunshine State. It would also add to the list of 29 records already tied or broken this month alone.Not only are the daily records falling by the dozens, Sarasota and Tampa broke all-time monthly maximum records Tuesday with highs approaching 90.
An area of high pressure developed off the Atlantic coast earlier this week, and it won't be going anywhere soon. This will keep the abnormal warmth in place across the Southeast U.S. for the next week to ten days.
While temperatures have been 10-15 degrees above normal east of the Mississippi River this week, they are 10-20 degrees below the normal from the West Coast to the Rockies, with plenty of fresh snow across the mountains in between.
Meanwhile in Florida, the record-setting warmth likely continues for at least one more day.
Content is current now, not necessarily at the time of the post.
---
Meteorologist Cyndee O'Quinn and UF Forecaster Kyle Kipple contributed to this report.
This story was posted on January 2, 2018...
---
Winter Storm WARNINGS just posted from Tallahassee to Lake City, with advisories for surrounding areas including Gainesville and Jacksonville.

Posted by Florida Storms on Tuesday, 2 January 2018
February, in contrast, has been much warmer. Temperatures have been running 5 to 10 degrees above normal in cities such as Jacksonville, Gainesville, Tampa and Orlando. In fact, record highs are in jeopardy this week in Fort Myers, Melbourne and Tampa. And even where ice and snow hit not once, but twice last month in the Florida Panhandle, temperatures are now averaging five to seven degrees above the February norm.
The frigid January has been completely erased by the extreme warmth of the first fourteen days of February.
The three maps below show how cold January was compared to normal, how warm February is so far, and where we stand for the season as a whole (since December 1st) compared to normal.A La Nina weather pattern was largely the reasoning behind the warm seasonal forecast. When the waters near the equator over the Pacific Ocean are cooler than normal, a shift in the steering currents typically prevents long-lasting intrusions of cold air from reaching Florida. This was not the case during the first half of the season, as there was a more dominate upper-level flow from Canada, overriding the typical affects from the Pacific.
Long range data continues to suggest the warmer patter, now likely being influenced by the continuing La Nina pattern, will continue into early spring. Temperatures are forecast to be above normal statewide for at least the next five days, with no sign of a strong cold front through the coming weekend.
Content is current now, not necessarily at the time of the post.
No one can say they've seen it before, but most Floridians will have a chance Wednesday morning.
It was March 31, 1866 when the last total lunar eclipse occurred during a super moon that was also a blue moon. Nearly 152 years later, the trifecta celestial event dubbed as the Super Blue Blood Moon will occur again just before sunrise January 31, 2018.
Viewing conditions are expected to be super in the northern and central parts of the state, especially along the Gulf Coast from Fort Myers to Pensacola. However, questionable viewing conditions are expected along the Atlantic Coast from Melbourne to Miami, where patches of low clouds are likely to move in off the Atlantic.A total lunar eclipse will occur during the super (and blue) moon Wednesday morning, starting just before 6:00 am. As the earth's shadow begins to obscure the moon, it may turn a shade or hint of red. This is caused by the earth's atmosphere bending red light into the planet's shadow while scattering the blue wavelengths.
How red the moon may appear to Floridians is a bit uncertain, as the umbra phase - the point when the earth's shadow begins to cover the moon - will only occur a few minutes prior to sunrise and moonset.
The best time for Floridians to view the super blue blood moon is between 6:45 and 7:00 am EST. At this time, the moon will be setting in the western sky, just a bit north of due west. Locations with an unobstructed view to the west or at a higher elevation will be ideal.[vc_video link="https://www.youtube.com/watch?time_continue=42&v=IrydklNpcFI" title="NASA Video on Super Blue Blood Moon"]
---
Meteorologist Cyndee O'Quinn contributed to this report.