A line of strong thunderstorms capable of producing destructive winds or a tornado is expected to move through the Florida Panhandle Saturday.
In addition, a brief period of torrential rain and localized flooding will also be possible from the powerful storm system as it moves through.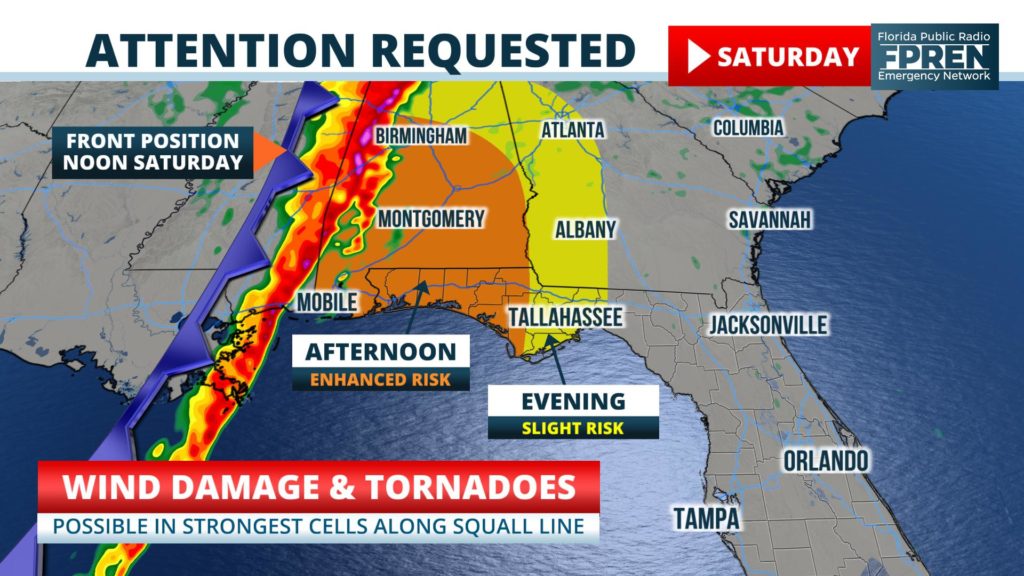 Forecasters at the Storm Prediction Center in Normal, Oklahoma have highlighted the western half of the Florida Panhandle as having an "enhanced risk" of severe storms Saturday, which is a level three out of five on their scale. In her forecast notes issued early Thursday, Meteorologist Elizabeth Leitman said the primary hazard would be wind damage, but that tornadoes could not be ruled out. She communicated uncertainty in to how "pristine" the atmosphere would be ahead of the front for this to occur, and labeled the tornado threat as more "conditional".
The weather map across the Southern Plains was rather quiet Thursday, although the ingredients were beginning to come together for a major storm. Meteorologists at the National Weather Service in Tallahassee were beginning to identify the features on water vapor imagery Thursday.
Surface and upper air observations indicated a large pocket of lower pressure and colder air was rotating through the Intermountain West toward Texas. At the same time, southerly winds were sending unseasonably warm and humid air as far north as the lower Ohio River Valley. When the pocket of colder air aloft attempts to replace the increasingly moist and unstable air mass on Friday, a large of upward motion and lowering pressure is forecast to rapidly develop.
Most likely arrival times
Penascola: 11 am to 4 pm CT
Panama City: 1 pm to 7 pm CT
Tallahassee: 3 pm to 10 pm ET
Lake City: After 5 pm ET
Atmospheric dynamics along a cold front associated with this system are likely to trigger numerous clusters of thunderstorms Friday afternoon across eastern Texas and Oklahoma. The storms are then expected to quickly organize into a squall line that races east through Arkansas, Louisiana, Mississippi, and Alabama Friday night. The leading edge of these cells will pose the greatest risk of significant wind damage or tornadoes when they arrive on Saturday.
A few thunderstorms are possible in the western sections of the Florida Panhandle as early as midday. If these were to develop, they would have the potential to quickly produce a tornado as they race northward on the heels of strong southerly winds. The main squall line, which represents the more widespread and significant risk of severe weather, is then likely to approach Pensacola by early afternoon, Panama City later in the afternoon, and Tallahassee by early evening.
The cold front is expected to weaken and slow down over sections of Northeast Florida Saturday night and early Sunday. The risk of severe weather in these areas is remarkably lower than for areas farther west, although a few stronger storms near cities like Lake City or Jacksonville can't entirely be ruled out. There is no official risk areas highlighted by the Storm Prediction Center beyond Saturday at this time.

Expires at 4:00pm on Saturday January 11th, 2020