Hurricane-force winds can travel dozens of miles inland after a hurricane makes landfall, causing considerable structural damage and power outages that can last days, maybe even weeks.
Supply kit checklists, such as this printable one from FEMA, are a great resource to have in hand when building up your supply kit for a prolonged power outage.
The highest wind speeds are typically found in the eye wall of the hurricane and generally in the area to right of the eye, known as the right-front quadrant. This powerful quadrant can sustain its strength over land for some time before the tropical cyclone begins to weaken.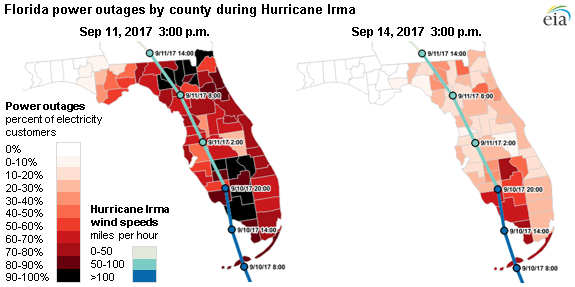 Power outages from Hurricane Irma in 2017 were reported in every Florida county except five. In fact, some of the most widespread outages occurred more than 200 miles from where it made landfall in portions of northeast Florida. Wind speeds in these areas only reached tropical storm force (39 to 73 mph), but that was still strong enough to knock down trees and bring down power lines.
In 2018, Category 5 Hurricane Michael came ashore near Mexico Beach, Florida. The storm maintained its major hurricane strength as it pushed into Georgia, more than 60 miles from where it came ashore, continuing to flatten homes and topple trees. The strong winds from Michael also caused extensive power outages as far north as Virginia, more than 24 hours after landfall.